Here we are at the end of August, already well within the Autumn-Winter 2021 season, and yet I haven't heard too much about the "official" colors for Autumn-Winter 2021 (AW21). For Spring-Summer 2021 there were only two new colors offered, Jaune Bourgeon and Rouge Sellier, with lots of popular colors coming back for the season, and it seems to me that we're going to see more of that for the fall.
To be honest, despite my longstanding love for Hermès, I have no special or secret source for my color information. I do, however, know where to look and how to find officially (and not-quite-so-officially) available information, which I am happy to distill (I would do this anyway) and share with you here.
So, here is my best information to help guide your choices for the remainder of 2021 and beyond.
A Few Observations
First, AW21 truly seems to have a wide variety of color options. Perhaps there is nothing completely brand new, but there is absolutely something for everyone, whether it's beloved neutrals, fun color pops, or shades that made the transition from regular leather to exotic (and vice versa).
Along that vein, I am seeing a lot more and a greater variety of options in the various exotic leathers, including the complete return of ostrich (which has been trickling back into production for the past few seasons) and lizard. This includes both the increased visibility of the exotic leathers, from bits and pieces on the items in the "Touch" line of bags and bag charms to wider availability in general.
In the silk department, I am seeing more striking/daring color combinations than usual for this season. Some seasons are more generally subdued or accessible; this is not one of those seasons, although Hermès is producing enough choices for those of us who want calmer or understated scarves. I will add, though, that there also appears to be a concomitant demand for the "riskier" options, so there are apparently more than enough Hermès customers who are ready to embrace the more unique combos, many of which are apparently selling pretty briskly.
Leather Colors for Autumn/Winter 2021
So, my preliminary information was the following:
Bag Colors for Autumn/Winter 2021
Neutrals Alezan, Biscuit, Blush, Craie, Etain, Etoupe, Nata, Sesame, Trench
Pinks Framboise, Fuchsia (Ostrich), Mauve Sylvestre, Rose Mexico, Rose Sakura
Reds Rouge Casaque, Rouge Sellier
Yellows Jaune Bourgeon, Jaune Poussin
Greens Bambou, Menthe, Vert Cypres, Vert Jade
Blues Bleu de France, Bleu Glacier, Bleu Lin, Bleu Orage, Bleu Saphir, Colvert
This is a nice selection, certainly – but at this point, I know that there's always quite a bit more offered; leftovers from past seasons still trickling in, the usually available colors (like Noir and Rouge H), and other surprises. So…I kept my eyes open. I've been looking at everything from the bag offers thread on PurseForum to Instagram reveals, and this is a combination of the list above and actual bags I have seen (or read) offered since mid-June: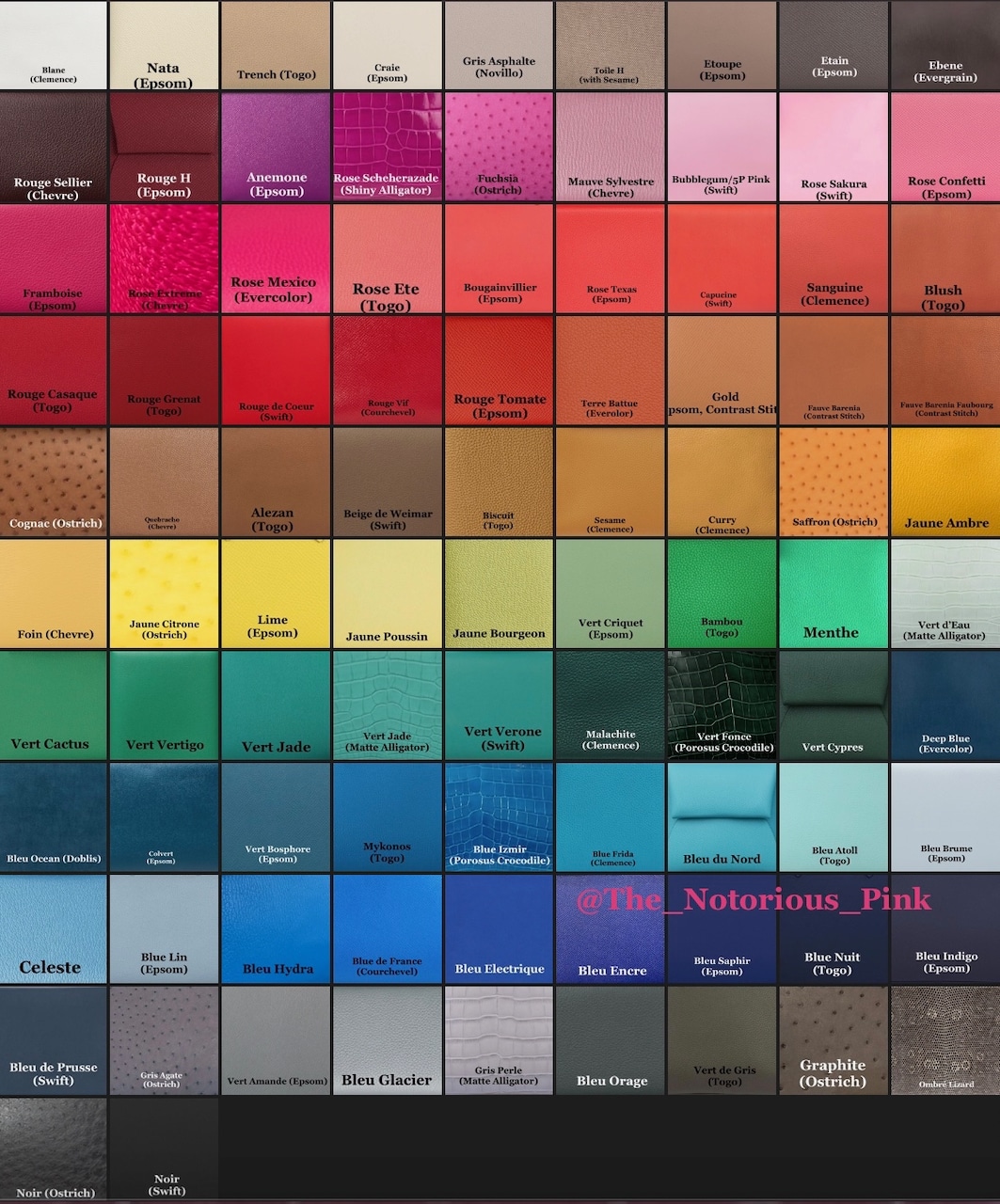 It's quite a lot of options that I am seeing. To make it easier to find what you may be looking for, I've broken it down a bit:
Neutrals
Alezan, Beige de Weimar,Biscuit, Cognac Ostrich, Craie, Curry, Ebene, Etain, Etoupe, Fauve Barenia, Fauve Barenia Faubourg, Gold, Gris Agate Ostrich,Gris Asphalte, Gris Perle Exotic, Nata, Noir, Noir Ostrich, Ombre Lizard, Quebracho, Sesame, Trench, White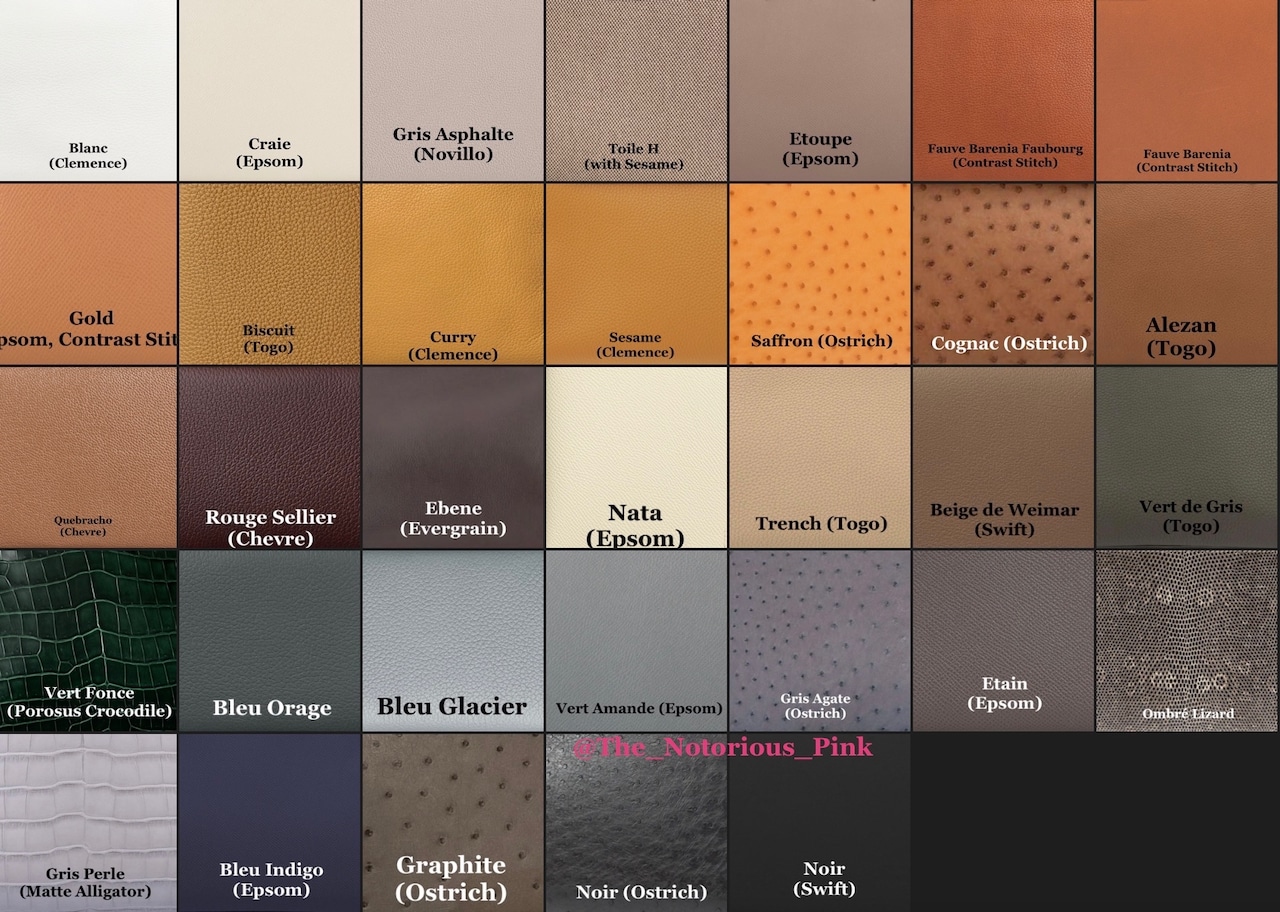 Pinks/Purples
Anemone, Bougainvillier, Bubblegum Pink,Framboise, Fuchsia Ostrich, Mauve Sylvestre, Rose Confetti, Rose Ete, Rose Extreme, Rose Mexico, Rose Sakura, Rose Scheherazade Alligator, Rose Sakura, Rose Texas
Reds/Oranges
Blush, Capucine, Rouge Casaque, Rouge de Coeur, Rouge Grenat, Rouge H, Rouge Sellier, Rouge Tomate, Rouge Vif, Sanguine, Terre Battue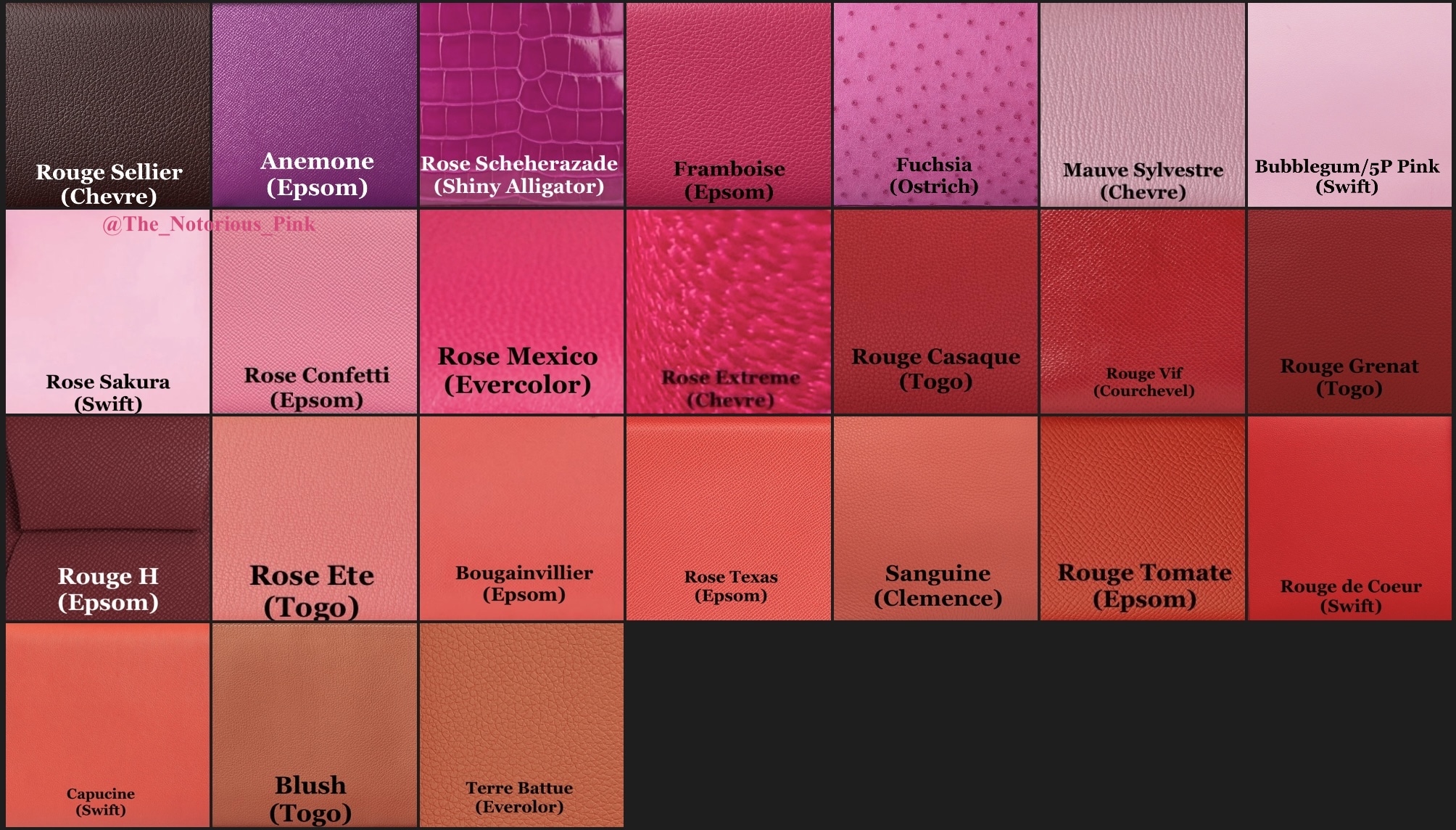 Yellows
Foin, Jaune Ambre, Jaune Bourgeon, Jaune Citron Ostrich, Jaune Poussin, Lime, Saffron Ostrich
Greens
Bambou, Malachite, Menthe, Vert Amande, Vert Bosphore, Vert Cactus, Vert Criquet, Vert Cypres, Vert d'Eau Crocodile, Vert de Gris,Vert Fonce Niloticus, Vert Jade, Vert Jade Matte Alligator, Vert Verone/Rose Lipstick Verso, Vert Vertigo
Blues
Bleu Atoll, Bleu Brume, Bleu de Franc, Bleu de Prusse, Bleu du Nord, Bleu Electrique, Bleu Encre, Bleu Frida,Bleu Glacier, Bleu Hydra, Bleu Indigo, Bleu Izmir Crocodile,Bleu Lin, Bleu Nuit, Bleu Ocean Doblis,Bleu Orage, Bleu Saphir, Celeste, Colvert,Deep Blue, Mykonos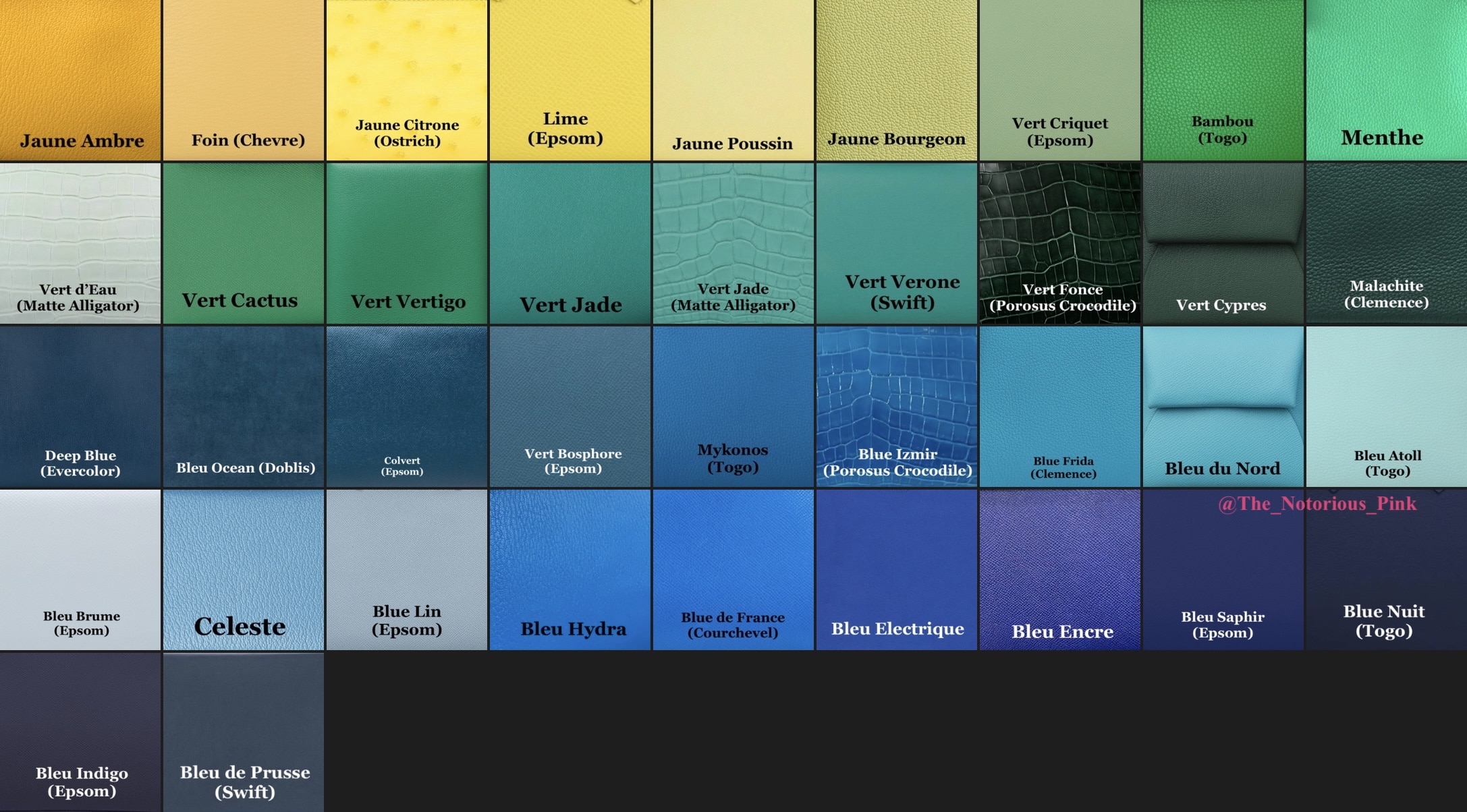 Now bear in mind that this is a constantly moving target: this list is by no means comprehensive, nor does it mean that it's going to be easy to find any one particular color (especially as we don't really know what any particular store ordered or what will continue to be produced), but it does mean that these colors are or have very recently been in production so these colors are possible.
Scarf Colors for Autumn-Winter 2021
Of course, Hermès always gives you options to coordinate your bag or other leather items with your scarf or twilly, so naturally, there will be plenty of options to do so. Here are some ideas to help you along.
The information I found regarding color families for this season to be tricky, at best; the definitions of most of the color families did not appear (to my eye) to necessarily match up with the actual color families that I am seeing (for example I am seeing a lot of orange in the scarves but could not find a color family that includes orange even as an accent color), so whether they are formally being utilized or not, for the sake of practicality I am just going with what I am seeing.
Pink/Red/Gray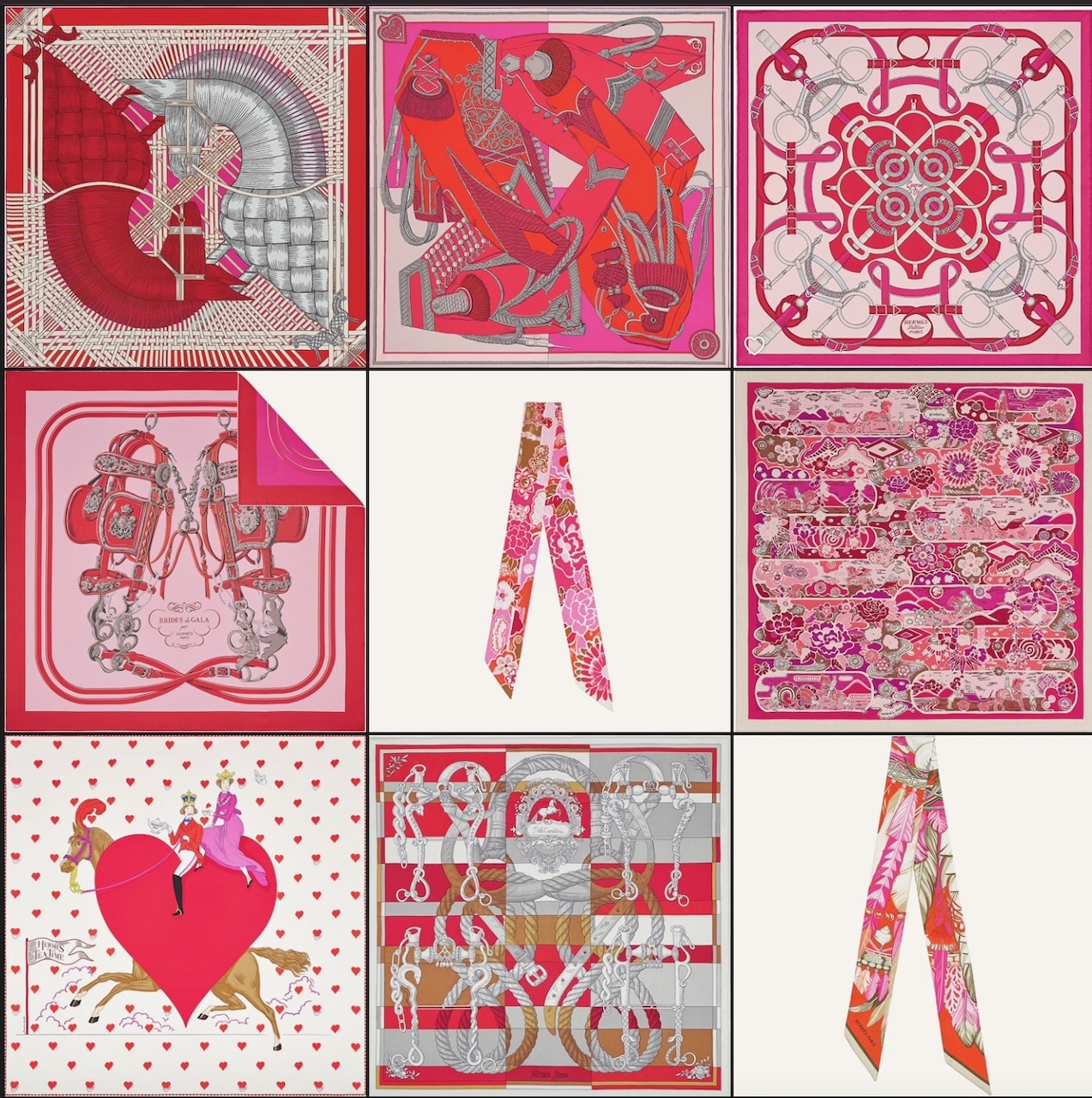 There is some variety in this colorway, with some scarves pretty much sticking to Pink/Red/Gray (or White), and some adding Gold, Orange, or a variety of shades of Pink.
The simpler versions of these colors would do well with Black, Grays, and a lot of the neutrals such as Craie and Etoupe; even better if the neutral has pink undertones like Quebracho. Once you get into the "added" colorways, you can match with a lot more of the more brown neutrals, especially Gold, Fauve, Sesame, etc. I suspect those orange shades might pop nicely with Rose Texas and Capucine, too. Some iterations of this colorway have many shades of pink, so I wouldn't hesitate to try most shades; I actually have this Bingata Twilly, and it's going to go with a lot of the pinks offered.
Here is a representation of the leather colors that will go with these scarves. Not every color here will go with every scarf, as the exact colors and tones are unique to each scarf, but this gives you an idea of the range of colors that will work with this color family: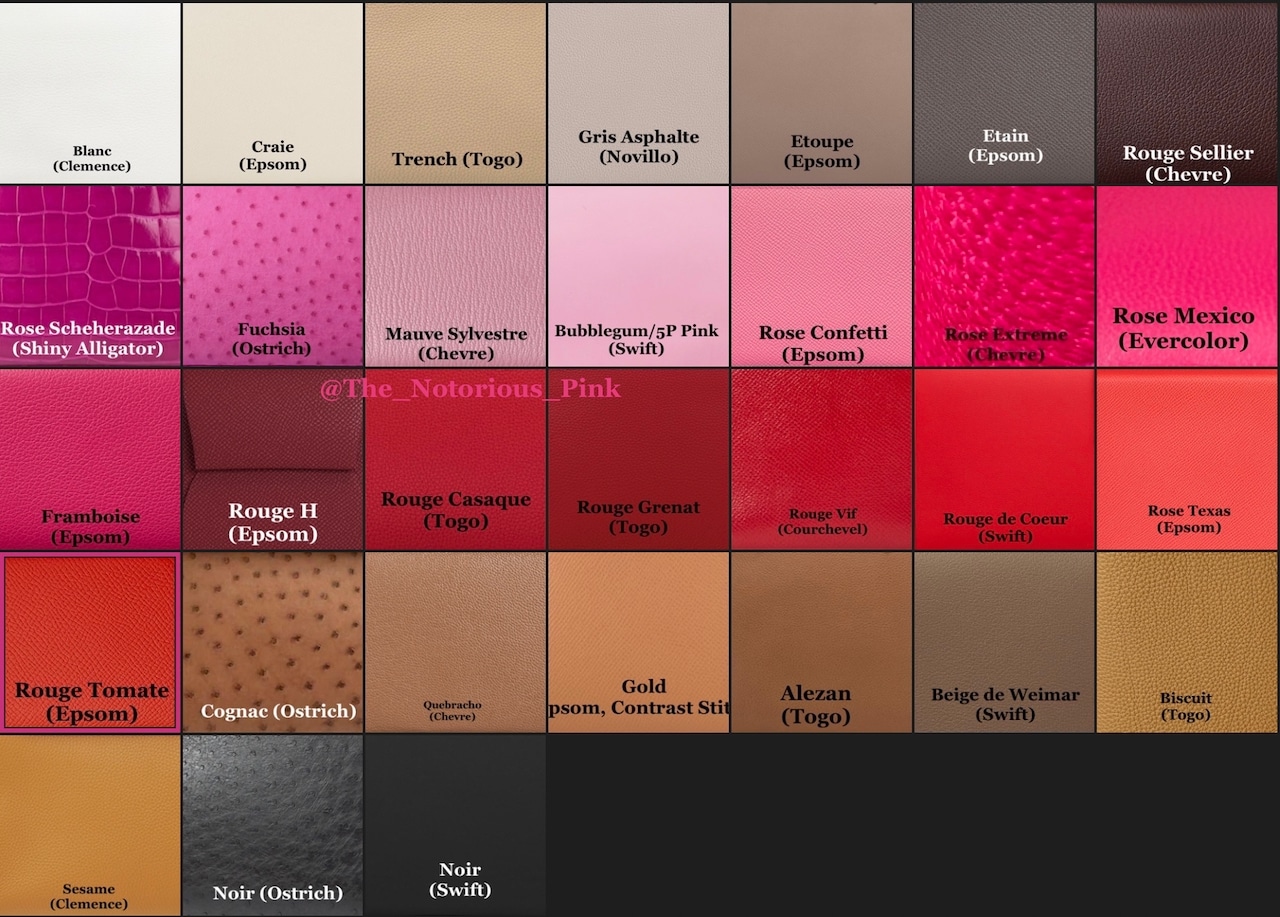 I thought to include some leather matching suggestions for a few colorways; if you want to pull out/highlight a predominant or even an accent color in a scarf. The colors I am suggesting are from the AW21 list, and unless the scarf colors are fairly minimalist I am avoiding suggesting the obvious neutrals like black or white, which will go with most scarves.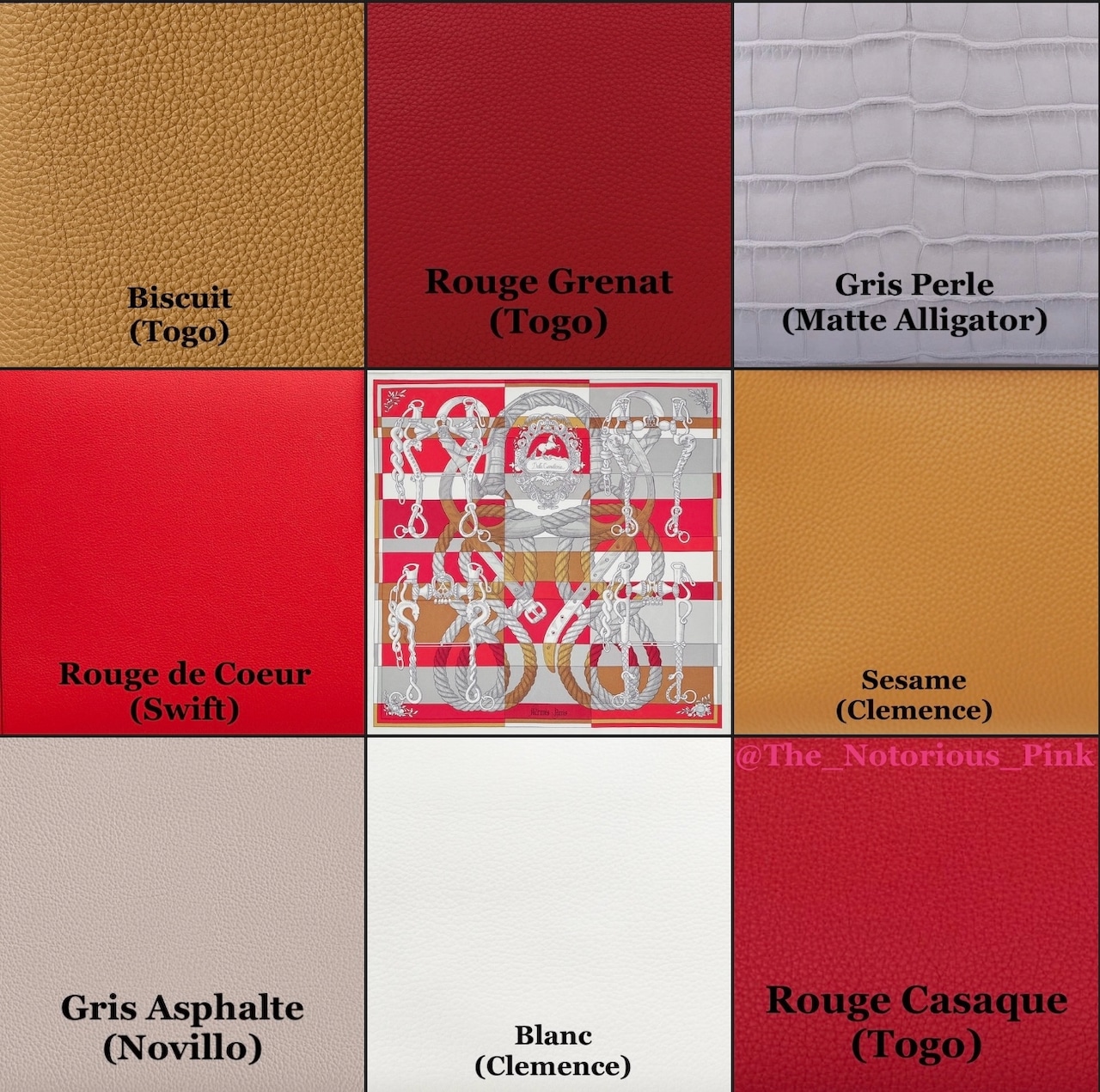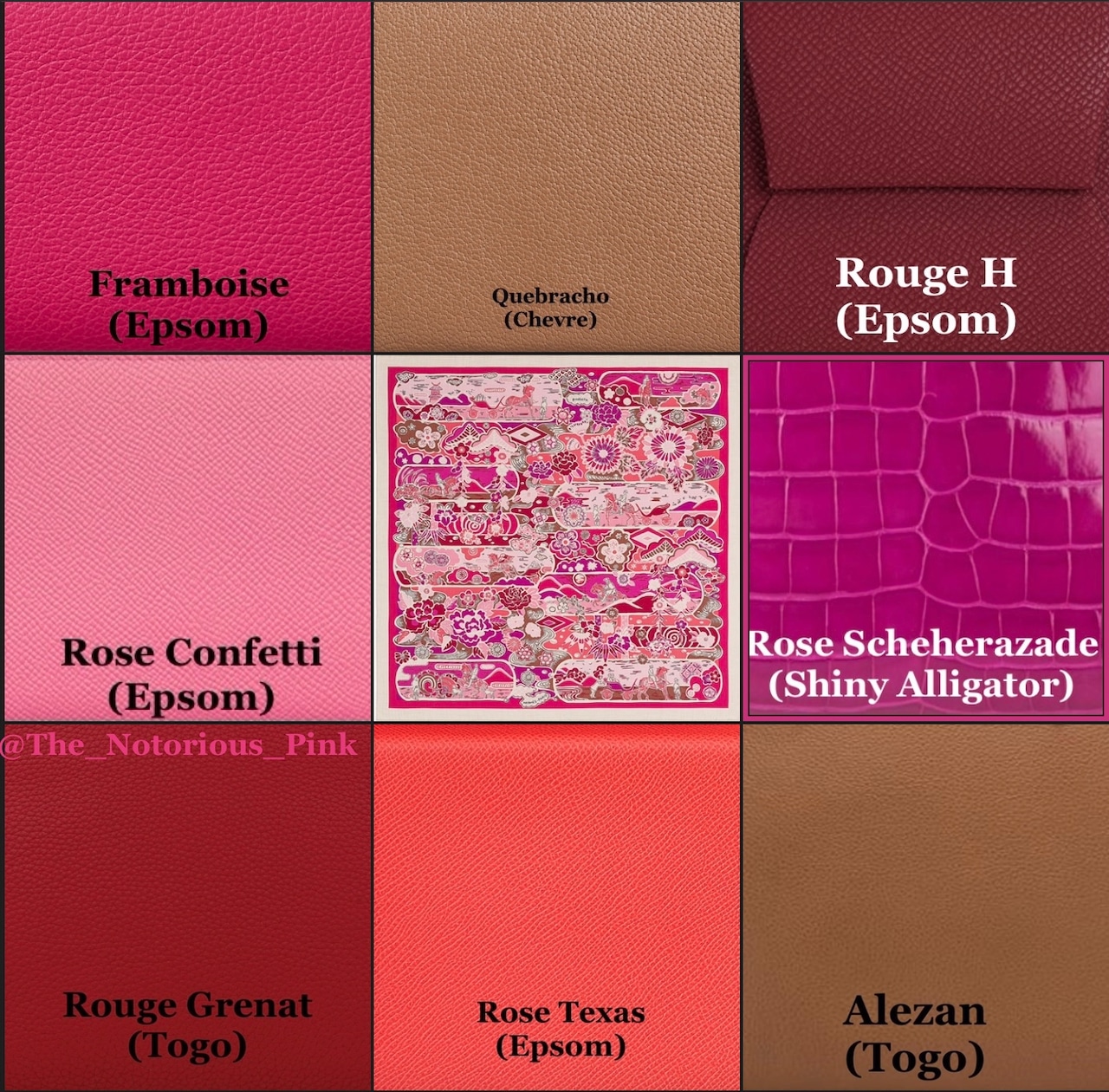 Soft Pink/Blue/Yellow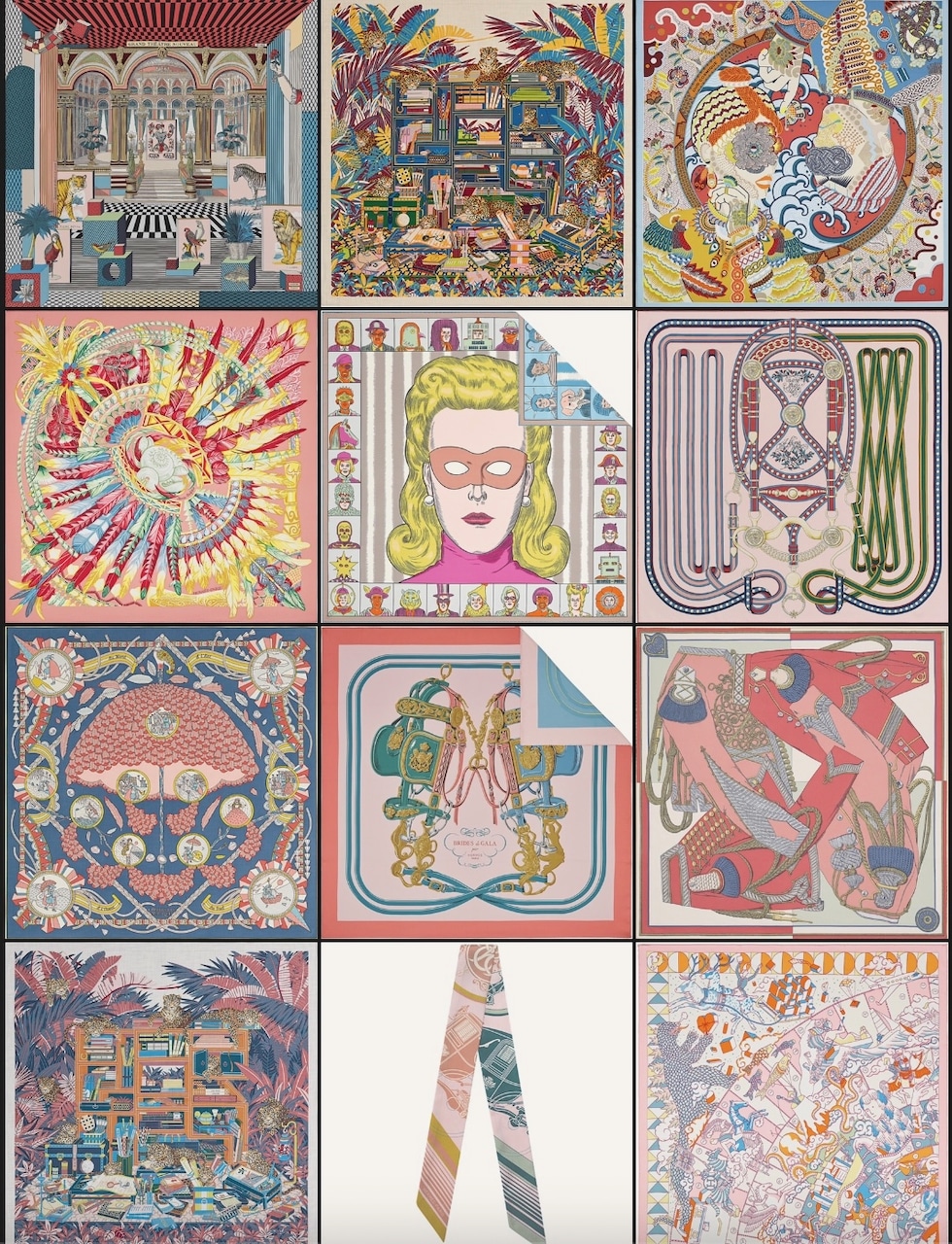 These scarves seem to focus on a soft blue and/or pink with accents of yellow. Some include terra cotta and/or green. For some scarves the yellow is bright; in other scarves, it's a more golden color. A few (like Dress Code and Epopee Detail) have orange. These scarves will go with the softer pinks and most of the AW 21 blues.
The AW21 leather range: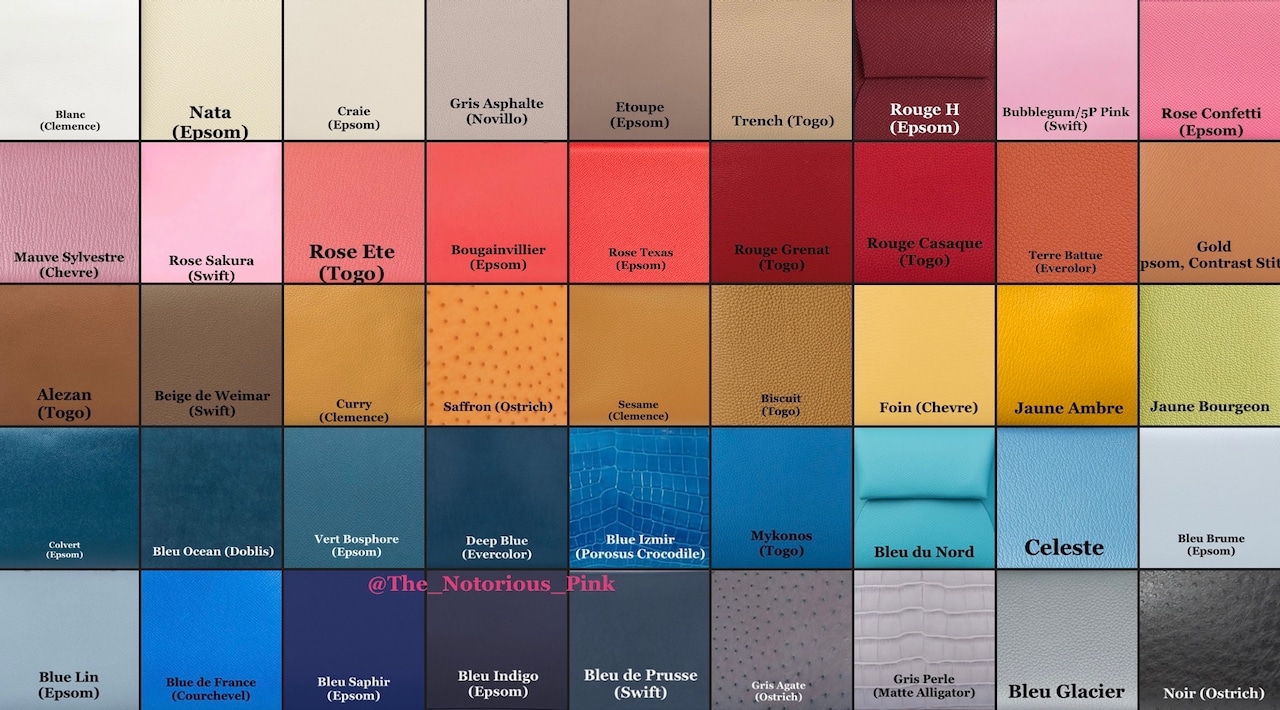 Some matching suggestions: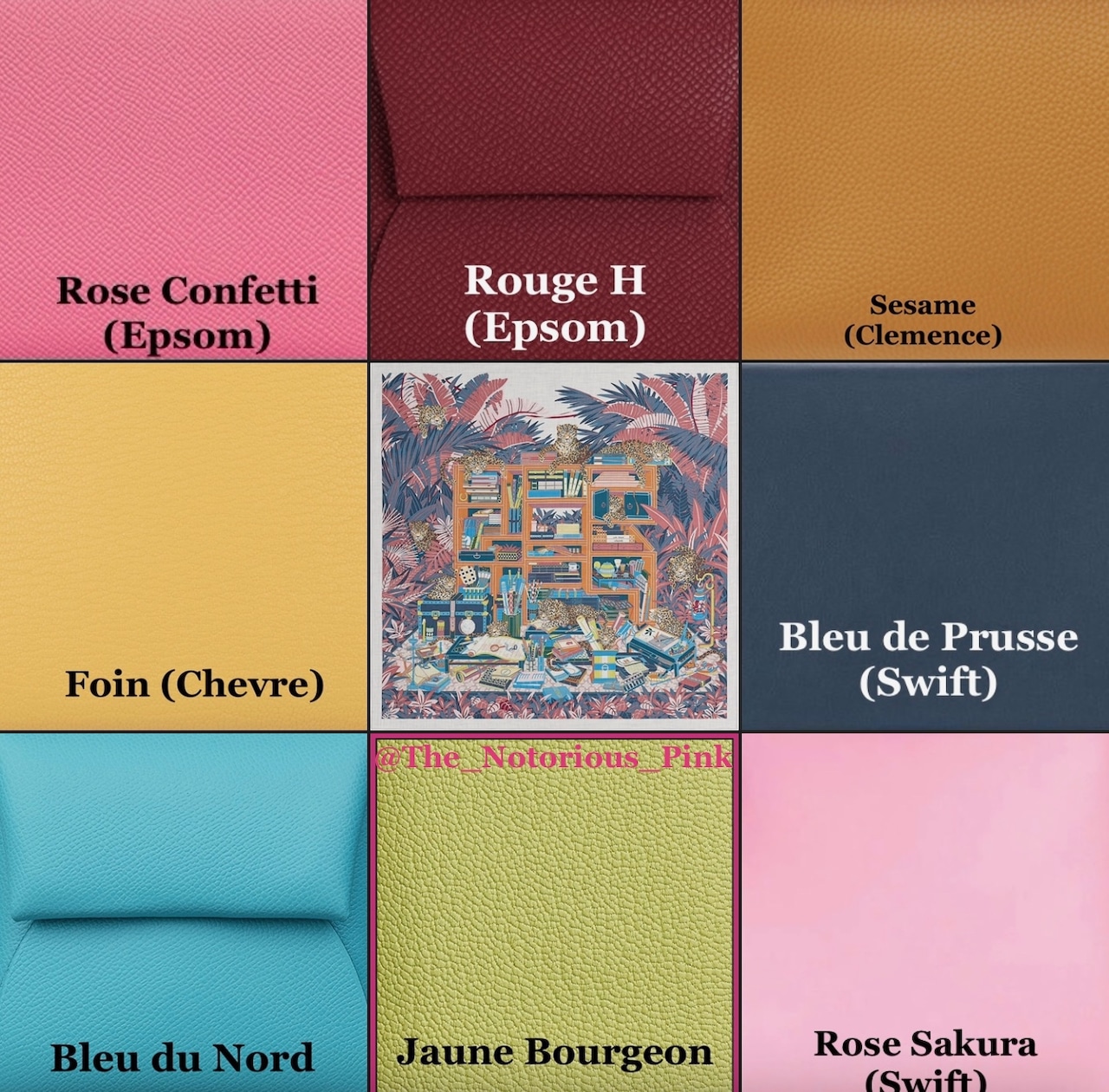 Soft Blue/Yellow/Pale Green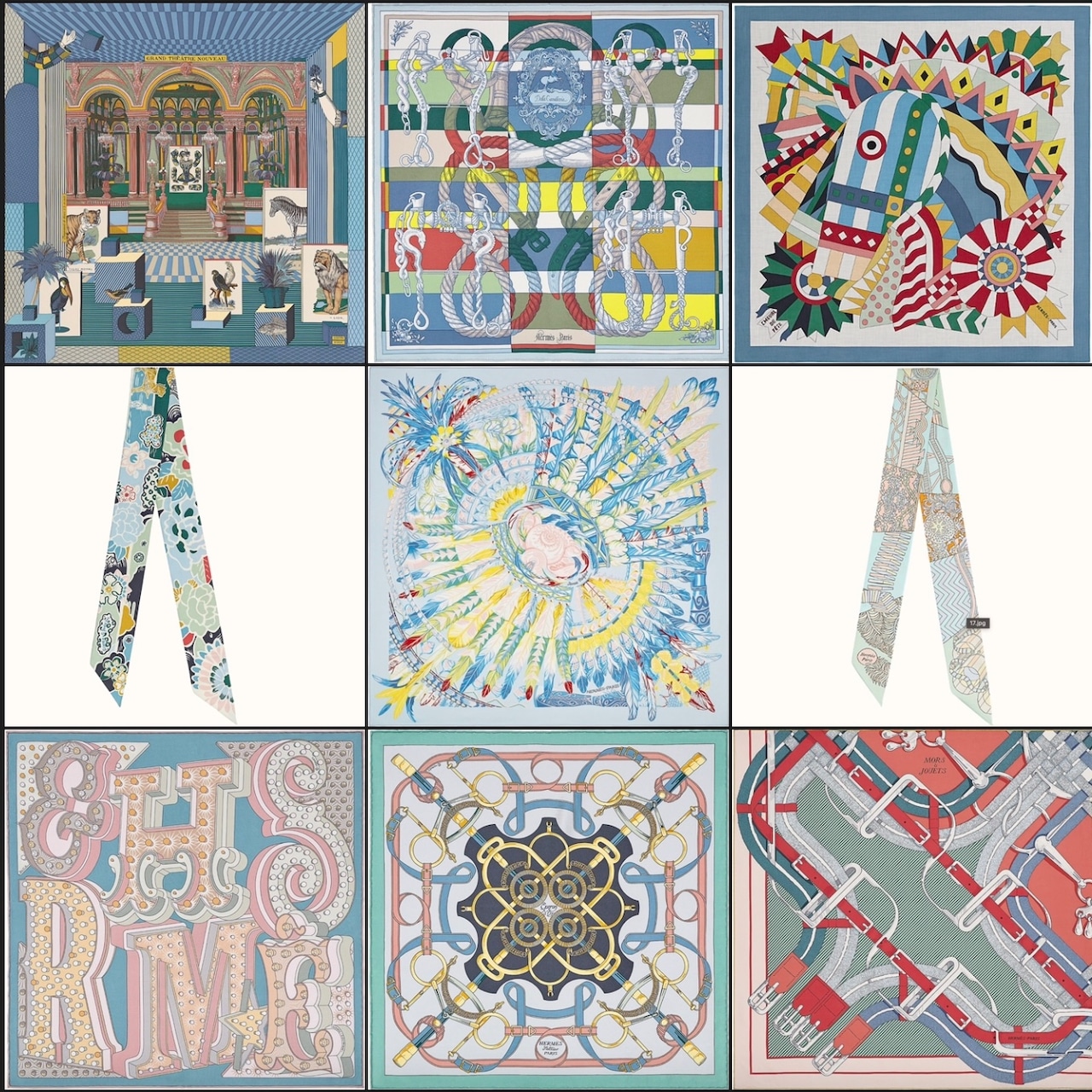 This is a very accessible color family with a little something for everyone: soft blues and pinks, greens, bits of red and/or yellow. It's mostly softer hues with fewer bold options. This differs from the above color family because there is less pink, no terra cotta, no orange, and more green (or, I'm wrong).
The AW21 color range: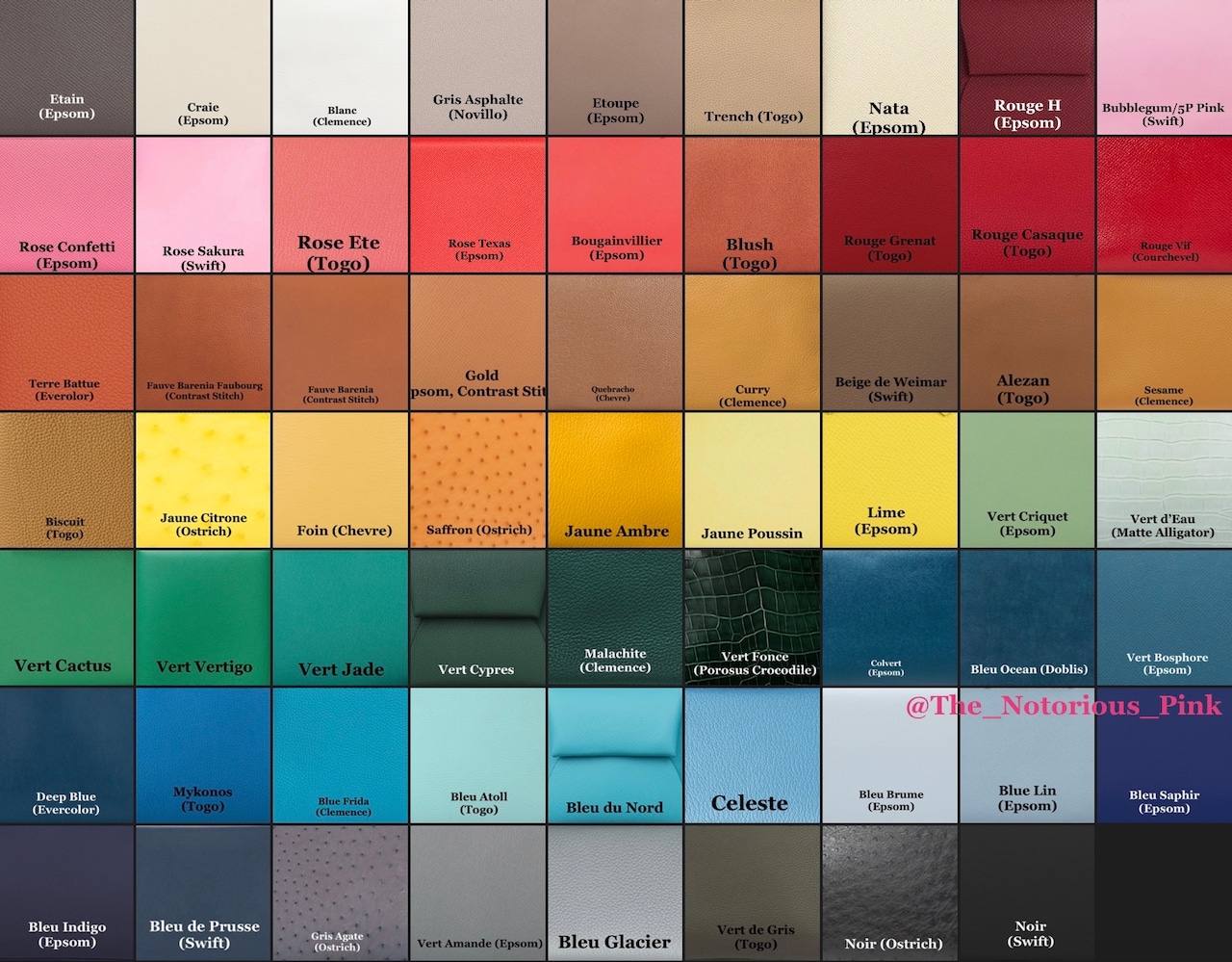 Some matching suggestions: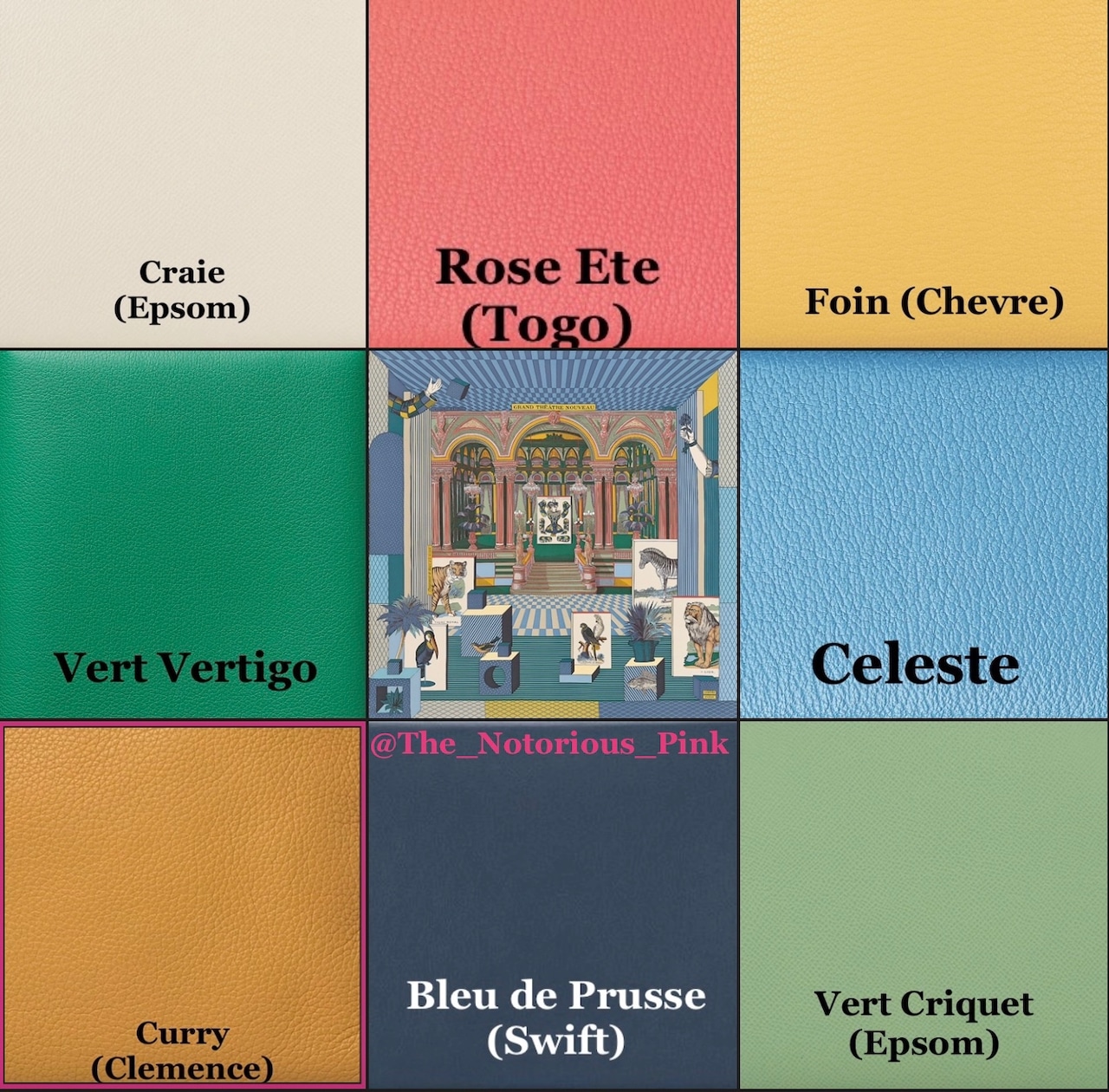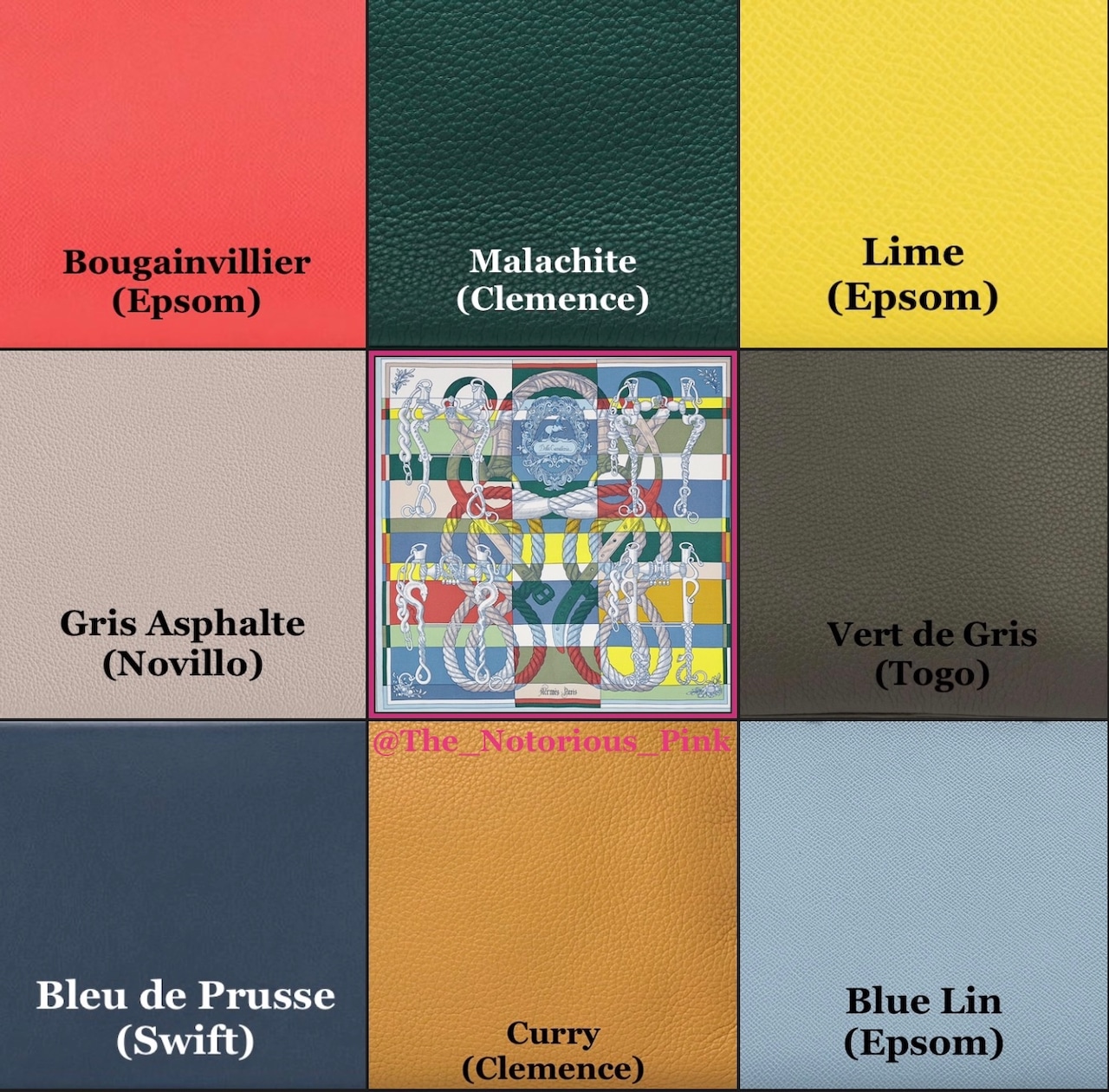 Teal/Yellow/Green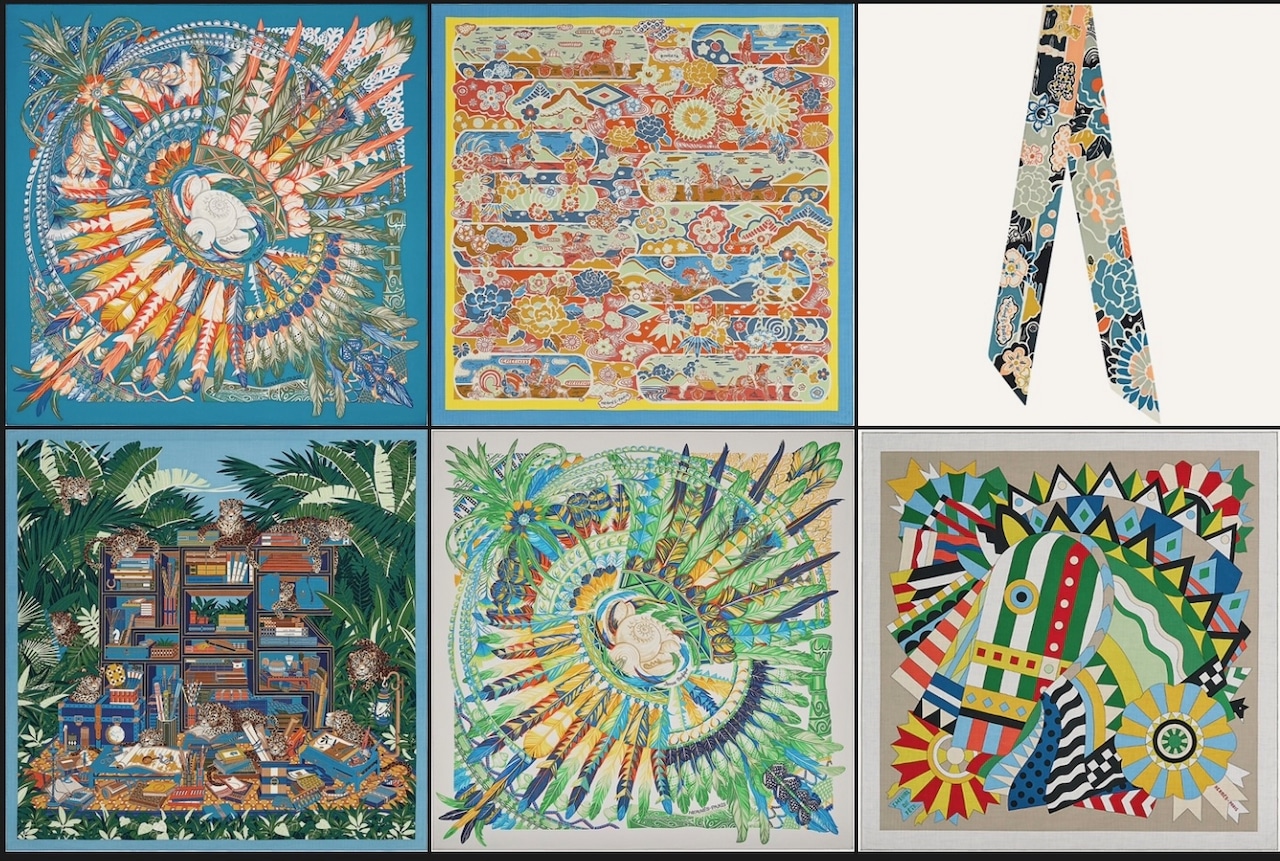 This family is predominantly teal, yellow, and green with accents of gray and gray-green. These scarves would be a nice accent to many neutral bags for those who want some visually pleasing colors that are neither too much pop or too pale.
The AW21 color range: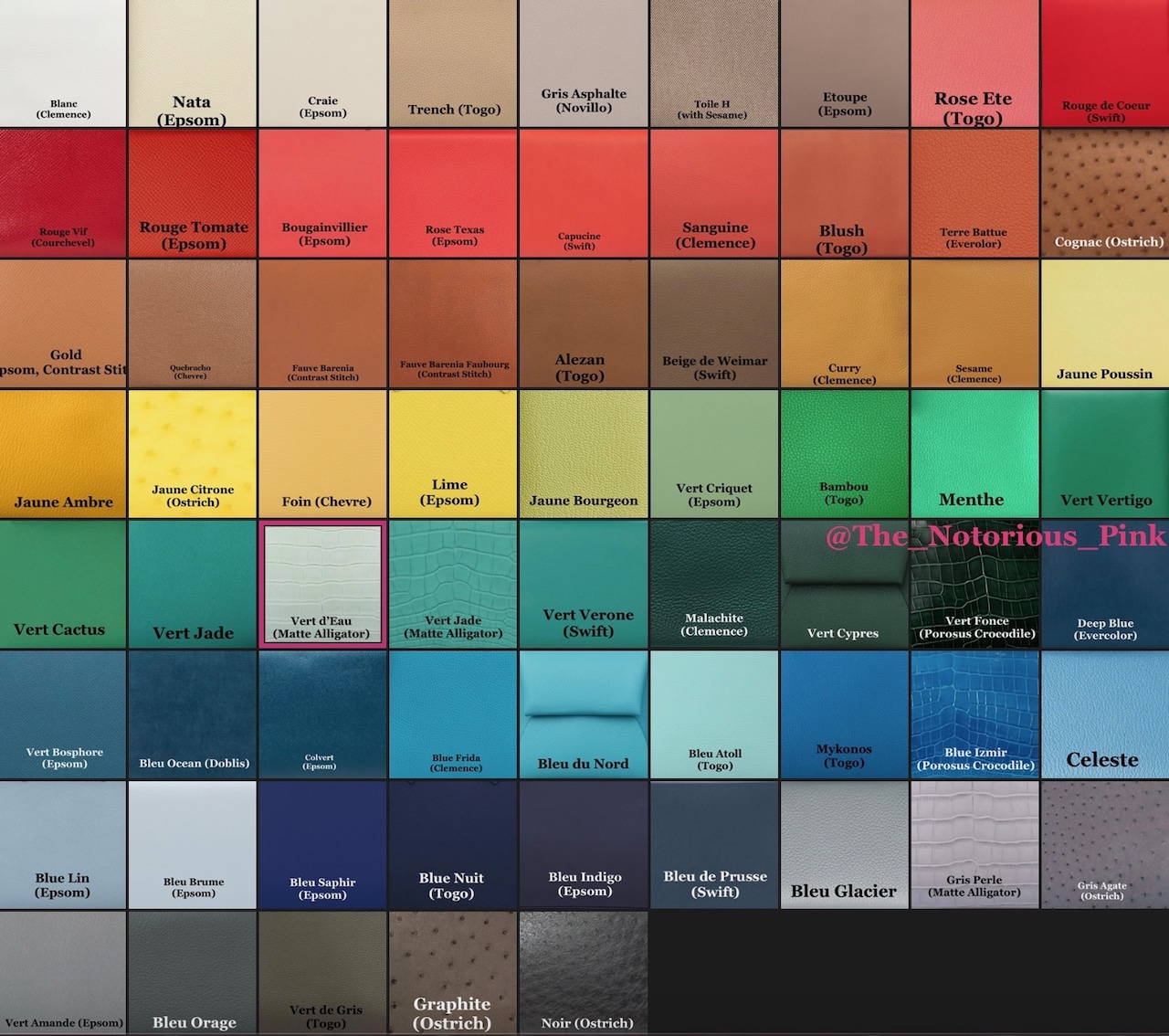 Matching suggestions: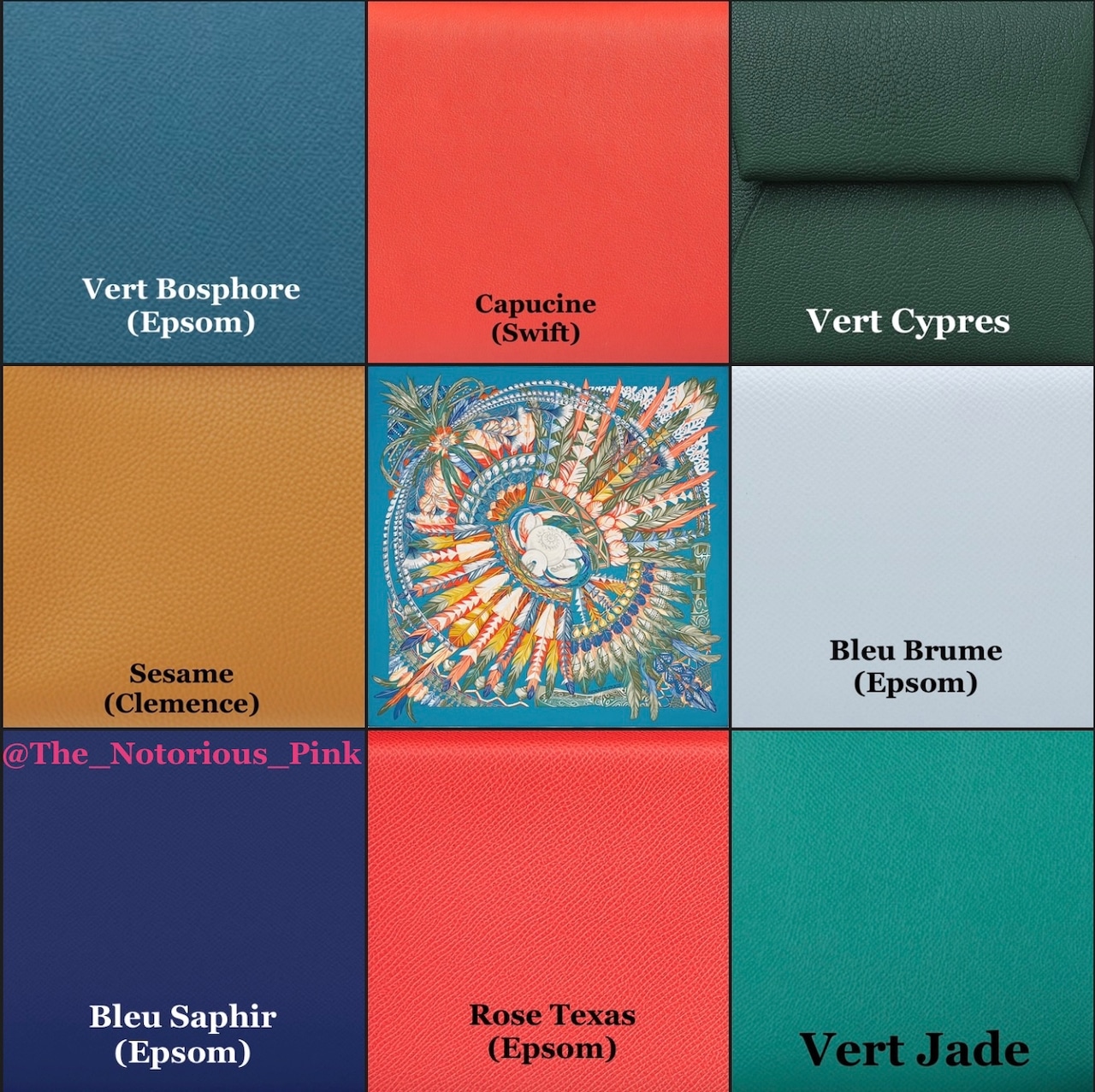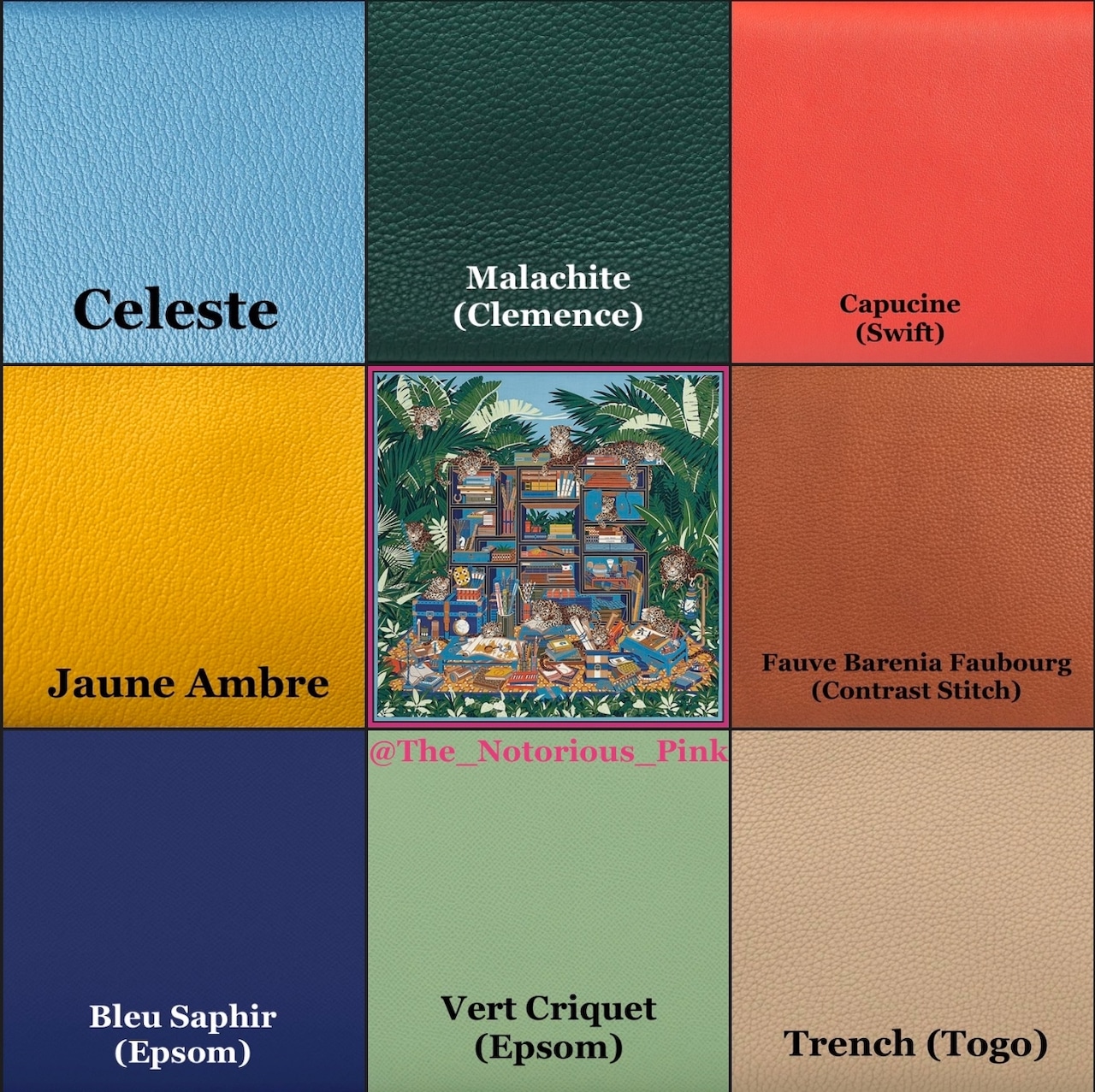 Blue/Black/Yellow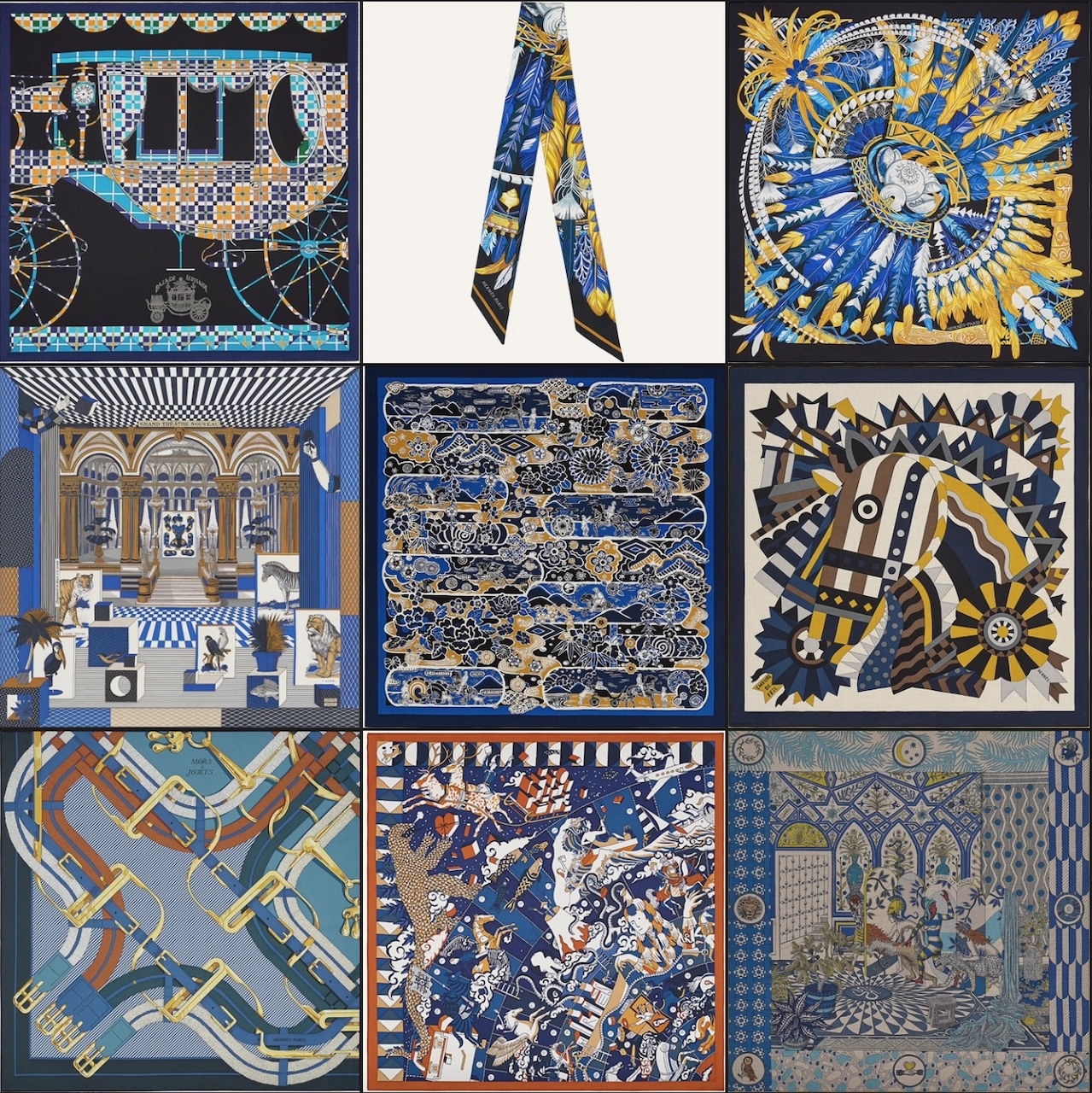 This is generally a series of darker/"safer"-colored scarves in blue and black with brown and/or golden yellow. These will also go with a lot of neutrals and will just be a nice, blending touch with casual wardrobes, especially for those who live in jeans.
The AW21 color range:
Matching suggestions: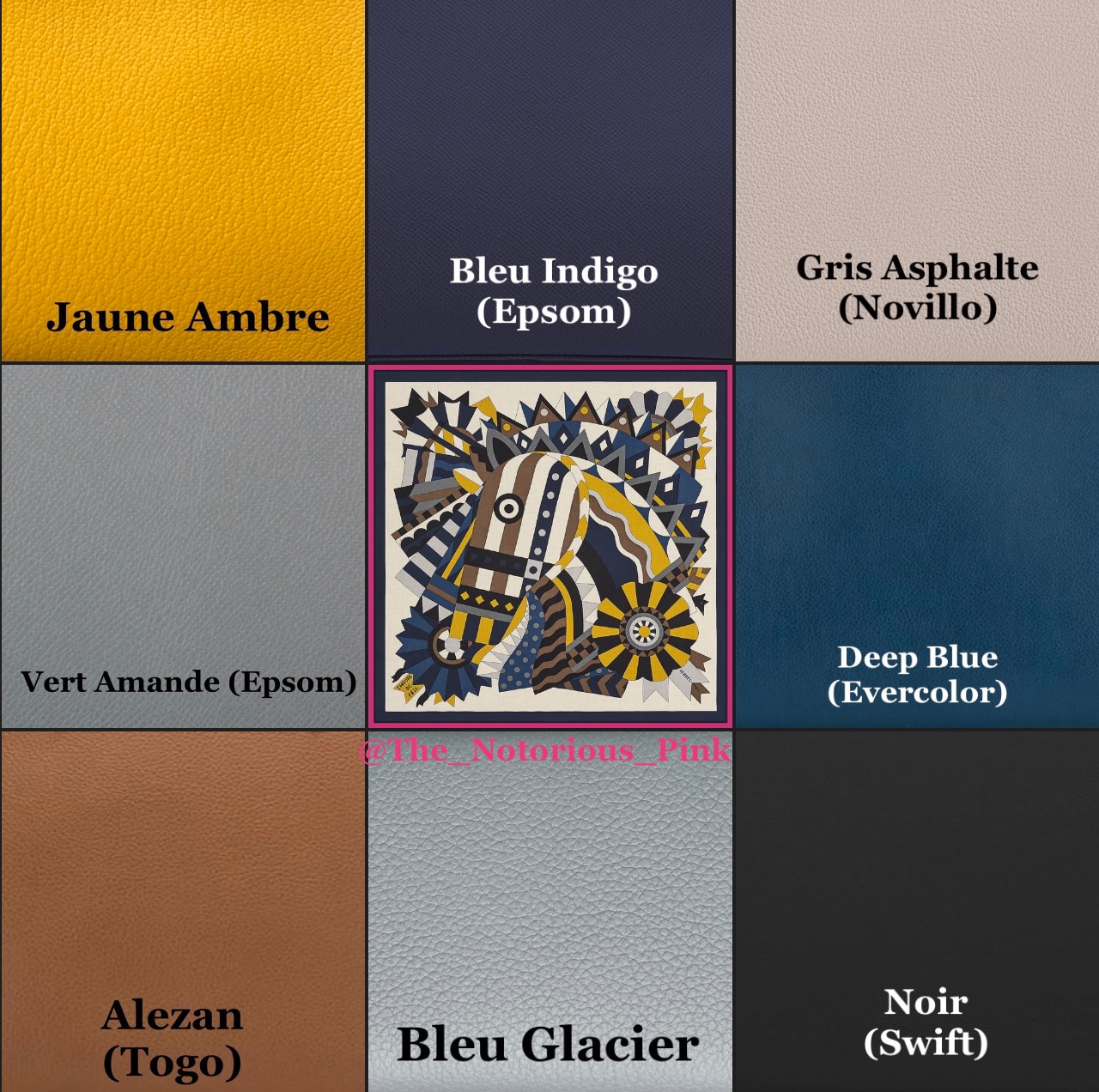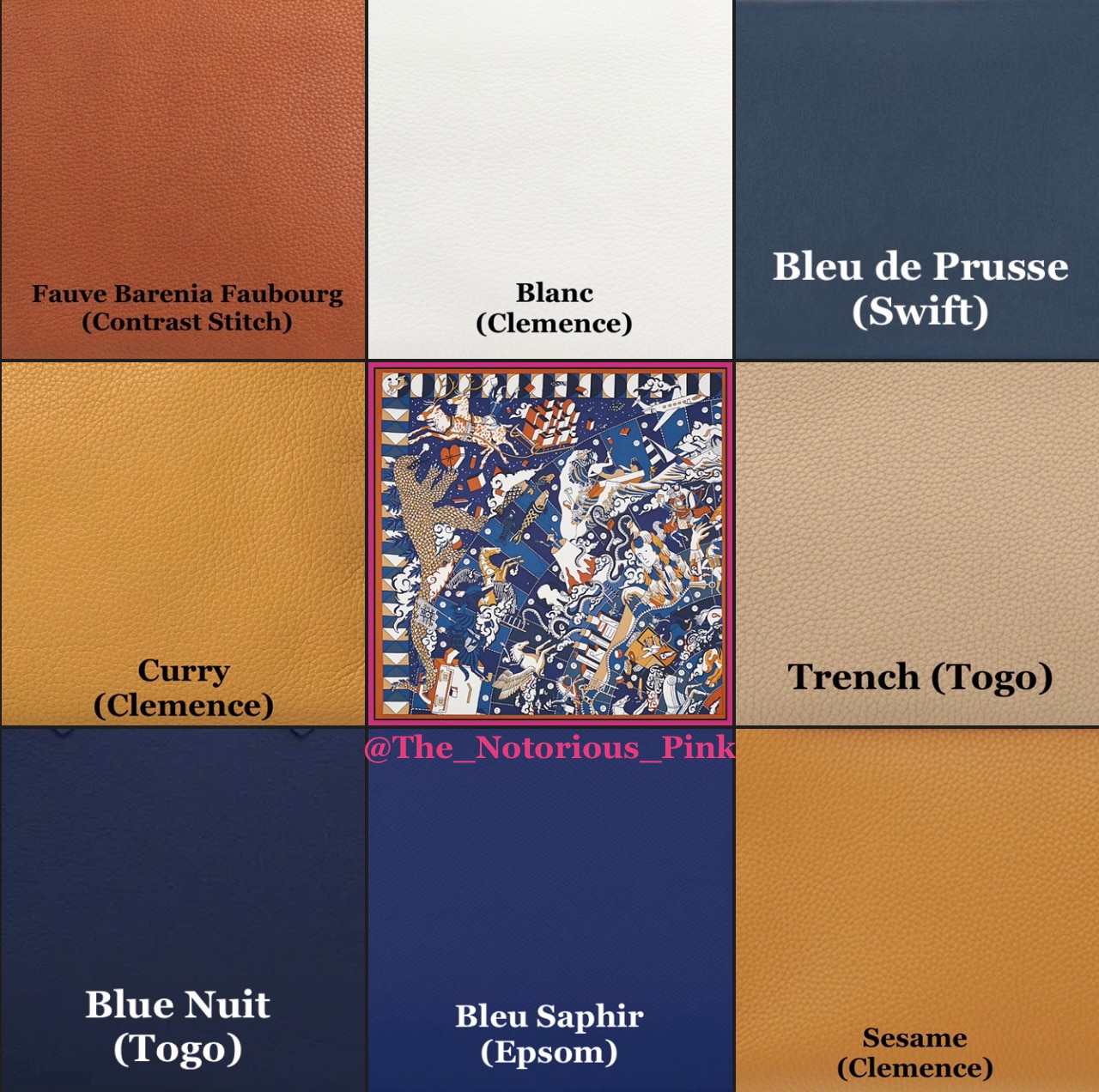 Black/Blue/Green (HG1: Vert/Noir/Tabac or CM2: Rouge/Vert/Multicolore or both)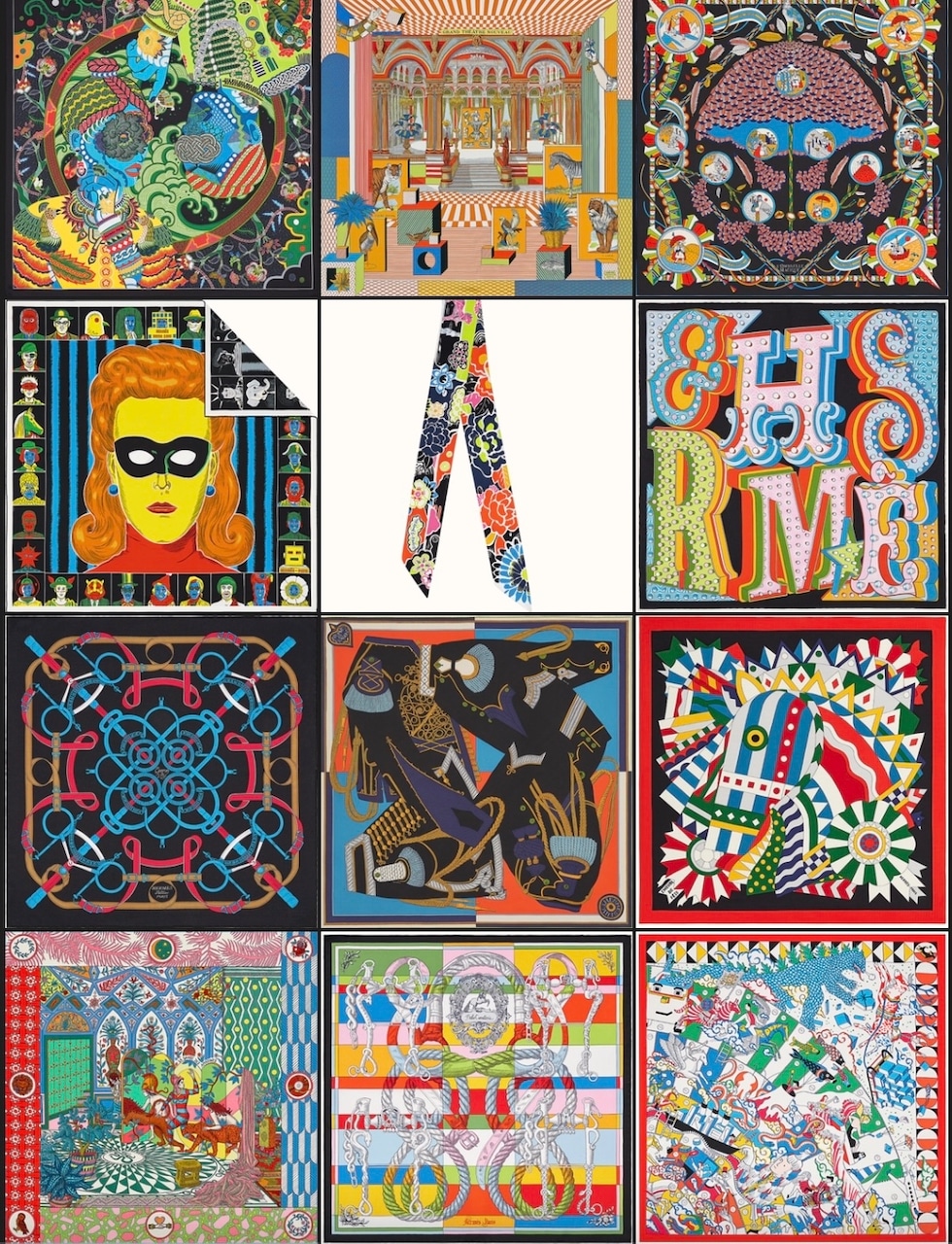 At the other end of the spectrum, these are scarves that are essentially black with very bright colorways: there are many pop colors here. Red, orange, yellow, green, blue: all are represented, and even bits of pink, too. While these scarves are definitely more daring, in person some are very accessible (the black Duo Cosmique, top left, is proving very popular this season), especially if most of your bags are neutral and you want to add something fun and not too "safe".
The AW21 color range: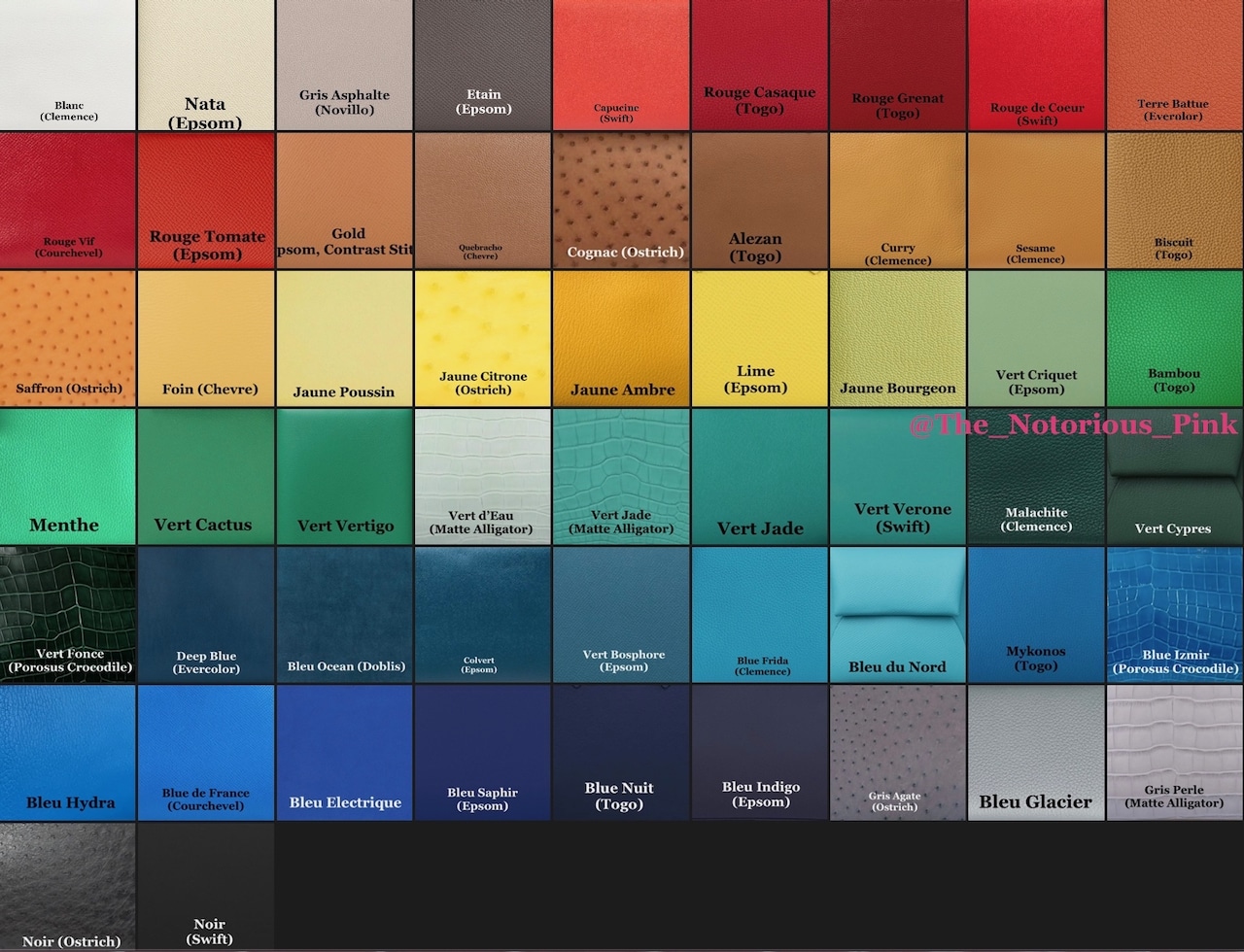 Matching suggestions: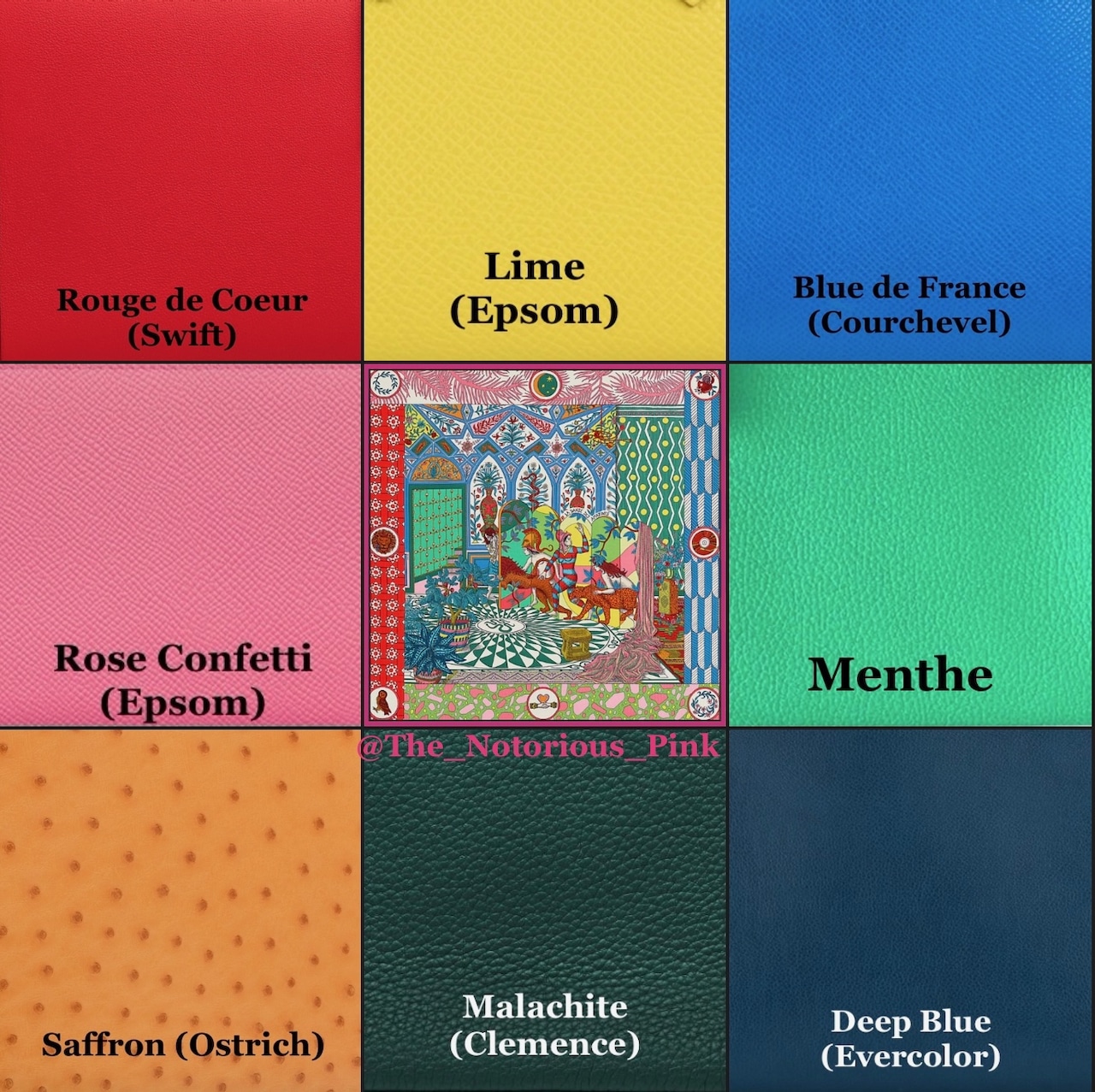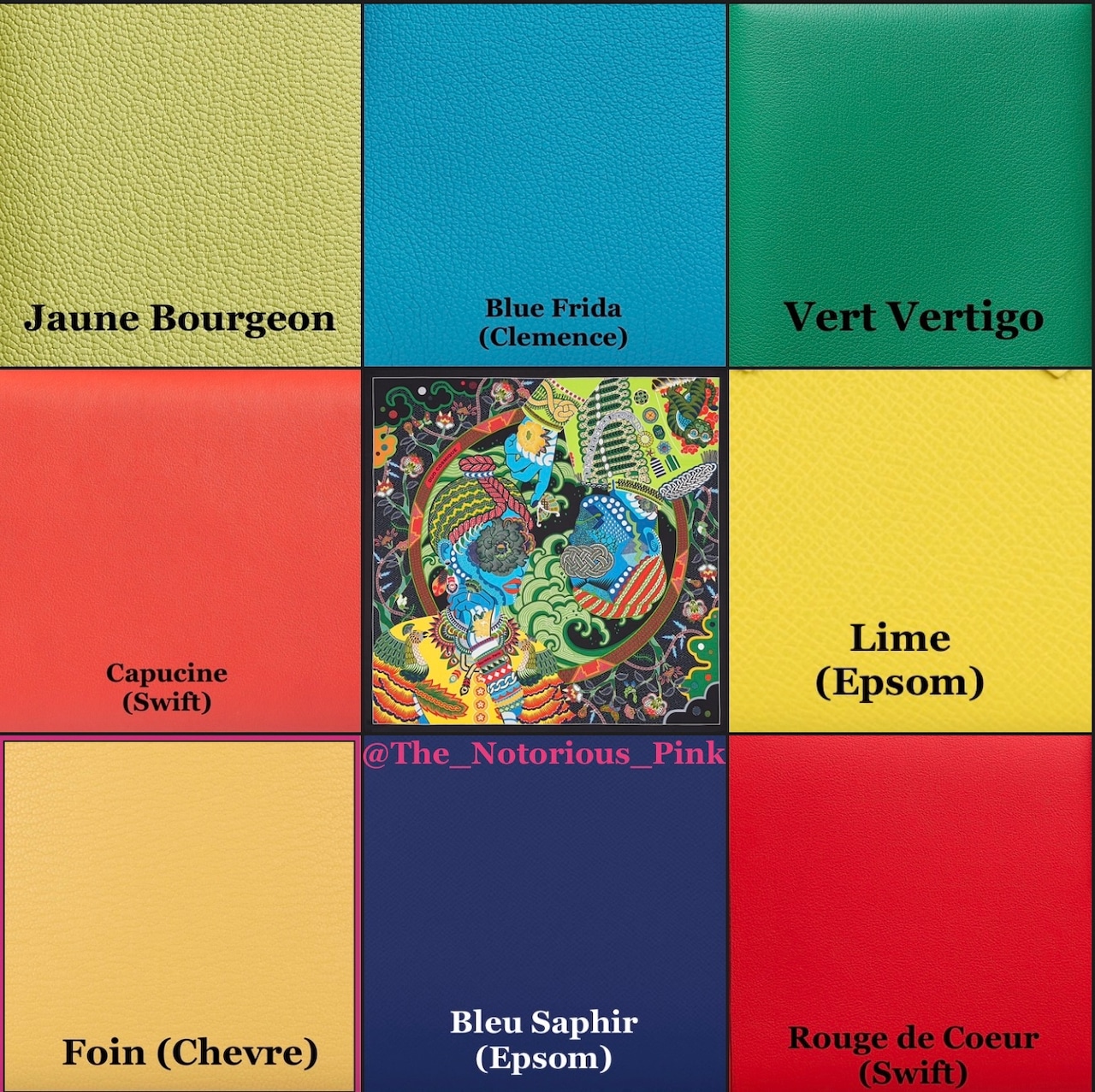 Orange/Blue/Yellow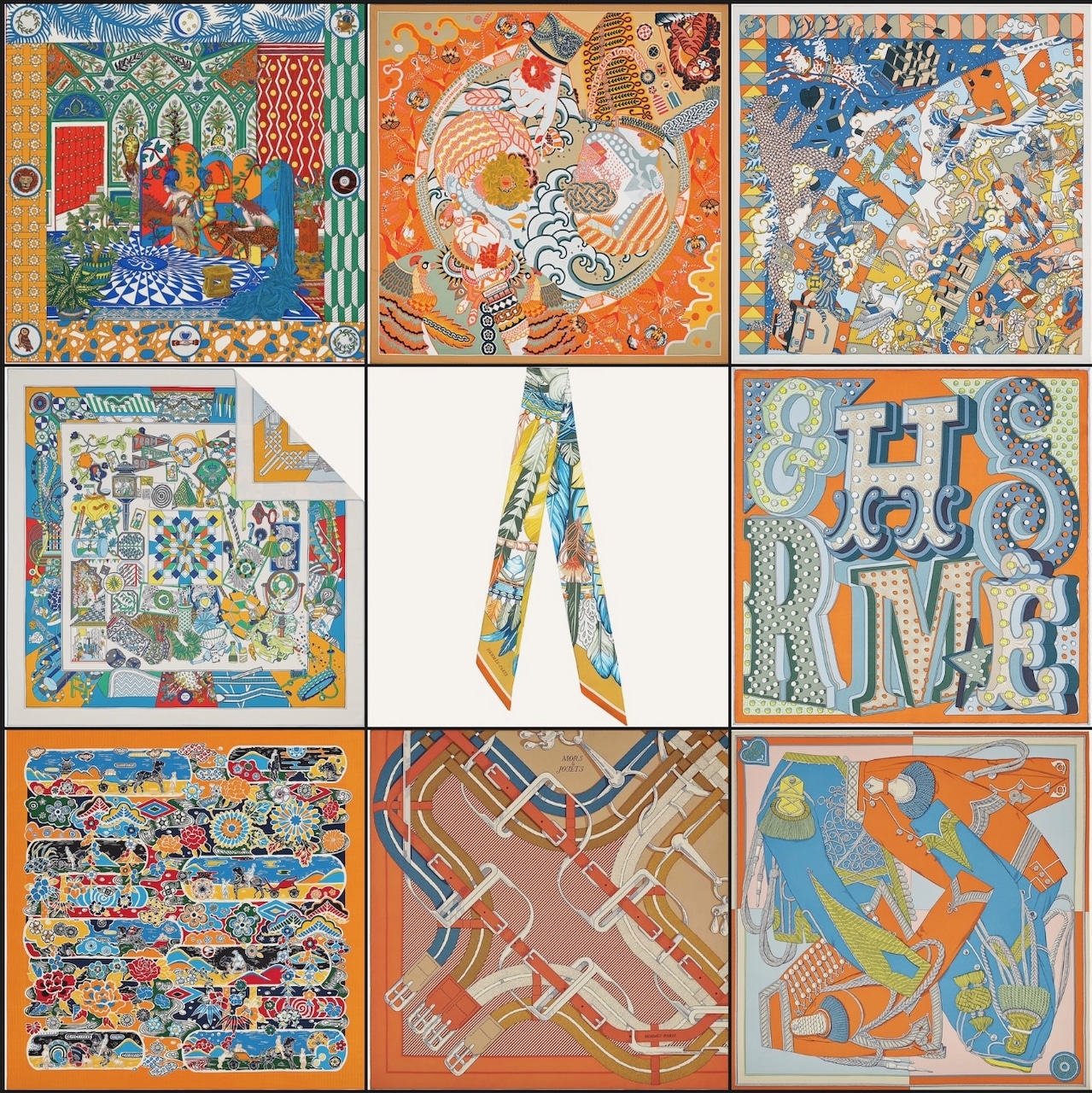 Hermès got a little wild with this color family; orange, blue and yellow play well with a variety of neutrals (as well as the Knicks, Mets, Bears, and Broncos uniforms, and I had to look that up even though I live in NY 🤷🏻‍♀️). Honestly, these colors seem more summery (and perhaps somewhat masculine) to me than fall, and as a New Yorker, I don't ever see many people wearing orange, whereas they may in more tropical climates, but if you love orange scarves this is a great season for you.
The AW21 color range:
Matching suggestions: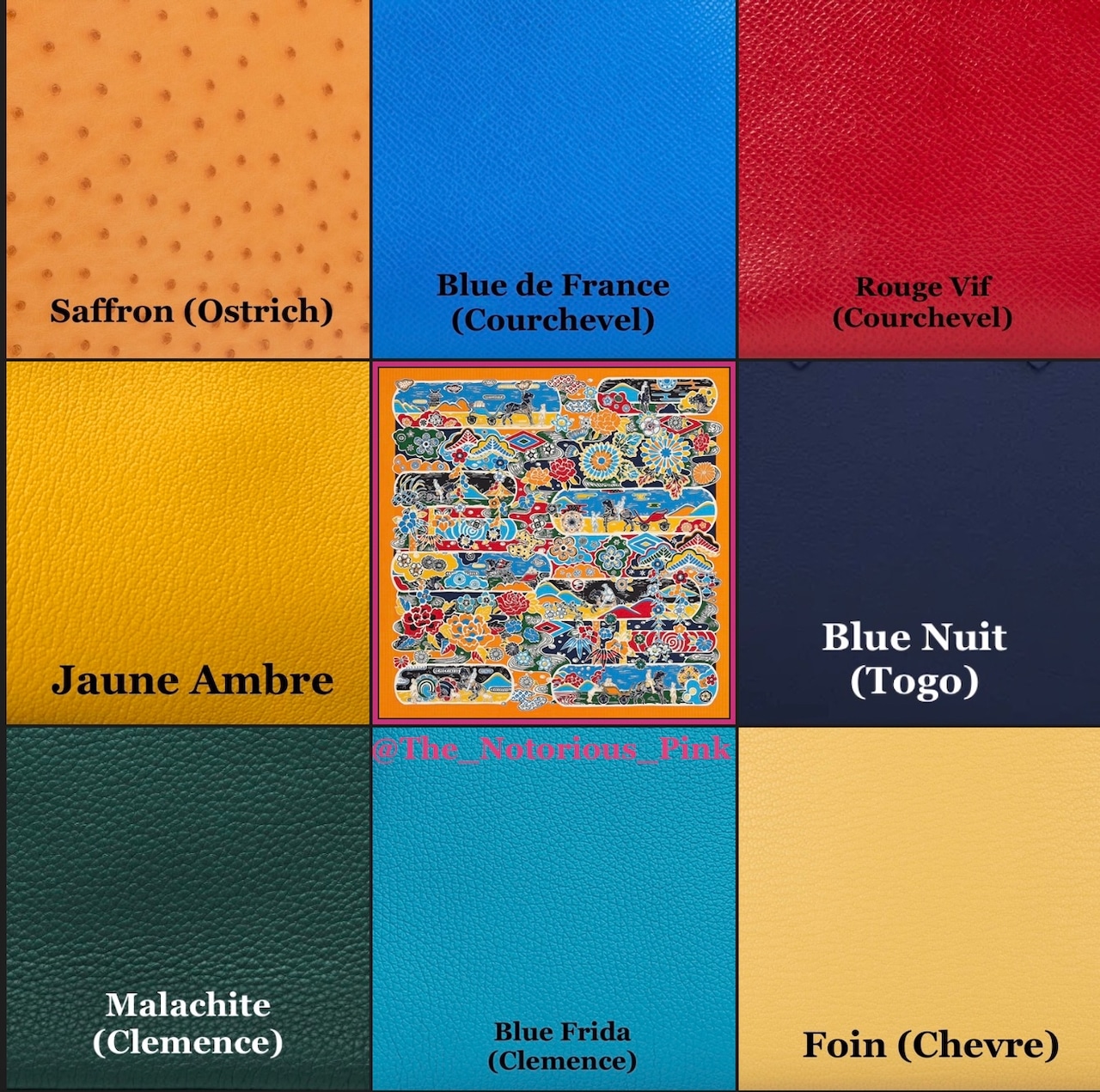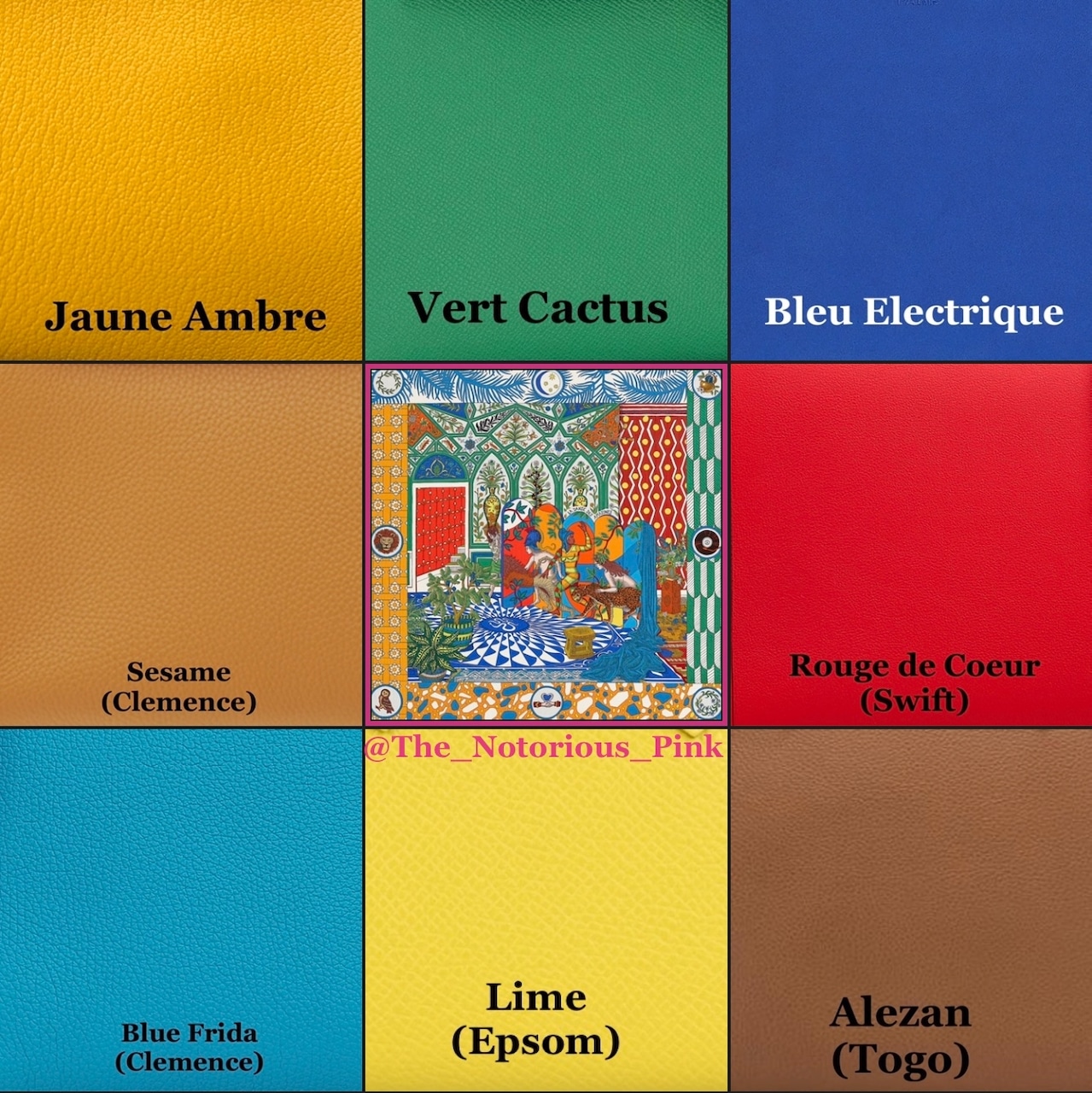 Orange/Gray/Beige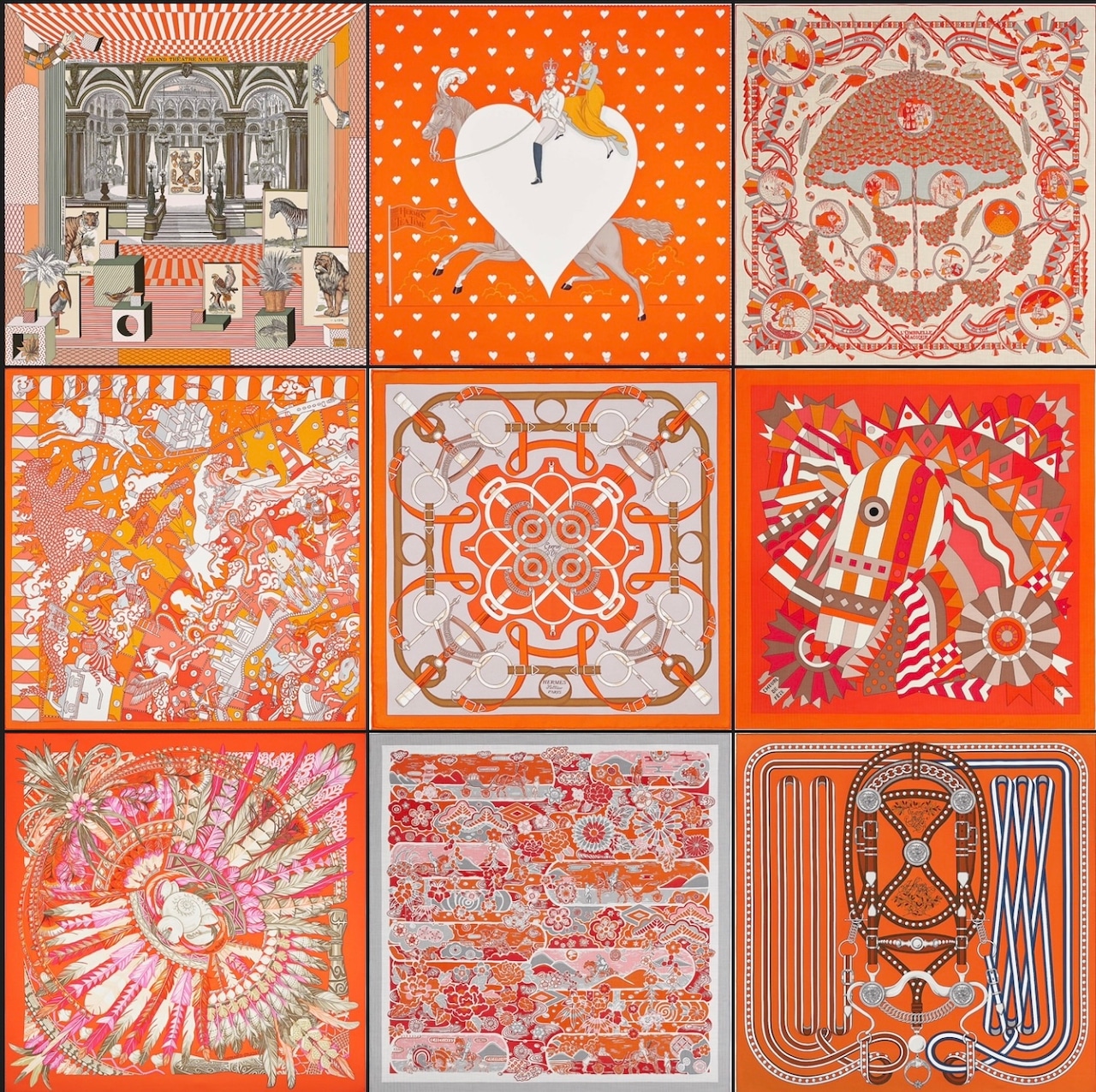 This orange/neutral version is much more accessible to me than the one above, as it's softer and includes gray and some pink. Soft neutrals in the cream-beige-brown range, a bit of golden yellow, and the lighter pinks would all work well with these scarves.
The AW21 color range: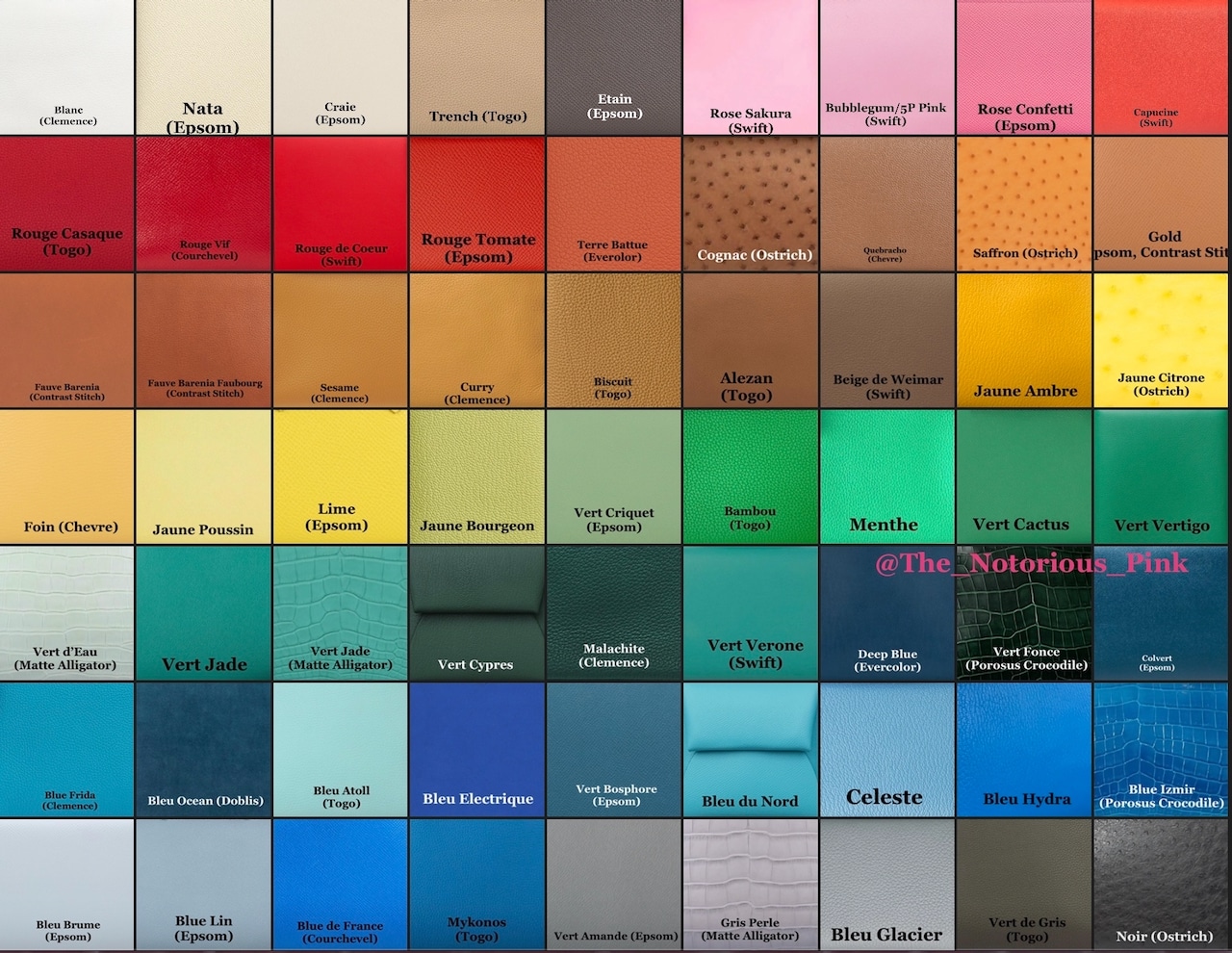 Matching suggestions: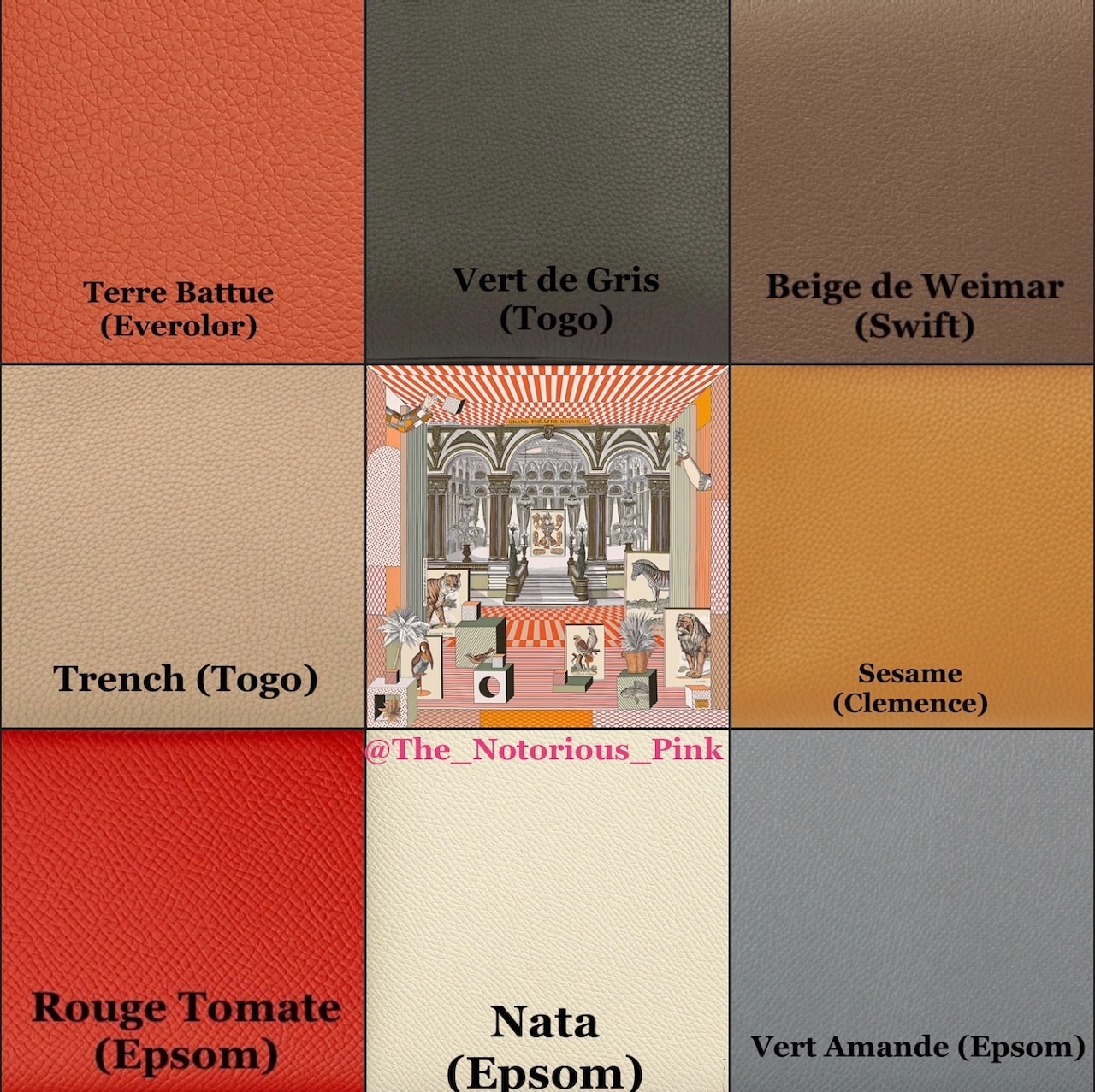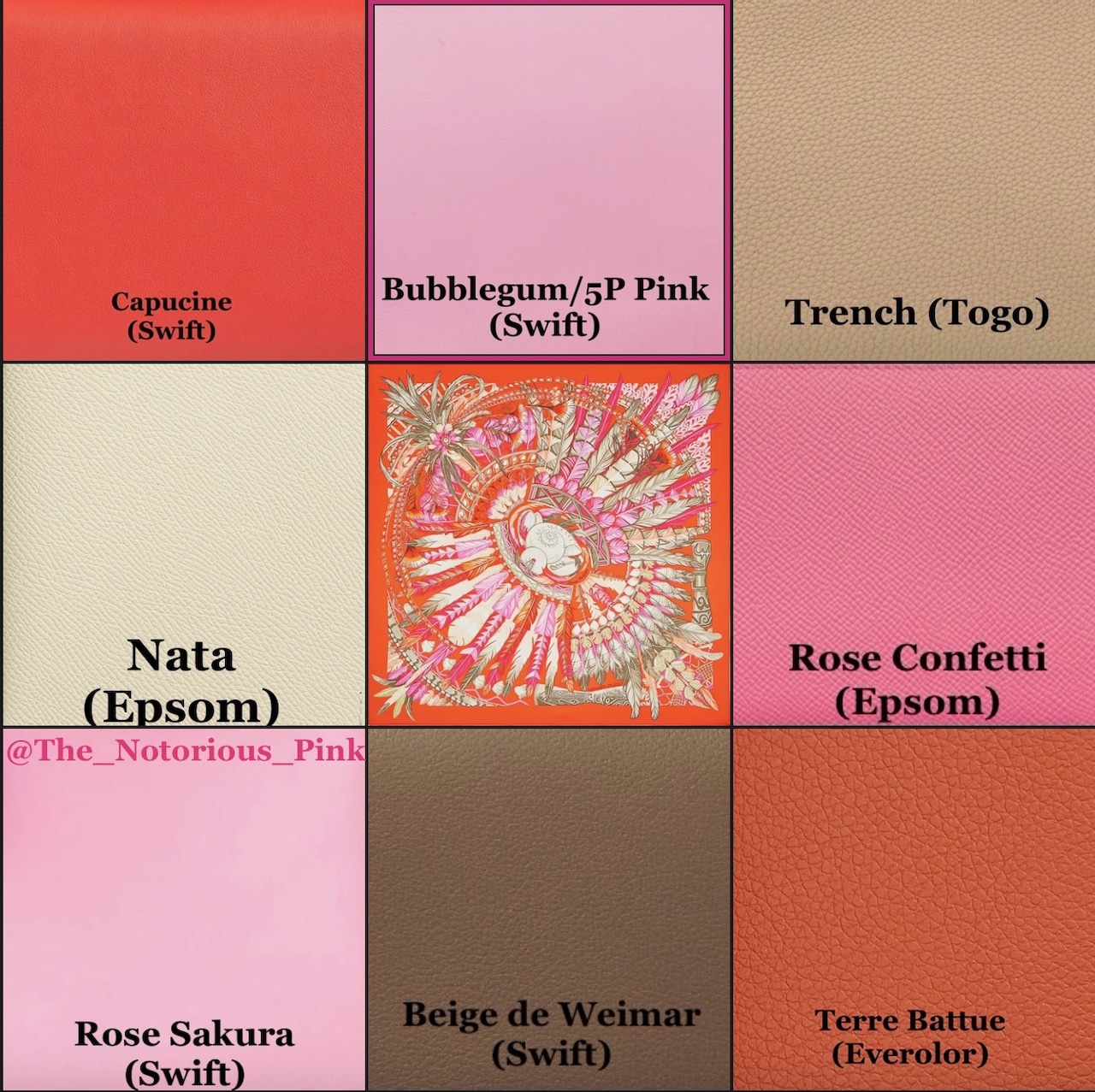 Green/Brown/Black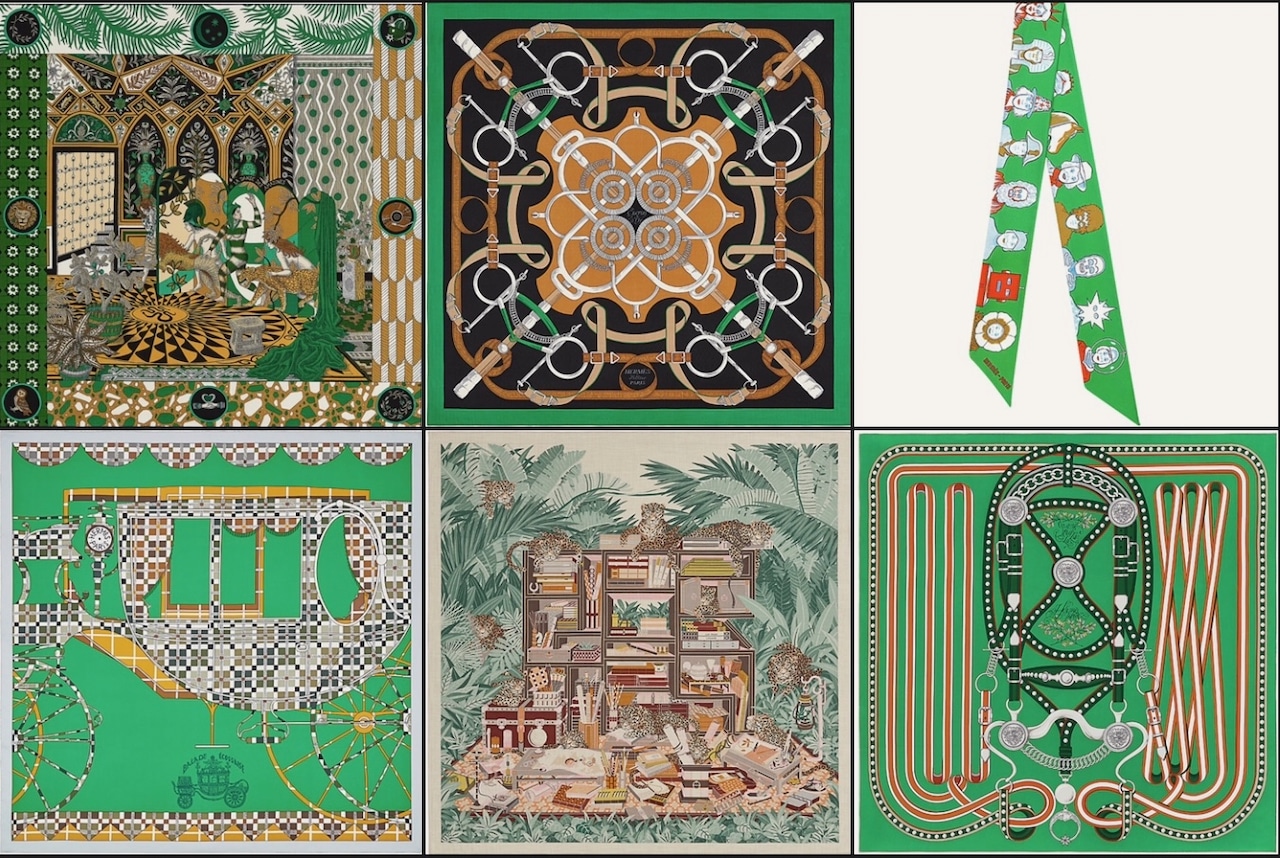 Over the years I have come to appreciate the scarves like these which, while not monochromatic, also don't have too many colors. These will be fabulous with almost all neutrals and all the greens and natural shades for fall.
The AW21 color range: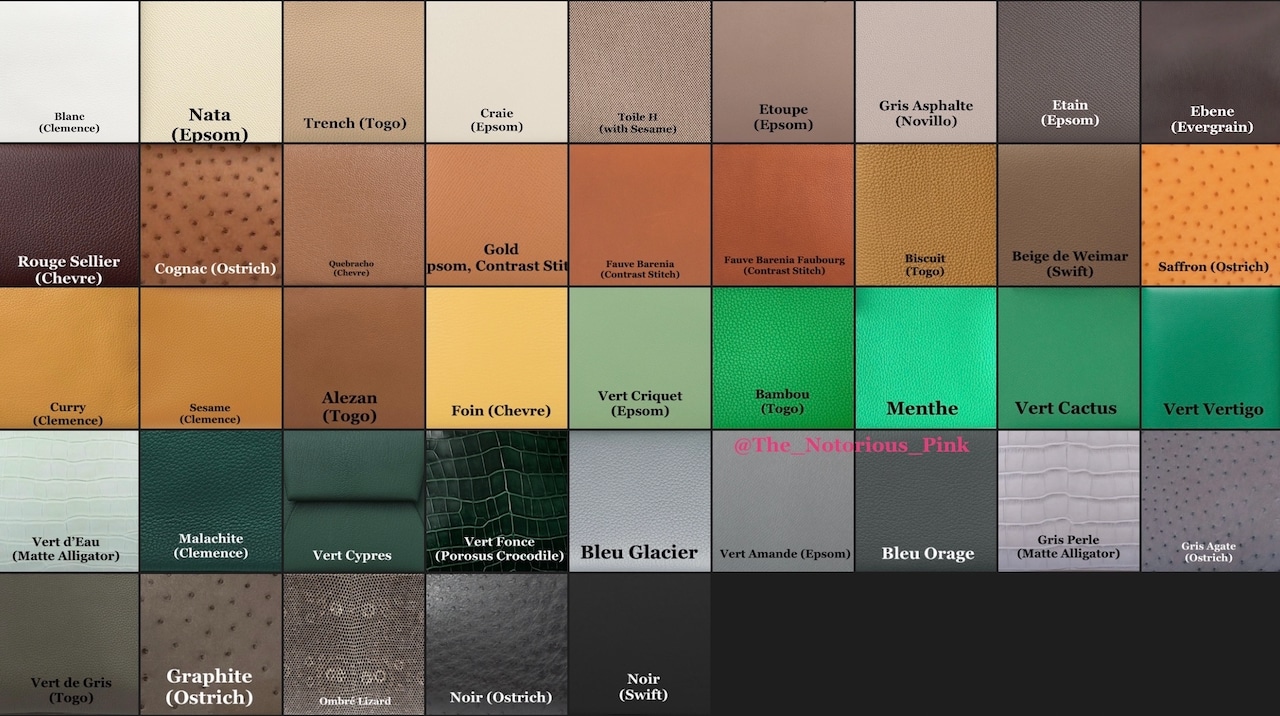 Matching suggestions: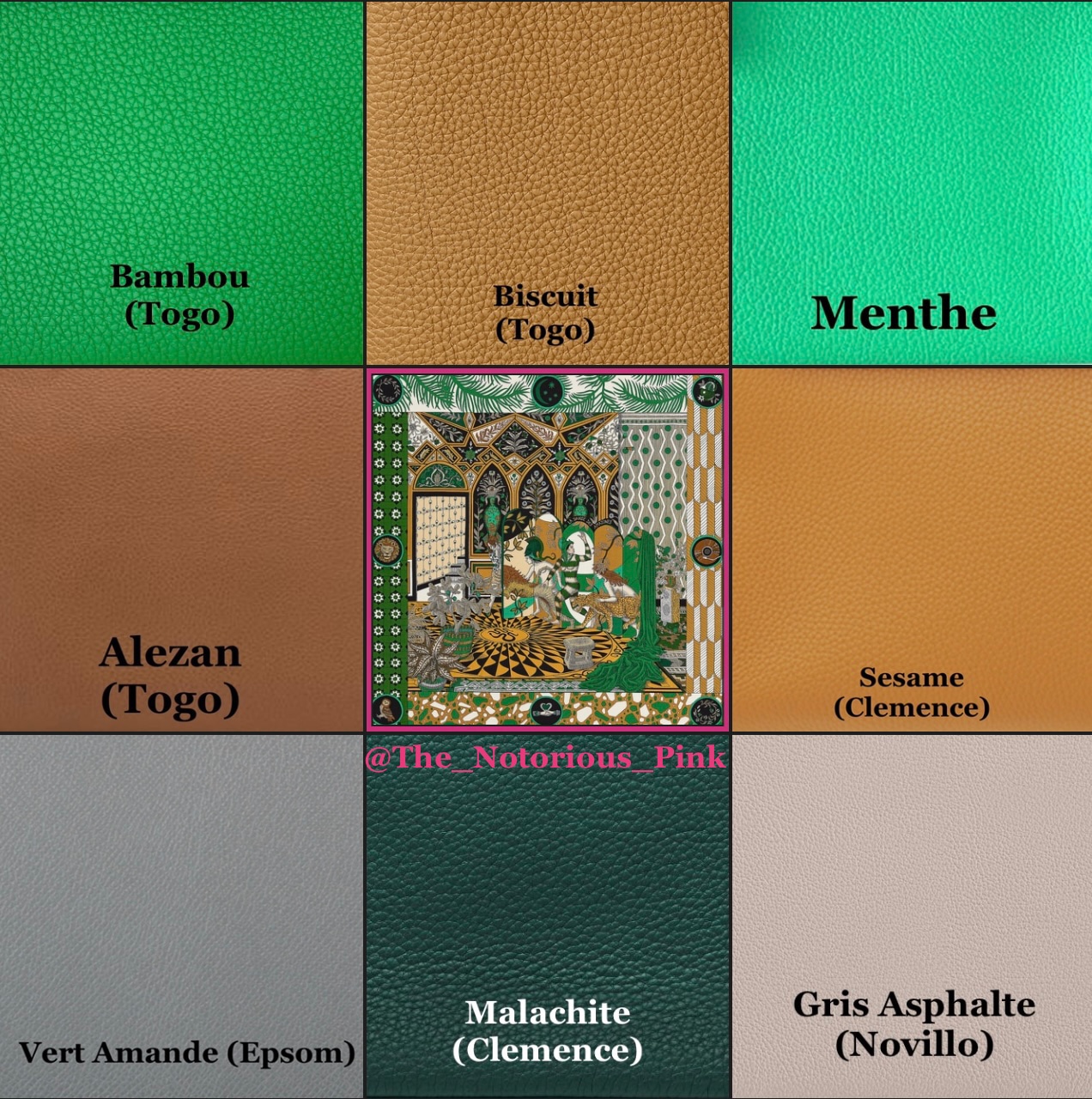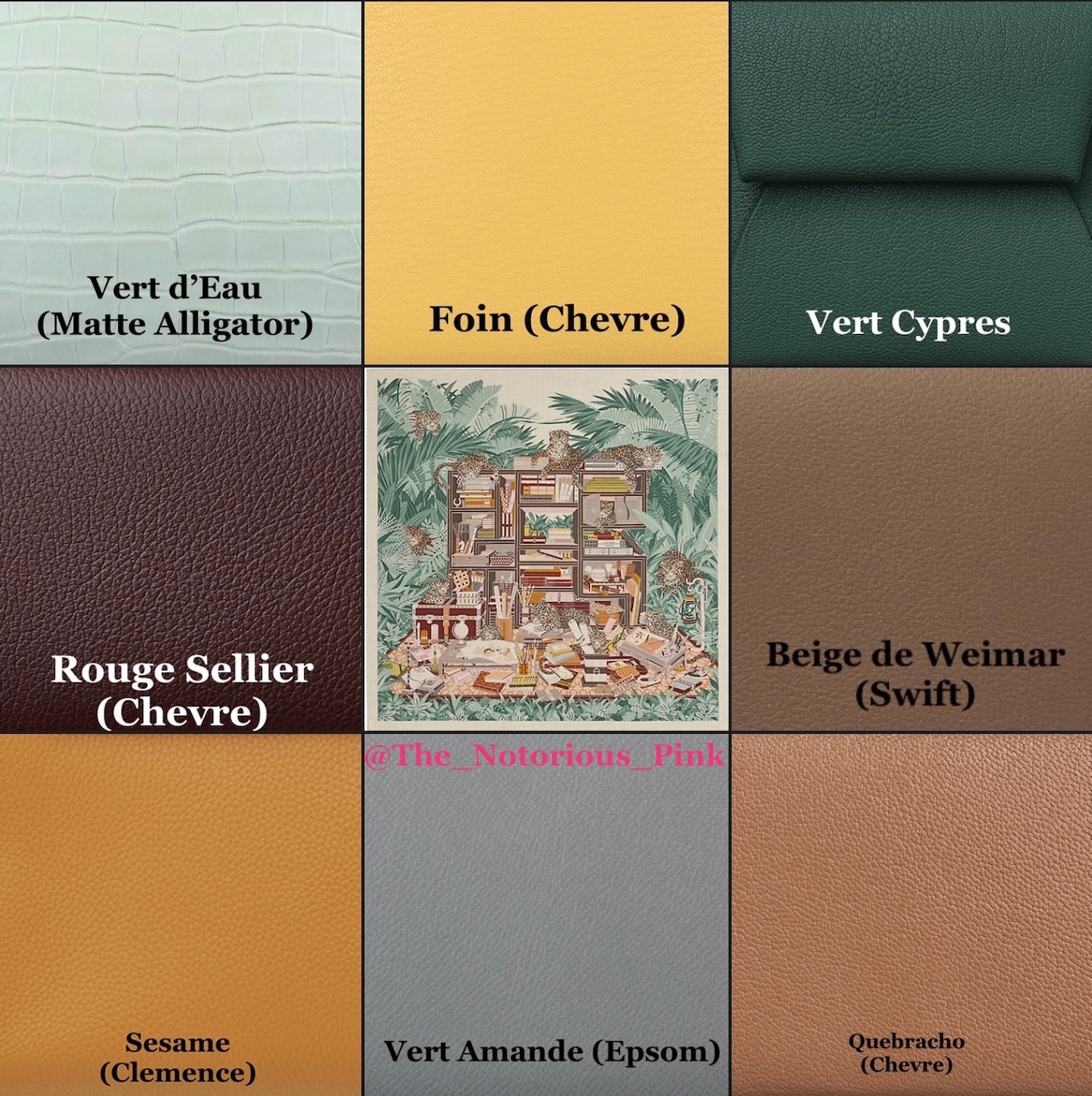 Pale Pink/Gold/Black (AL2: Naturel/Vert/Vieux Rose)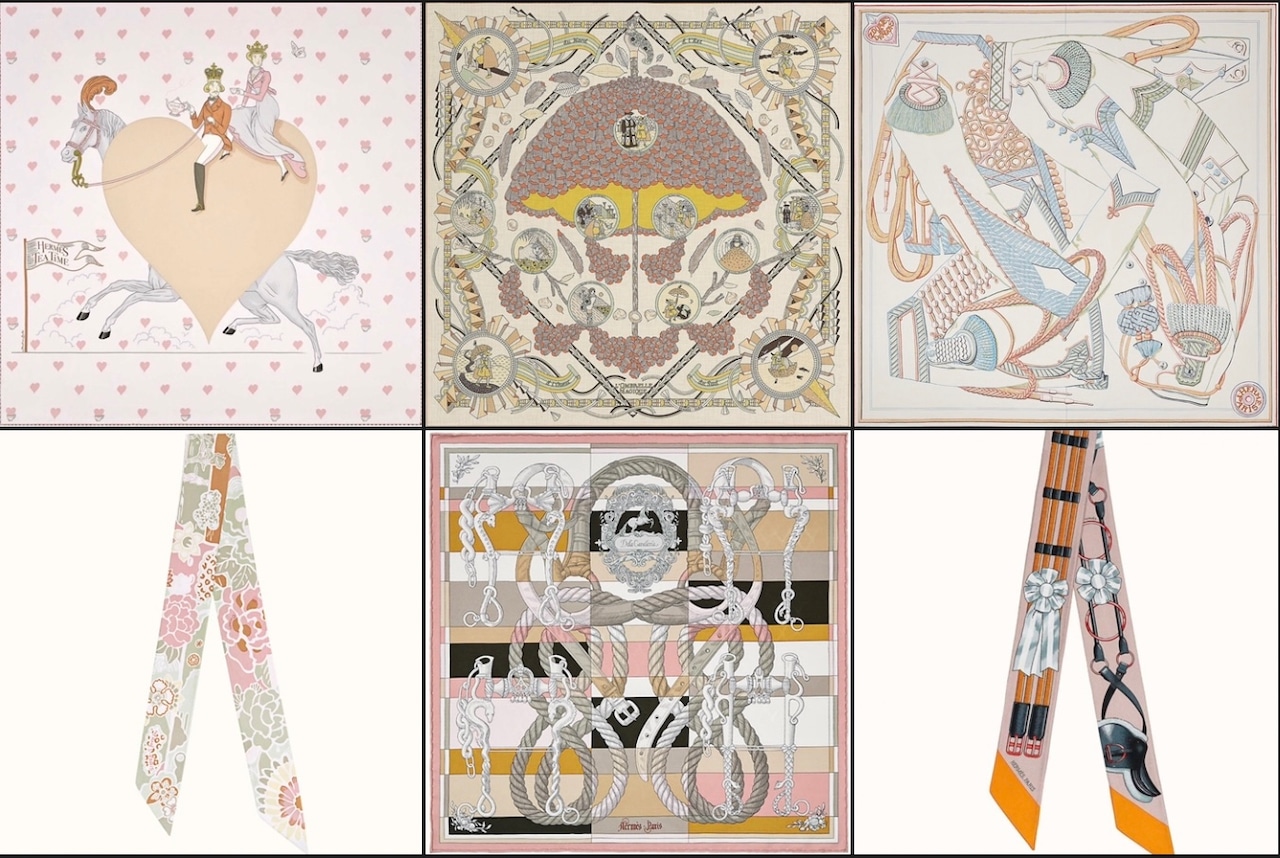 Another pretty colorway with pink which, tempered with pale neutrals and some bits of black, come across as not too sweet. The accent colors bring pink into fall.
The AW21 color range: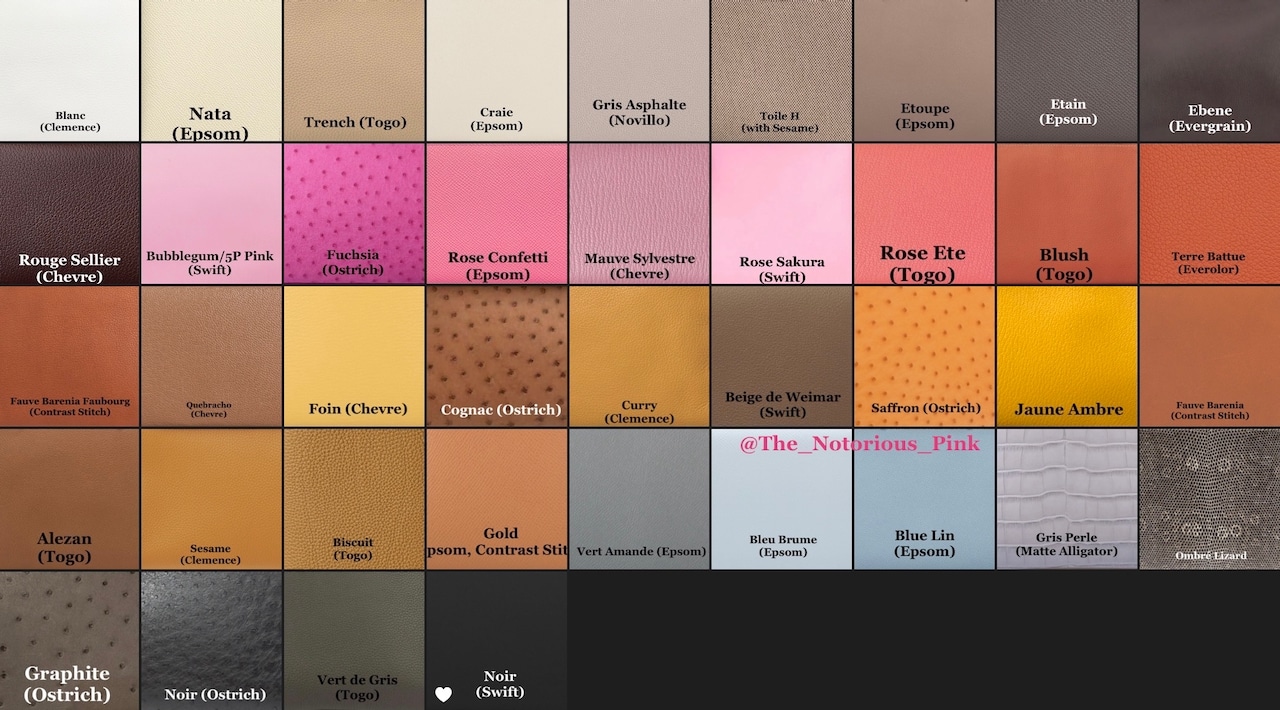 Matching suggestions: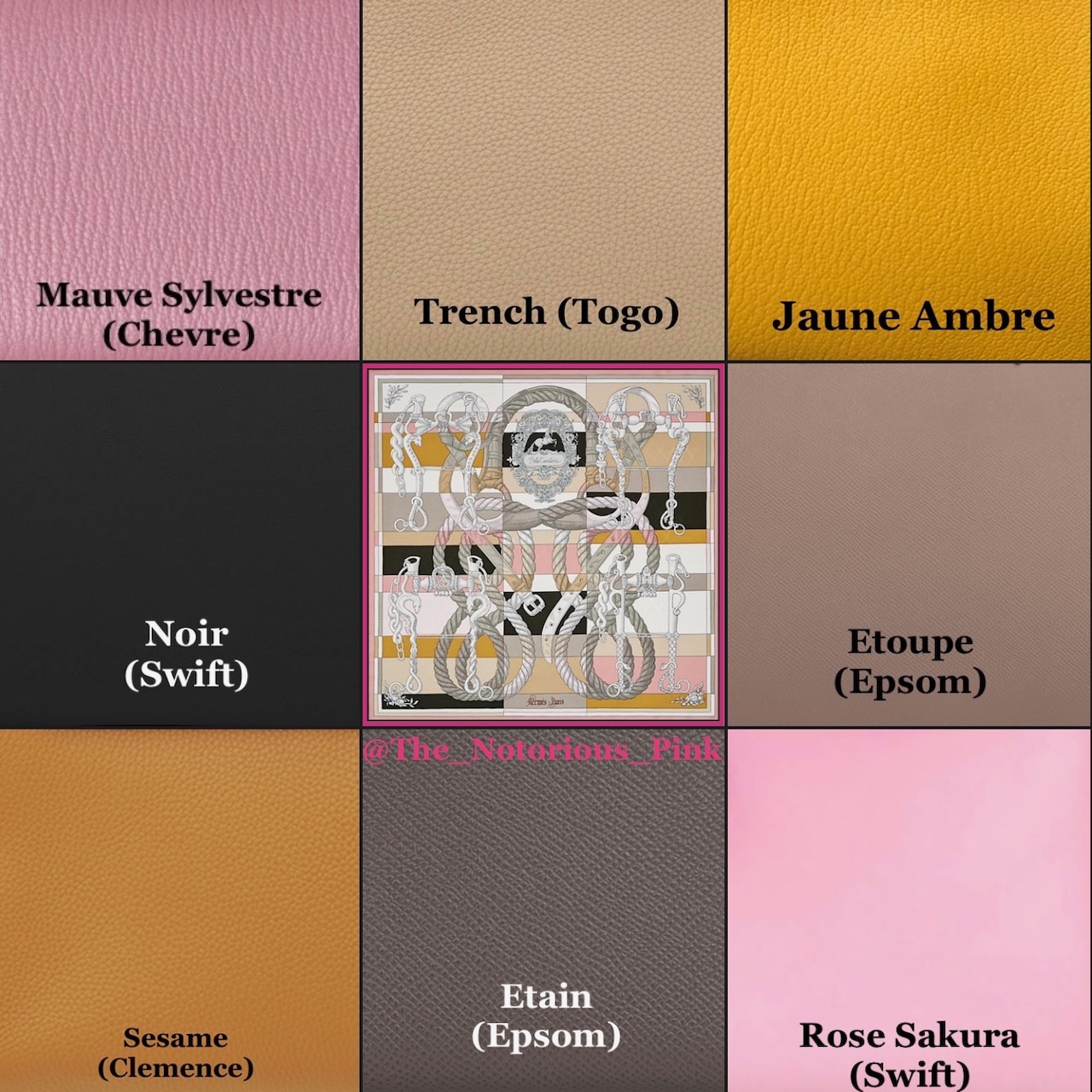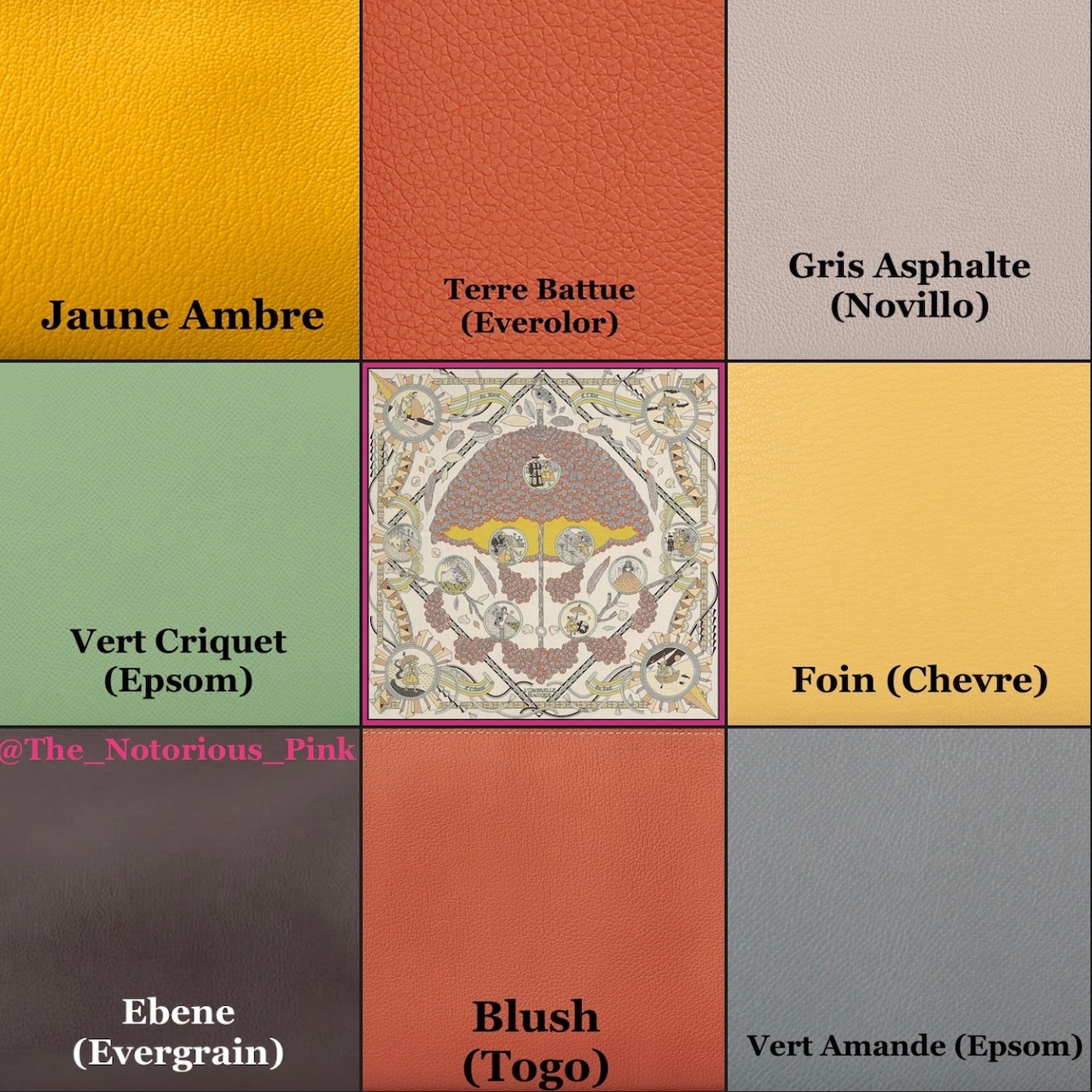 What do you think about the leather and scarf colors for AW21? Let me know in the comments below!