If you had the patience to sit through the entire duration of House of Gucci, didn't doze off, and actually noticed things besides the purse eye-candy (which, surprisingly, was few), you might have learned that there are a fair amount of feuds going on within designer houses that most commoners are not privy to (I know this because I read the book).
But the travails of the House of Versace have not only been widely documented and often downright ridiculed, but they also continue to cast a shadow of doubt in the minds of consumers to date. But because of its highly-publicized anticks, Versace is also a brand that has the ability to remain at the forefront of gossip unlike any other, that too without losing political correctness like its more ill-regarded counterparts, Dolce & Gabbana and Alexander Wang. Today, we take a deep dive into its background and, more importantly, whether it has been able to adapt itself to the needs of the present day.
A Legacy Worth Noting
One of the striking things about Versace, which has remained true to the brand, is that it isn't quite for everyone. Which, albeit, isn't always a positive thing. And at times, its distinct style has garnered more snickers than acclaim. However, it stands its ground unlike any other, and that, given the saturated designs most brands tend to follow nowadays, is a commendable characteristic of its own.
Now, compared to the heritage houses of today, Versace isn't that old. In fact, in 2022, it turned 44, having been established in 1978 as the Gianni Versace Company. Its inspirations, however, date back much further – with its founder, Gianni Versace, having first developed an appreciation for the finer things in fashion courtesy of his mother, a seamstress. Gaining experience in dressmaking and design from the family business and studying architecture, he found success working at Callaghan and Complice and later at Genny before founding his namesake label. Soon, Gianni incorporated his siblings – brother Santo and sister Donatella – into his vision, and together, they became a force to be reckoned with.
The 80s and 90s often referred to as the "Brilliant Era" of Versace, saw the brand become massively covetable. And in a period when most brands' designs were austere, at best, and the reigning It-bag was the ultra-utilitarian Prada Nylon Backpack, Gianni's gold mesh Oroton fabric from 1982, the heavily embellished Barocco print from the Spring/Summer 1992 collection, and the Bondage line from F/W '92, came as a breath of fresh air to lovers of maximalist style. In fact, Gianni himself earned the title of Rock & Roll designer for dressing the likes of Michael Jackson and Sir Elton John. Arguably, this distinctive flair for the over-the-top paved the way for subsequent and now-iconic collections like John Galliano's Dior, Marc Jacobs' Louis Vuitton, and Fendi by Silvia Venturini Fendi.
A Turning Point for Versace
On the morning of July 15th, 1997, Gianni was killed by a gunshot outside of his home in Miami, in a setting not entirely unlike the death of Maurizio Gucci of the Gucci family. His killer was found dead in Miami not long after, and the reasons for his killings are not entirely clear to date. And even though Donatella and Santo organized a stately funeral for Gianni in Milan, attended by some of the most prolific names of the century – his favorite model, Naomi Campbell; his fashion industry paragons, Anna Wintour and Karl Lagerfeld, and his most celebrated client, Princess Diana – many have said that the sound of the gunshots that broke the silence that morning in Miami continue to resonate. The brand is still reeling from the lasting damages inflicted upon it by the sudden demise of its most promising visionary.
It was now up to Gianni's remaining siblings to take over the bran. With Donatella as the creative lead and Santo as the CEO, the house soldiered on through much of the early 2000s, releasing logo and hardware-heavy purses, over-the-top ready-to-wear, and heavily-embellished accessories (Megs even covered a rhinestone-encrusted Versace safety pin here on PurseBlog way back in 2005!). Many have been known to credit Versace's now-instantly recognizable tropical-printed green dress worn by Jennifer Lopez for the Grammys in 2000 for having created Google Images. Legend has it that so many search queries poured in for the dress after JLo appeared in it (did you know it was previously worn on two occasions by Spice Girl Geri Halliwell and Donatella herself?) that Google's then-CEO, Eric Schmidt, came up with the concept of a separate webpage solely for the pictures. The rest (for Google, at least) is history.
Meanwhile, at Versace, though, things weren't going so well. Its super-ornamented and often high-priced purses may have sat well in the early aughts with the Paris Hiltons and Britney Spears of the era, but with the turn of the decade and the economic collapse, they quickly lost their appeal. Many of them, in fact, became a running joke of sorts at a time when bigger brands like Chanel, Dior, and Louis Vuitton remained solvent based solely on their handbag sales. Obviously, who would want a $4,000+ heavily-decorated (and frankly, heavy overall) "Snap Out of It" purse (that had already gained certain notoriety on Britney Spears' arms) during a time of housing crises and recessions? And while many brands utilized this period to launch diffusion lines aimed at lowering price points, Versace failed to leverage its already existing affordable labels, Versus Versace and Versace Jeans Couture, to generate revenue.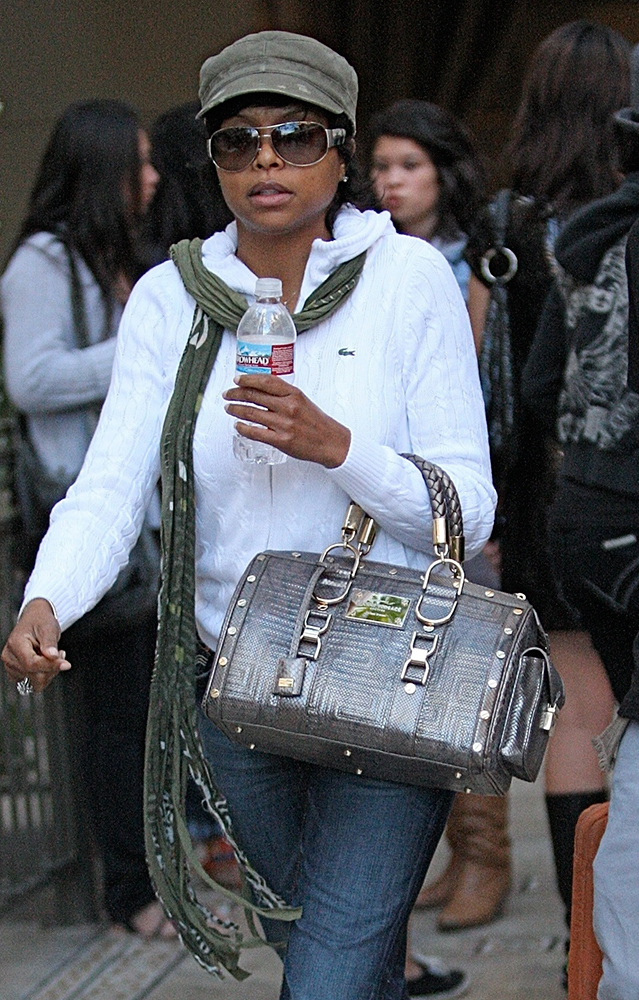 Michael Kors – An Unlikely Savior?
In 2018, to the dismay of many longtime fans of the house, but also perhaps in an inevitable move, the family sold Versace to Michael Kors (and now the Michael Kors conglomerate, Capri Holdings, is apparently in competition with LVMH – surprise!), with Donatella still remaining in charge of the brand's "Creative Vision" and Santo as the Chairman. Many feared that the purchase would strip Versace of its roots and hence, its magic, like the initially rather ill-received collections from Jimmy Choo in its post-Michael Kors takeover era. But the brand loyalists needn't have feared – just like Michael Kors once set up Céline (with the accented è) on a track for success, Versace under his wing has swiftly risen to become a favorite of starlets again, with the KarJenners, Dua Lipa, Nicki Minaj, and Gigi Hadid soon becoming brand-regulars.
And unlike its pre-Michael Kors era when the brand was most prominent for ready-to-wear and couture (Elizabeth Hurley's the safety pin dress from the 1994 premiere of Four Weddings, and a Funeral comes to mind), arguably the best part about the Versace of today is the purses.
The Virtus collection is for you if you're into the quilted aesthetic but with a bit of Versace glam thrown in. On the other hand, if what you're digging is a structured (and generally minimalistic) boxy, Birkin-like satchel at a much fairer price point, the gorgeous calfskin Palazzo Empire is calling your name. Even if you'd like a coated canvas tote that's less ubiquitous than a Neverfull or a Goyard, the Versace La Greca collection is undoubtedly the way to go.
Most recently, PurseBloggers were intrigued by the brand's La Medusa range of purses, including everything from a beautiful top handle to a super on-trend shoulder bag, all fitted with the Medusa head and in a bunch of neutrals as well as candy colors that cater to every taste. And, of course, fans of all things Fendi and Versace wait with bated breath for the much-hyped and hotly-anticipated Fendace collection to hit stores (the Baguettes from this range are *chef's kiss*)!
The Medusa – A fitting Muse for the Brand
Gianni Versace, an art-history enthusiast, may have outfitted some of the most prominent models of the 20th century. Still, his true muse was always Medusa, who, according to Greek mythology, was a woman of such riveting beauty in Greek that one couldn't look at her without being enamored. She was cursed by the goddess Athena, turning her into a monster with snakes flowing instead of hair and a gaze that turned onlookers to stone. Tragically, it seems as if the house of Versace, with its many misfortunes, had suffered a similar fate – its members doomed to carry on a family business on the brink of disaster.
But while not everybody may have been satisfied with the sale to Michael Kors, it can't be denied that his watch has already led the brand to a better place. Although its current offerings seem to take (quite a lot of) inspiration from other designers (like the Palazzo Empire from the Birkin and the La Medusa Shoulder Bag from the Gucci Jackie), imitation amongst fashion houses is nothing new. Rather, it might be the first step towards making Versace accessible to all while still remaining true to its over-the-top, art history-inspired roots. And with the return of all things 90s, the maximalism of Versace that many had previously dismissed as tacky might just be coming back. It may not blow up to as massive proportions as Balenciaga or even Gucci, but it's in a steady state of rising. For a fashion brand that's been facing losses for nearly a decade now, nothing could spell positivity more than this.