I have been so excited about the return of Prada Nylon, and both Amanda and I have predicted it would be making a big comeback. For reasons that extend beyond just fashion, my main bag for the past 16 months has been a Prada Nylon Shoulder Bag (with my initials, which can be seen here), as well as a Prada Nylon Baby Bag. I switch between the two, though I now mostly use the shoulder bag, and it's not just my go-to bag—it is a life-saver. It's lightweight, durable, spacious, and still makes me feel like my love for bags isn't being thrown by the wayside.
Beyond that, my first premier designer bag was a Prada Nylon Messenger Bag (similar to this one we shot), and I pined for it for what felt like years. My friend in high school had one (and yes, I understand that is not the norm for a high schooler to have that kind of thing), and I quickly fell in love with it. I wore a uniform and my hair often reeked of chlorine from my two-a-day swim practices, so a bag was the item that I thought would help me stand out. When I got that Prada bag for college, I was in love, and that is where the journey really took off.
Fast forward to well over ten years later, Prada Nylon is back in a big way, and I for one could not be happier. Of course, simpler options exist, but I love Prada Nylon with leather accents and studs, like the bag below. From a messenger nearly identical to my first Prada bag, to a more compact shoulder bag, to a classic backpack, here are the Prada Black Nylon Bags and accessories we focused on.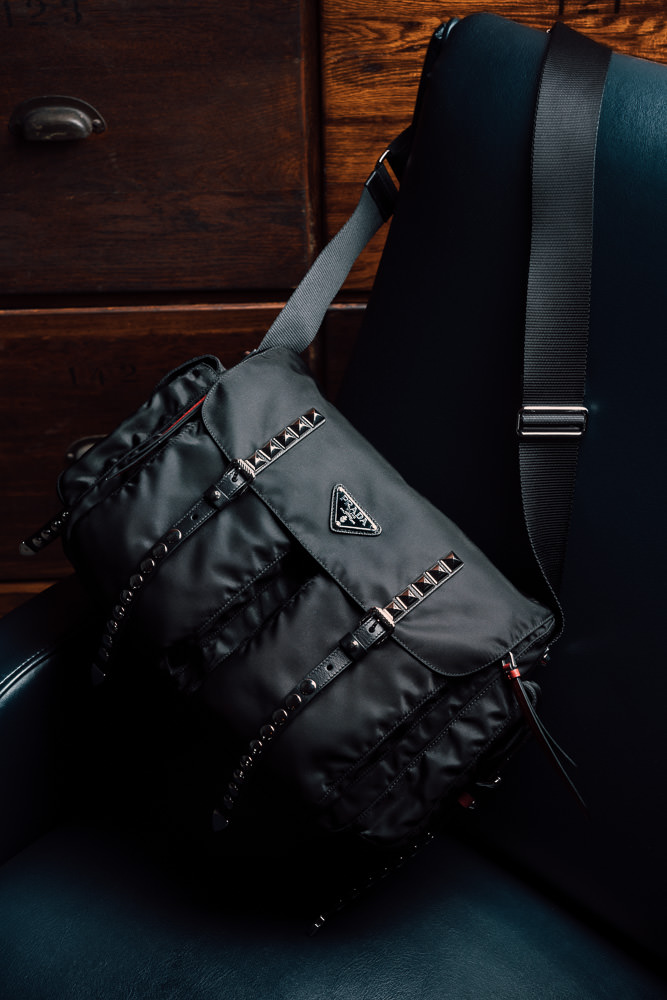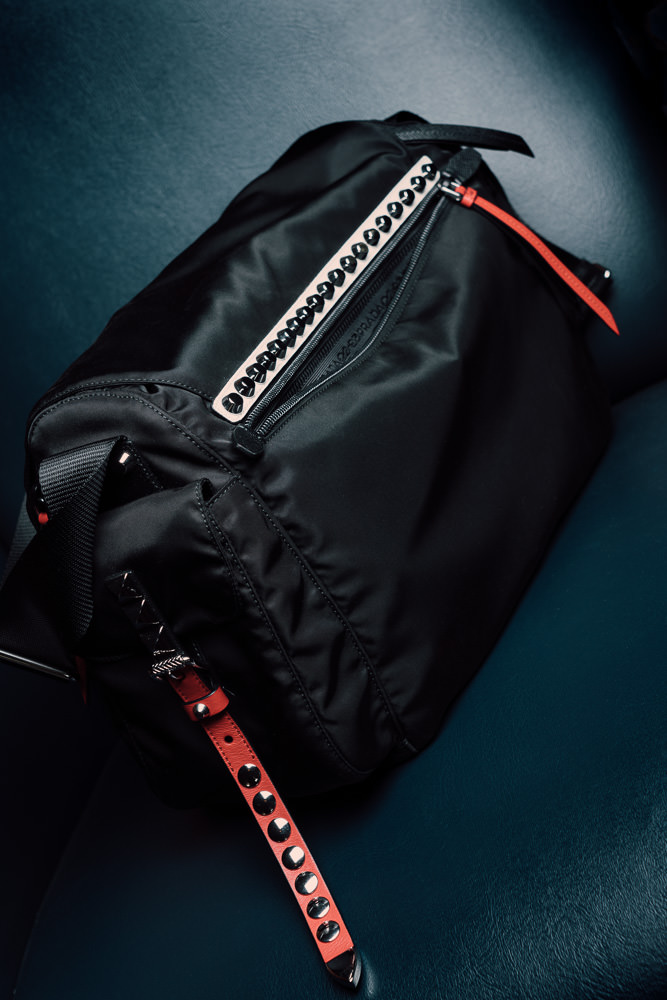 Prada Black Nylon Messenger Bag $1,680
I have to start with the bag that speaks to me most, and it is this bag, which brings up so many emotions for me. Right before we started PurseBlog, I had a smaller, all-nylon version of this bag. It didn't even fit my books properly, but I was so excited to own it and I carried it around to my college classes with so much pride and giddiness. I loved designer bags and this bag was my first; it was the one that came right before PurseBlog's inception, and it will forever hold the most special place in my heart. I plan to buy another, possibly this very bag, as it means so much to me and it is also such a great bag.
The shoulder strap easily transfers to crossbody, and this bag works for daily use, as a mom-with-kids bag, or even as a school bag, as I first used it. This is the type of bag that you start to use and find yourself not switching your bags much; it just melds into your wardrobe and becomes your go-to bag. The shoulder strap is nylon, which makes it light, and while there are stud details, they're on the front and side strap closures, which doesn't weigh down the bag.
When I owned this bag, I used to leave the straps undone to get in the bag easily, or I would just stick one strap through and not latch it into place. I liked the look of the bag being a little unfinished. It does take a bit of time to get the bag open and shut if you use the closure straps as intended, but that is entirely up to you. There's a back zip pocket for phone and keys that is easy to access, so everything on the inside can be items you don't need to get your hands on as frequently. As for other compartments, this bag is heavy on exterior zip pockets: there are two on the front and one on either side. This bag is highly versatile and keeps everything in its own place, and I am a sucker for organization!
Though I love larger Prada Nylon Bags as they offer more space and a lighter weight, I really really like what Prada did with the smaller bags like this shoulder bag. While most of the bag is black nylon, there are leather details in one of my favorite Prada colors (astral blue), which shows up both on the zipper pull, as well as the shoulder strap. The silver stud detailing on the strap adds a bit of weight, but it's not at all over-the-top because of the overall lightweight body of the bag. Many of us use smaller bags on weekends, while attending events, or traveling, so having a bag that is really durable is a must. I love leather bags, and most of my bags are leather, but there is something so refreshing and stress-relieving to having a nylon bag. And Prada's are really well done—when I say I use my bag, I mean I use my bag, and it still look fresh and new.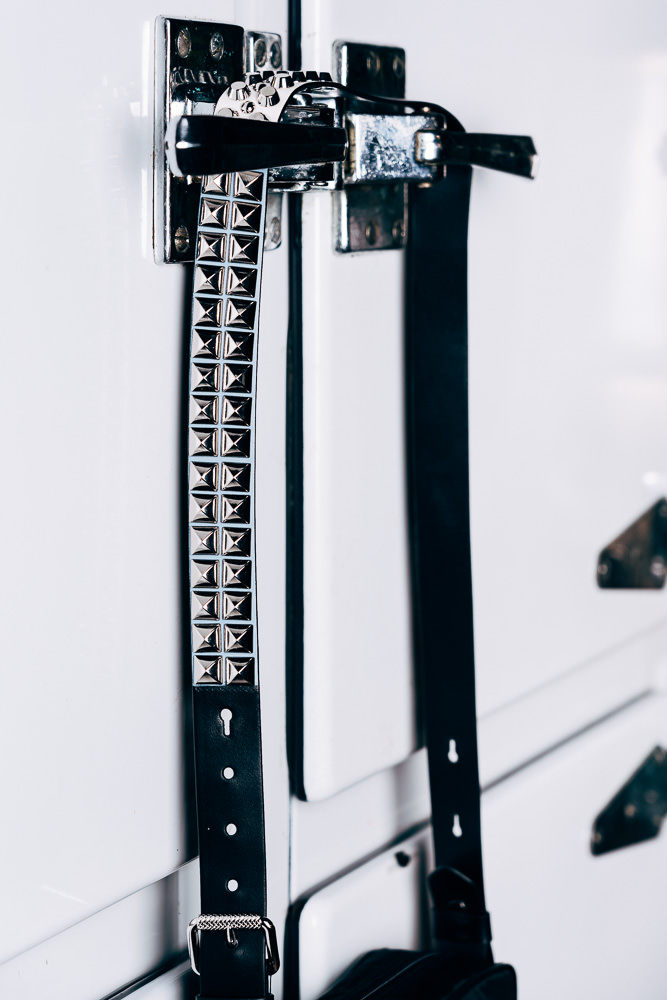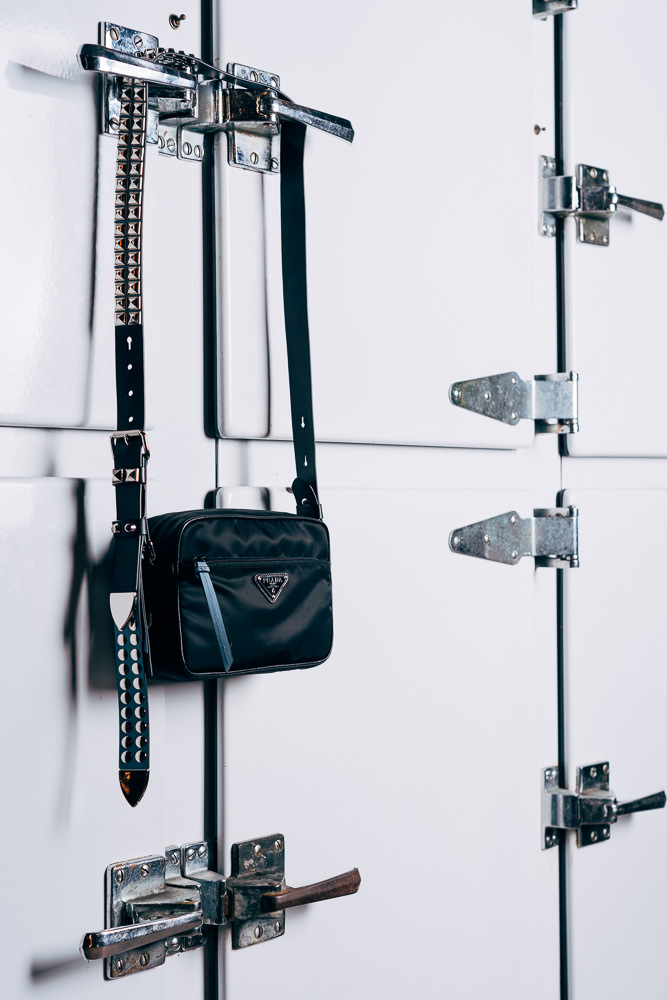 Prada Black Nylon Shoulder Bag $1,420
This design has a front zipper pocket (perfect for keys) and an interior zip pocket as well. The shoulder strap is adjustable and such a statement-maker. I'd carry this bag running errands—it looks no less stylish than my leather bags, but it saves my shoulder from carrying extra weight.
Backpacks have transcended from trend to wardrobe necessity, and I find myself so much more open to the idea as of late. I don't think I can pull off a fanny pack (Prada has a Nylon Fanny Pack, and it's cool), but I know that a backpack works for me. The added plus is most dudes will gladly carry their lady's backpack, and many men who love fashion will buy backpacks like this for themselves.
Backpacks are big, so in leather, they can weigh quite a bit, but the nylon makes the burden of this one nearly unnoticable. The calf leather trim with the stud detailing is just the right touch, and like the rest of this collection, it allows the bag to stand out without being over-the-top. I really like this bag, enough to think it rivals the messenger we discussed previously, and for longer days out and about, a backpack works so well.
Bags, of course, aren't the only accessories on our minds. Prada sunglasses have taken a reto-futuristic twist lately, and many of the brand's new designs fit the tiny sunglasses trend perfectly. Every celebrity and influencer has been spotted wearing sunglasses in shapes like these, and Prada has two options they sent us to try out—one feels space-age, and the other is a big-frame twist on the trend. Toss your sunnies in your nylon bag, and you are the new age Prada girl to a T.
There are so many Prada Nylon bags to choose from, and it doesn't stop with just the ones we photographed; there are pouches and cosmetic bags, too. While I own leather cosmetic bags, theoretically they make little sense because spills are inevitable, so nylon is a much better option. Spanning nearly every color of the rainbow and nearly any shape and size you can think of, Prada's nylon cosmetic cases make a functional choice that's also super fashionable. Plus, you can use them as clutches.
It's unlikely that you'll find anyone more excited about the resurgence of Prada Nylon bags that me. A bag doesn't have to be leather to be super luxurious and stylish, and I love the ease nylon brings.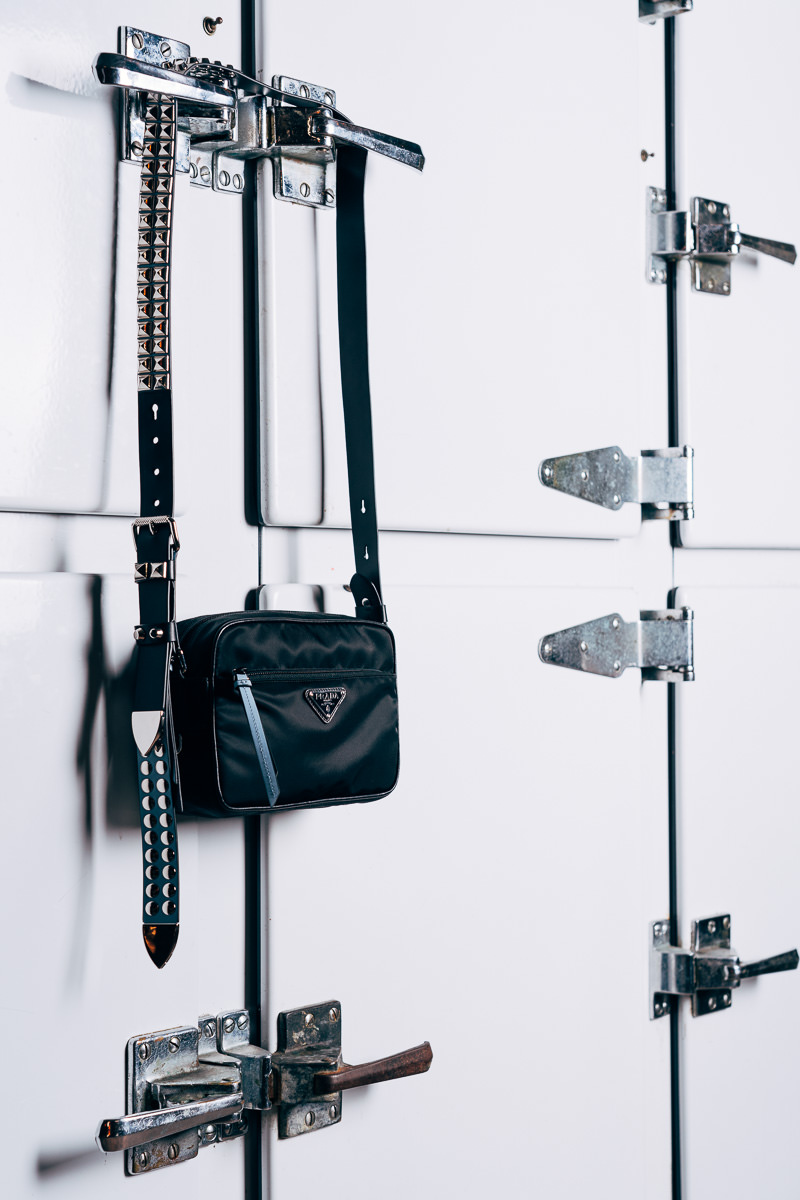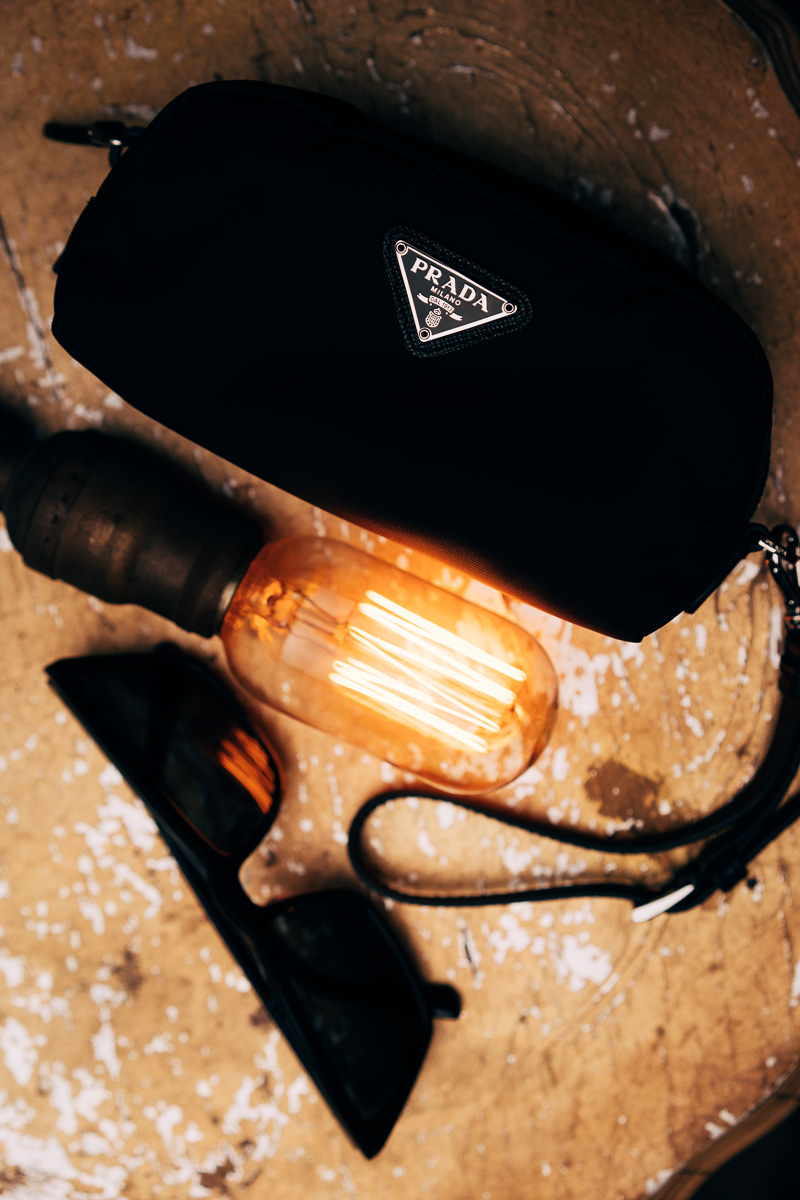 Prada Black Nylon Shoulder Bag $1,420 | Prada Fabric Cosmetic Pouch $245