The Saint Laurent Le 5 à 7 immediately caught my eye when it first hit the scene in mid-2021, and it has remained high on my want list for the last 15 months. This petite, hobo-style shoulder bag was first dropped in black only, which was in line with where I saw my collection going at the time. I was looking to replace a black bag that I had recently sold, but as time went on, I realized I didn't actually miss owning a black bag at all. I'm so glad I held off purchasing this bag when it first came out, despite a big price increase, because I finally got my hands on one of my own in the most stunning shade of green!
I've had this bag for a few weeks now, and I've used it enough to have a true feel for it. Today I'm giving you the scoop on this bag; from what fits to how delicate the leather is, I'm here to break it all down.
Aesthetics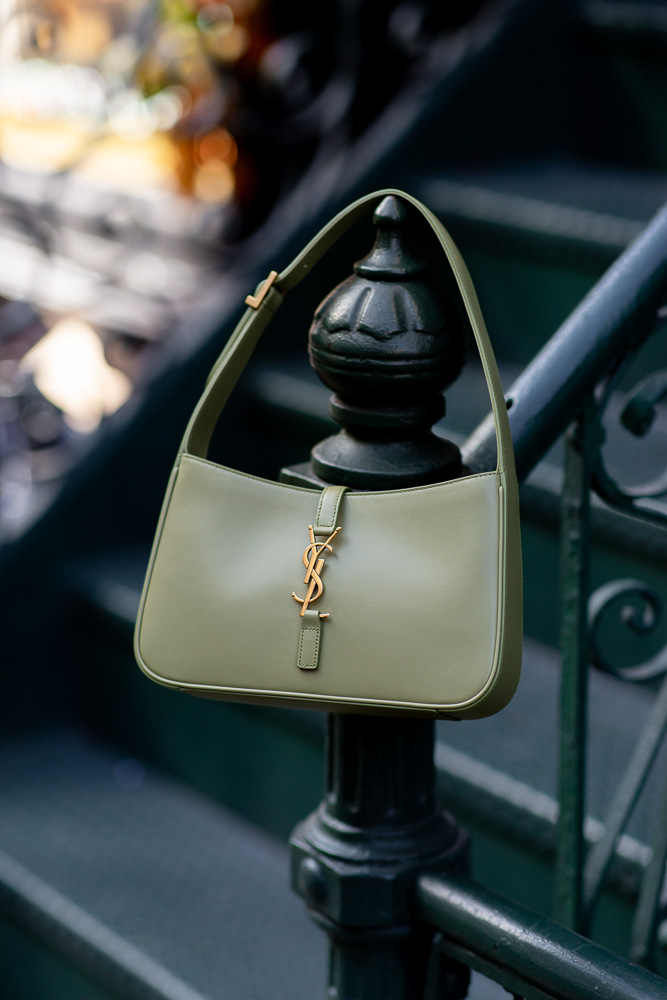 When it comes to aesthetics, this bag gets a big fat 5 out of 5 from me. The Le 5 à 7 bag is simple in silhouette overall, with clean, classic lines. A sleek '90s-esque shoulder bag that is right on trend, the focal point of the bag is the bold, unmistakable YSL logo. The YSL logo is a divisive topic. Some people love it, and some have quite an aversion to it. Truthfully, I have always liked it, but I never loved a bag that it appeared on enough to actually add it to my collection, until the Le 5 à 7, of course.
Something about the spirited YSL logo juxtaposes nicely with the bag's easy, clean shape. It sits so perfectly under the arm when worn on the shoulder, and it feels like the ideal mix of classic meets trendy. A cross between a hobo and a 1990s-style baguette shape, the Le 5 à 7 is not to be missed if you're talking aesthetics alone.
Usability + Functionality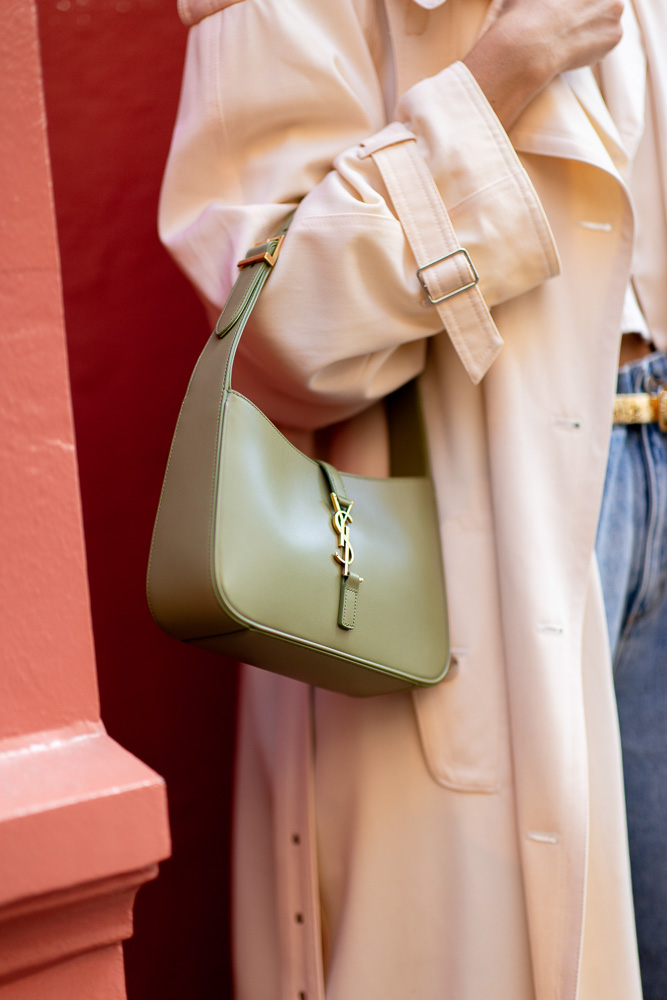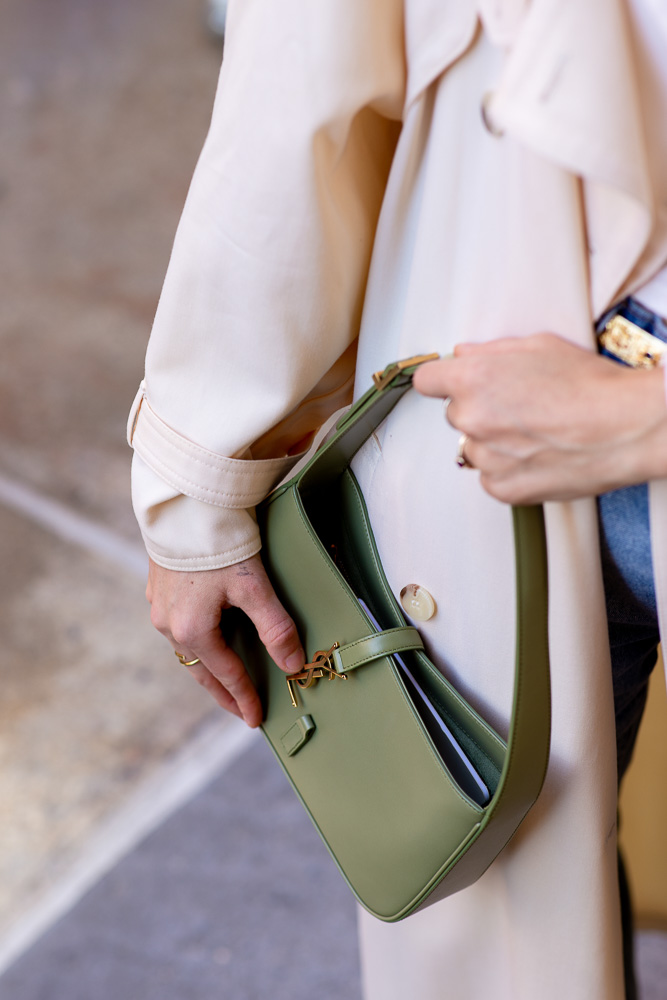 Based on usability alone, one look at this bag, and you can probably tell it will not be the most worn bag in your collection. I struggled to give this 2.5 or 3 stars, to be honest, because it's the kind of bag that's not meant to be incredibly easy to wear, and truthfully, you kind of sign up for that if you purchase this bag.
Let's start with the positives. This bag is meant to be worn over the shoulder and neatly tucked under the arm, and that's exactly where it stays. I find shoulder bags to be an annoyance at times because so often they slide on and off your shoulder; this one doesn't. Additionally, I like that it has 3 different holes so that the buckle can be adjusted. I'll need a bit more space in a month or so when it gets cold, and I'm wearing a thick coat, but I've worn the bag on the middle hole for now. While shoulder carry is most practical, the Le 5 à 7 can also be worn in the crook of the arm.
Now, for the cons. The bag is thin in depth, but its size allows it to wear so nicely tucked under your arm, as mentioned above, but because of that, it does not hold all that much. I have managed to tuck my small YSL wallet into the bag along with my iPhone, sunglasses in a microfiber pouch, and a couple of chapsticks, but a thinner card case fits better. There is an interior zippered pocket, but you won't want to add anything bulky to it. As for usability, the Le 5 à 7 has an open top that closes when the L on the logo hooks into the small leather piece affixed to the front of the bag. It's a nice stylistic touch, but it's hard to get in and out of on the go, which is something to be mindful of.
Quality + Construction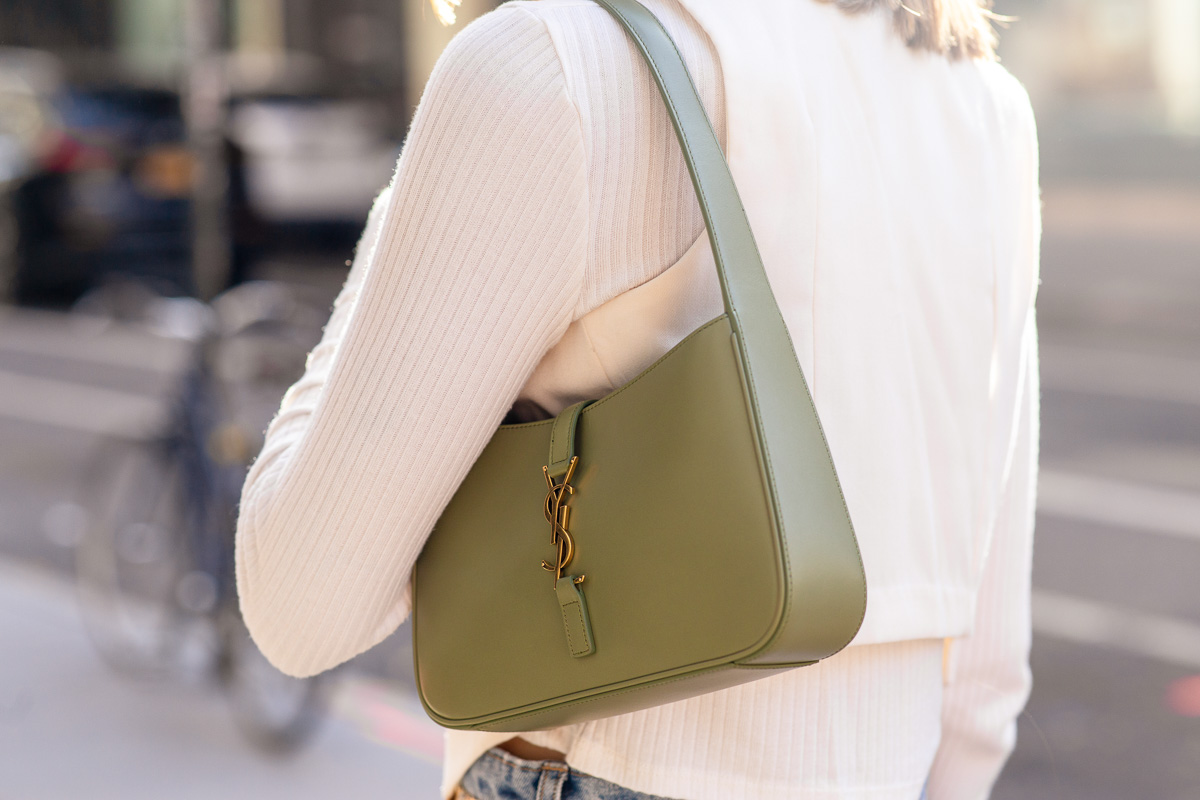 When it comes to the bag's construction, it not only looks luxe, it feels it too. Crafted from smooth calfskin leather, it has that expensive feel when you pick it up this bag. Speaking of expensive, the leather feels soft to the touch and has that unmistakable new leather smell. While the leather quality is absolutely divine, conversely, it feels like the bag will be more prone to scratches.
I haven't noticed any scratches yet, but I'm not sure if that's because I carry this bag with more caution than I usually give my bags. The bag is lined in suede, which, while not the most practical, does up the bag's luxe factor. It would be remiss not to also mention the leather-lined edging and impeccable stitching. While other brands often receive callouts about to quality control, Saint Laurent's quality has never wavered. This is my second Saint Laurent bag, and I continue to be impressed by the construction
Price + Value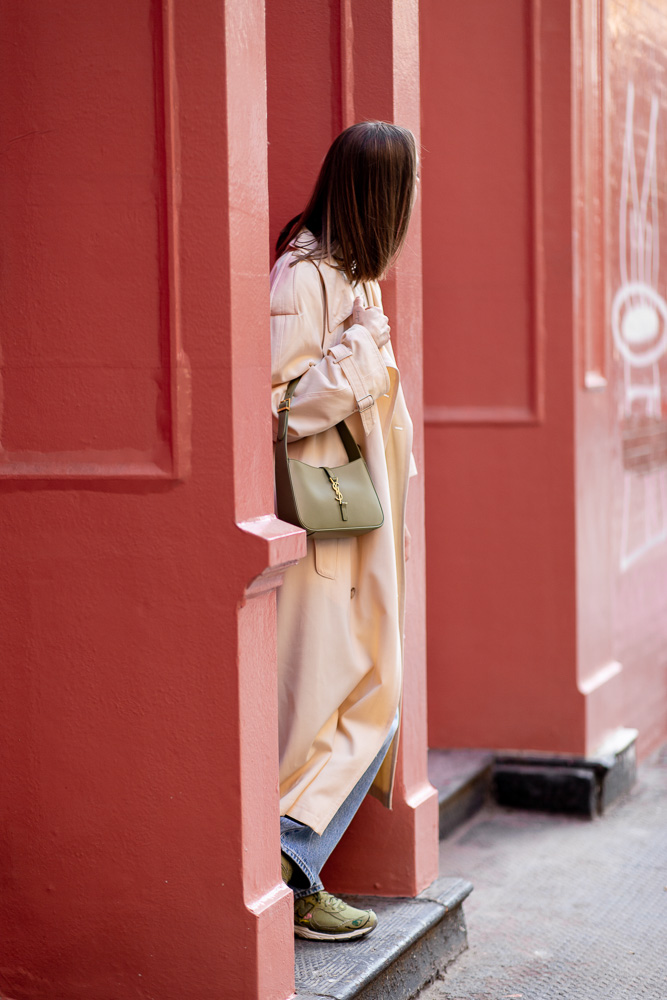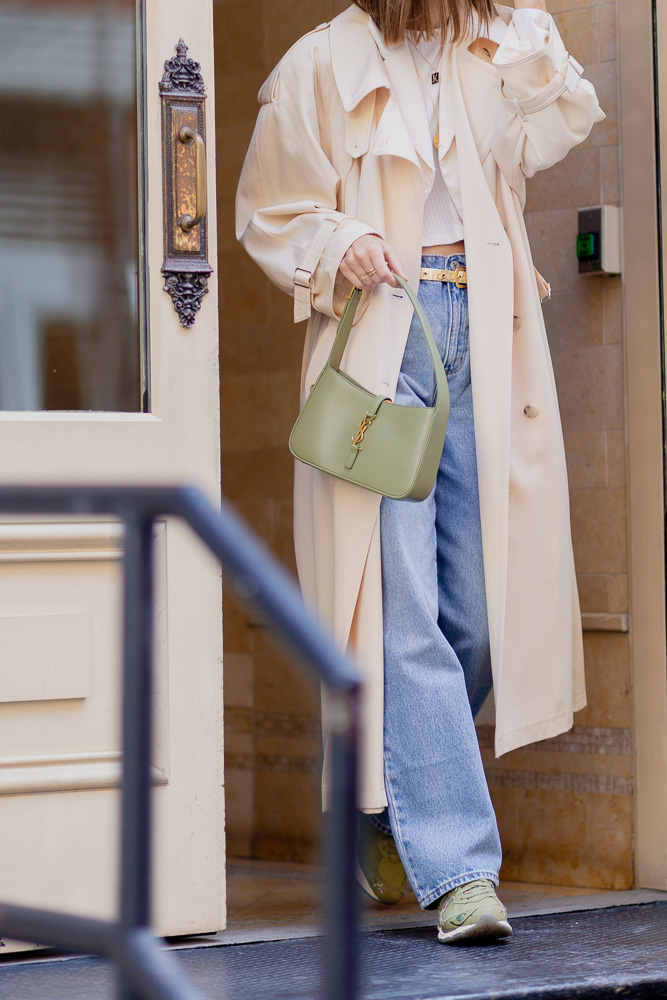 As much as I think this bag warrants a designer price tag, it would be better priced just below the $2,000 mark. When the bag was first released, its entry price was $1,690. It's to be expected that when a bag gains traction due to increased demand, the price will go up alongside typical seasonal price increases, but in only a year and a half, the Le 5 à 7 has increased in price by $700.
Current retail is $2,400 on Saint Laurent's website, but other retailers still have the old price of $2,250 listed, like Luisaviaroma, where I purchased this bag from. If you're eyeing this bag, you should snag it now before the price increase impacts all retailers. Truthfully, I think that $2,400 for a small shoulder bag is a bit much, despite the bag's mass appeal and aforementioned quality.
Staying Power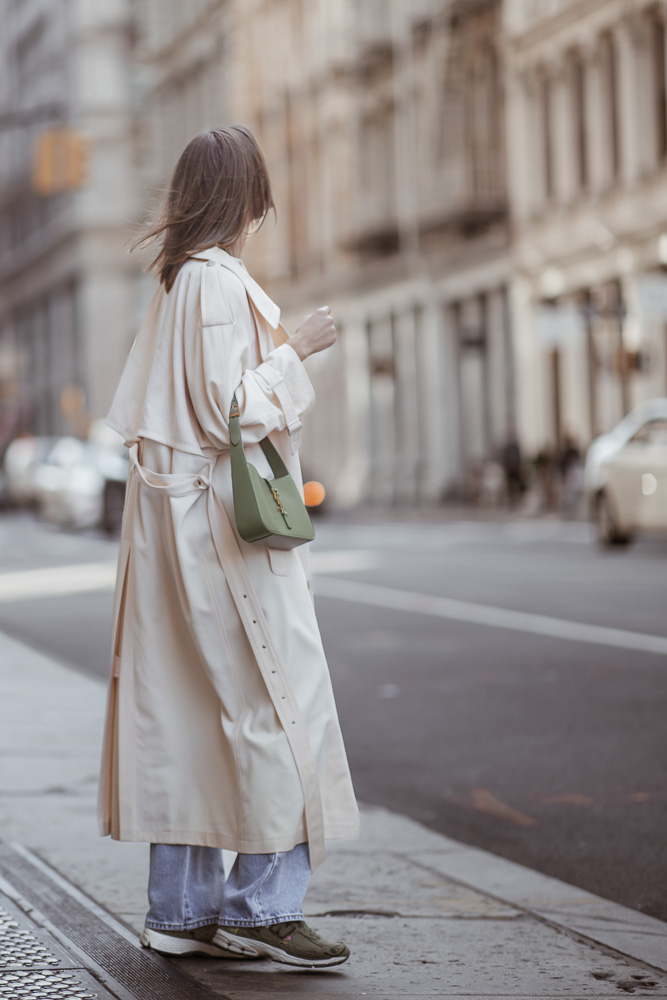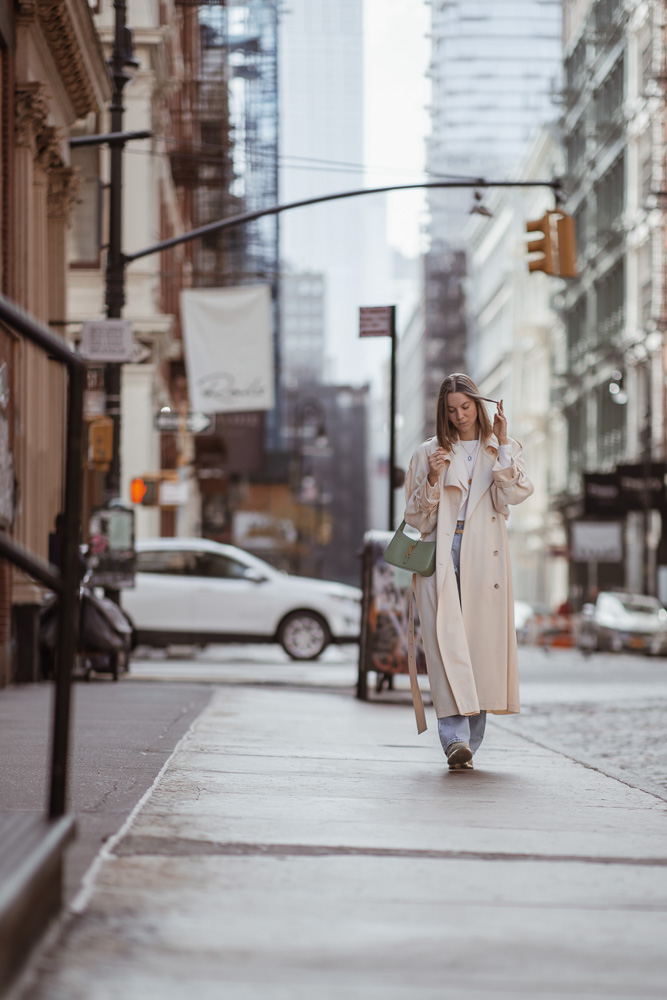 Many bags come for a season or two and then disappear into bag oblivion, making it hard to talk staying power of a relatively new bag. The Saint Laurent Le 5 à 7 was first launched for Spring 2021 and has been further expanded upon over the seasons that followed. Offered in an array of new colors and silhouettes, Anthony Vaccarello and team even added two new variations to the line as well as a teeny, tiny micro version.
That said, in bag years, a year and a half is not very long at all, which is why I can't give this bag more than a 3.5 in terms of its staying power. Truthfully, a lesser star rating could make sense as well. However, because the Le 5 à 7's focal point is the iconic YSL hardware, which never goes out of style, coupled with the bag's classic shape, I felt a 3.5 was appropriate.
Overall Rating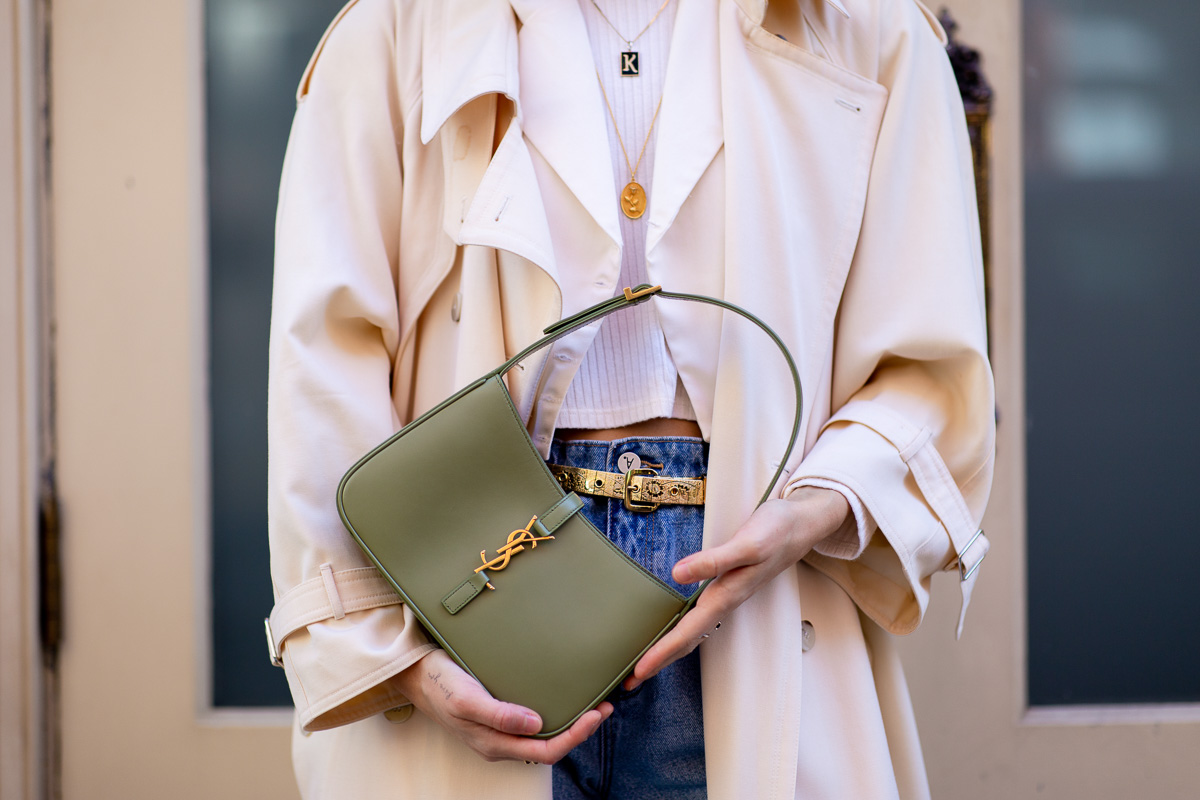 All things combined, the Saint Laurent Le 5 à 7 Bag does deserve its 4-star rating. It is sleek and stylish, despite its simple shape. It's easy to style and gives any outfit that effortlessly cool vibe. With a star-power thanks to its many celeb fans, this is a bag that will wow. Whether it sticks around for years and years to come or has its moment for just a couple, I'm glad to have this bag in my current rotation.