Living in a South Asian country with counterfeits galore, I was well-acquainted with Coach's signature C's long before I knew anything about the brand or about counterfeits in general. And hence, imagine my surprise when I discovered the Internet and subsequently stumbled upon a picture of Anne Hathaway's Coach Gigi tote from Bride Wars. Overjoyed to realize that she carried something from a brand that was so widely circulated around me, Coach was one of the very first brands I'd come to learn about and, to some extent, admire.
I would later discover that the bags floating around me weren't original, that the place was brimming with fakes, while crushing; it was also an eye-opening experience. It was one of my first lessons about luxury fashion—that not everything you see is original. At the same time, while it's true that Coach is generally considered a contemporary or "affordable luxury" label, in Bangladesh, being able to afford one on retail is still something limited to a rather small segment of society. So, it's kind of exclusive around here, as author Gwendolyn Wu describes: "a conspicuous logo can be a sign to the world that they've finally left harder days behind them."
That's why, in fact, brands like Coach and Michael Kors, and consequently, their counterfeits, have gained so much popularity in South Asian countries. And even though I am not a big fan of the rows of Cs and MKs that often encompass the entire length of those purses, I had come to realize that the flashy hardware, bright colors, coated canvas, charms, or any other form of bells and whistles was a way to proclaim one's identity.
Then, when I got acquainted with PurseBlog and tPF, however, I was able to look at an entirely different aspect of Coach that's often lost upon us logo-lovers – its heritage rooted in leather craftsmanship.
An Early History of Coach
Like most cornerstones of the modern fashion world, Coach started off as a family-owned business in 1941, then known as Manhattan Leather Bags, specializing in handmade wallets and billfolds. It was then acquired by Miles and Lillian Cahn in 1946. Miles' determination to produce handbags similar to the supple leather used in the production of baseball mitts, known to be easy to dye and get softer with age, resulted in the original Coach bag. The couple also hired sportswear designer Bonnie Cashin to develop the purses – resulting in a range of functional handbags with multiple pockets and striped madras cotton interiors in a bright array of colors. Cashin's mantra was said to be "make things as lightweight as possible, as simple as possible, as punchy as possible, as inexpensive as possible."
This was also when Coach became known for its bucket bags, a style that remains popular to date, but let's not get ahead of ourselves, shall we?
However, the biggest turnaround for Coach came in 1979, when Lew Frankfort became its president, and he identified the need for high-quality handbags at an affordable price point. Accompanied by an extensive global expansion strategy, Coach thus quickly became a household name, and by 2000, had registered itself as the public corporation, Coach Inc.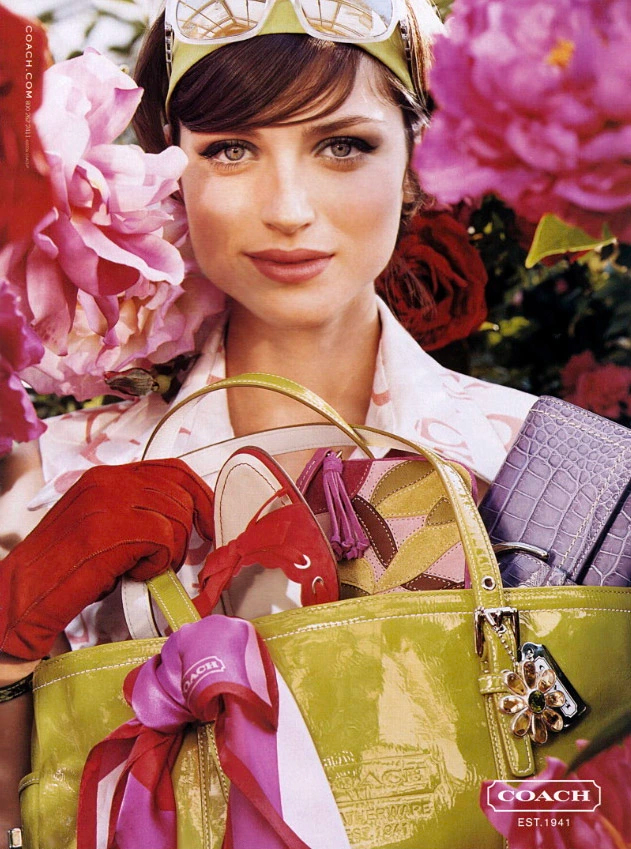 Coach in the 2000s
In 2001, then Creative Director Reed Krakoff launched the Coach Signature collection featuring the now-infamous C monogram. Although it was considered nothing short of a revolutionary move at the time, it also made its designs significantly easier to replicate. And in the world where you can literally buy counterfeits of a collection even before it's released (seriously, I've been seeing the Fendi x Versace replicas pop up everywhere recently), anything that was as easily replicable as Coach's coated canvas is bound to take a major hit.
But that wasn't all. In a bid to maximize sales as much as possible, the brand introduced large increases in production capacity. To sell them, it opened up outlets and locations within nearly every retailer and mall there was. A large number of items were heavily discounted during frequent sales, as a result of which, Coach was suddenly on everyone's arms and shoulders.
The increase in production capacity also meant a shift in manufacturing from the USA (thus losing its "Made in New York" identity) to factories in China, Vietnam, Cambodia, and the Philippines, which many also argue was accompanied by a decline in quality.
Better Days Ahead
Post-2013, the brand has introduced newer strategies, including launching the Coach 1941 line that consists of high-end leather purses, like the fan-favorite Rogue, the Mercer Satchel, and the Troupe tote, some of which reach the $2,000 price range. The shift in perception, however, has been noticeable from 2020 onwards, with the introduction of trendy and affordable purses like the Pillow Tabby and the Swinger appealing to Gen Z-ers, and splashy advertisements featuring the iconic Jennifer Lopez. Fortune has also estimated that the average price paid by consumers has risen by 25% since 2021, indicating that the fashion house is on the rise once again.
A Handbag Lover's Point of View
Learning the history of Coach beyond its C monogram, which can feel oversaturated, was a pleasant surprise, and I'm not gonna lie, the Gigi tote is one of those few bags (alongside the PS1, of course) that I have come to associate with quintessential New Yorker glamor. And to be honest, although the premium-priced 1941 line didn't exactly see the brand's popularity go through the roof, it did manage to come up with some very edgy but also super practical designs. I recently had the chance to experience a friend's Serra satchel from this collection, and I can attest that the glove-tanned leather feels divine. On my thrifting journey, I came across another Coach purse, the Madison Flap Carryall from 2011, that I got for my mom. It is one of the last designs from the Krakoff-era, featuring crocodile and ostrich embossings, heavy brass hardware, and a lush purple satin lining. While it does err on the maximalist side, the eye for detail and leather shows.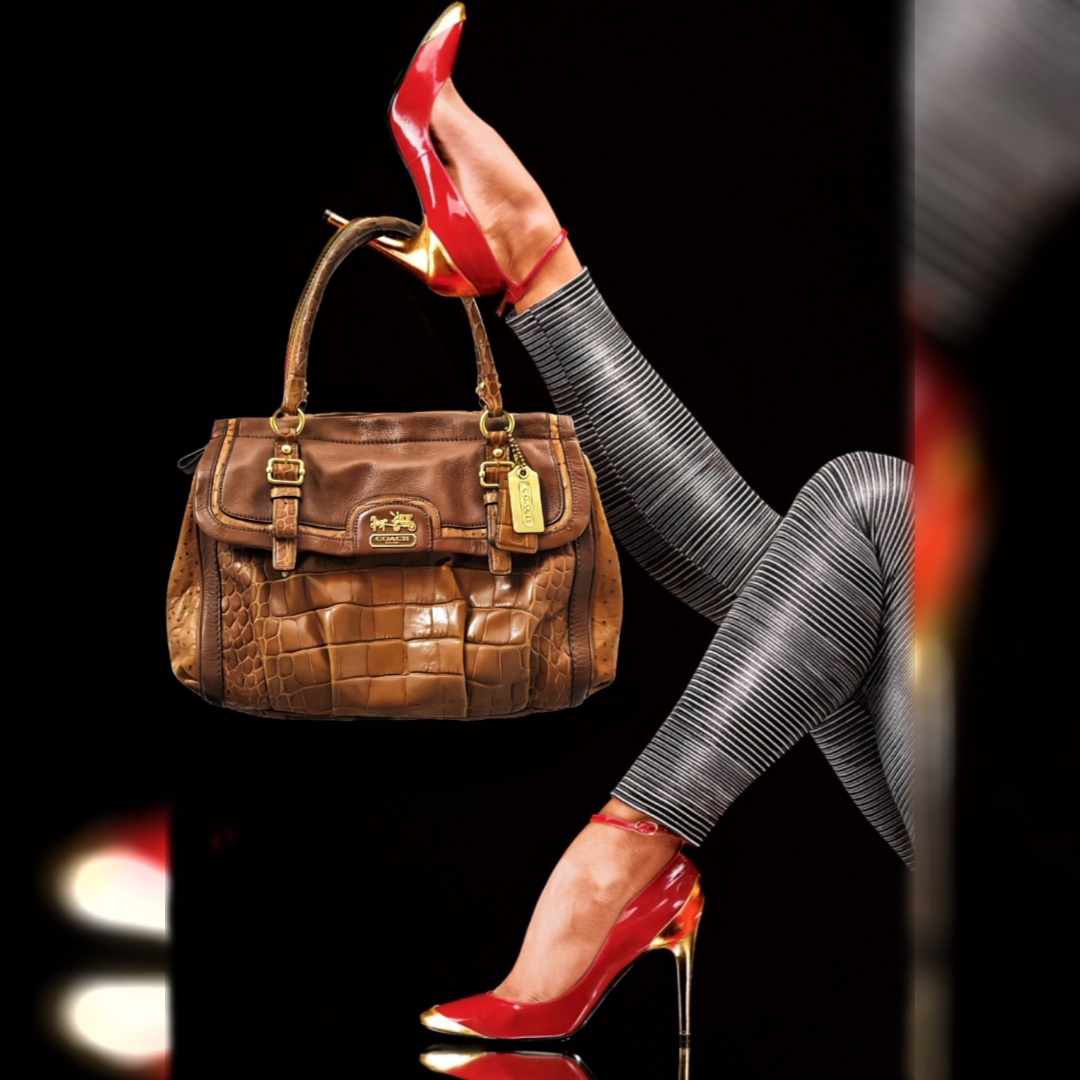 However, what has really fascinated me about the brand is its sheer nostalgia. Coach has been a fashion house very dear to its consumers for a long time. And the fact that it's been the very first purchase for handbag-lovers all around the world is a powerful force, both for more of us to be fascinated by, reveling in its heritage, as well as for the brand to stage a powerful comeback too. Alongside that, Coach has been trying its hand at collaborations with some of the hippest artists and designers of our century. And its recent revival of classic styles (like the Swinger) excites loyal Coach fans and renews its position on the radars of handbag-lovers.
Ultimately, Coach provides today's brands with an inspiring story of rising up and then rising again, making its history all the more rich. And even though I've vowed to not purchase anything else for the time being, I am very interested to see what Stuart Vevers continues to create moving forward.