There's something about working in fashion that, at times, renders everything that's "neutral" or "subtle" so boring and overused that only what's borderline insane and/or chaotic seems interesting. These aren't my thoughts; they're Amy Odell's, author of Tales from the Back Row: An Outsider's View from Inside the Fashion Industry. But they couldn't be more accurate. That manifestation was seen most prominently in the 2000s when the flashier purses were, the better they were.
Nowadays, the focus has shifted (thankfully) towards subtler, sleeker designs that steal the show without screaming for attention. As a result, the combinations of embellishments (because back then, was just one ever enough?) seen on purses have shrunken. It's pretty unlikely, for instance, for one to come across a purse that has glitter, tassels, chunky chains, and beads all within millimeters of one another on a single surface (looking at you, Galliano-era Dior Saddles). Instead, you see more streamlined details, such as an allover sequin Fendi Baguette (à la Carrie Bradshaw) that can be dressed up or down to your liking.
But besides the ruling trends of sequins and puffers, another 2000s-era staple has made a comeback: the rhinestone. I'm not just talking about a discrete few perching strategically atop the purse either. Rather, all-over crystal everything is all the rage and a recurring theme you'll notice at many of PB's Fashion Week street-style coverages. But even though they are very much on-trend, are rhinestones a new concept in the world of handbags? Well, not quite, as we'll see presently.
They're Older Than You Think
While it's difficult to trace its roots historically, I think we can safely say that crystals have been a staple in the royal courts for centuries. The royal crystal-cutters later started evolving into heritage brands like Swarovski onwards of the mid-1800s, when the concept of having glass-cut gems as adornments on clothes and accessories really started taking off in mainstream fashion. In fact, Swarovski's recent collaboration with handbag-label Marina Raphael to release a range of gem-studded purses shows that its appeal is nowhere near its wane. And we continue to see many vintage purses with rhinestone details, popularized during the height of the Flapper era, on resale, and on DIY websites like Etsy.
But arguably, one of the very first luxury brands to begin working with crystals was Judith Leiber. Having started off as a distinct novelty category of handbags (did you know the brand's first range of purses were all inexplicably made of green calfskin?), it has become an icon of sorts today, made popular by Sex and the City, Kim Kardashian and Jennifer Lopez, with designers like Chanel and Moschino following suit.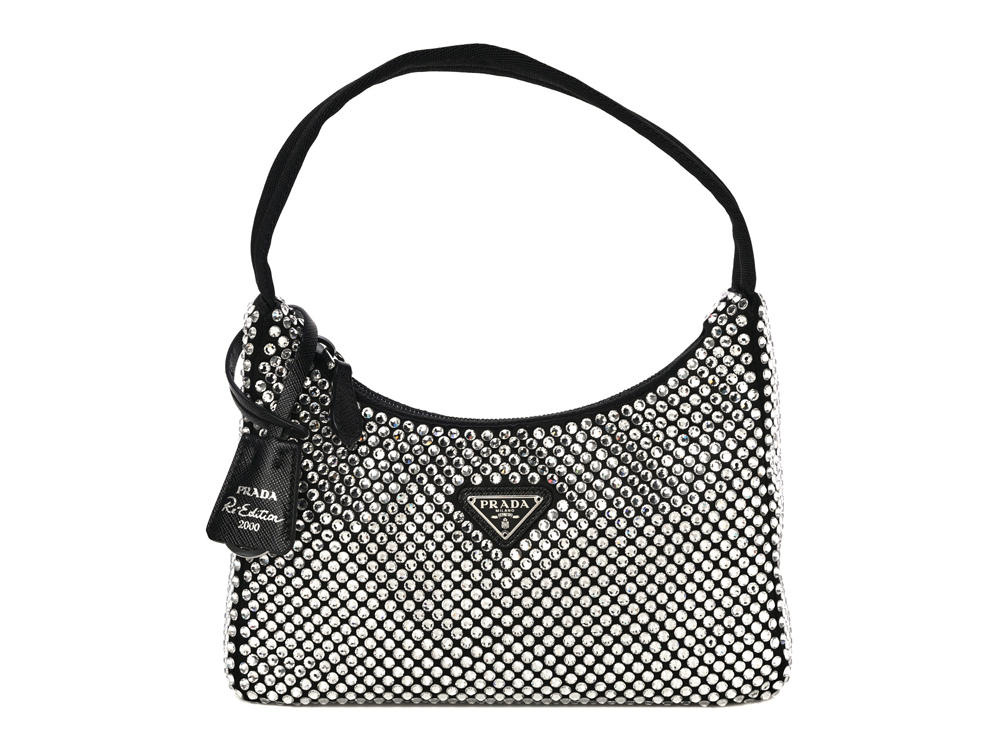 Why the Newfound Appeal of Crystals?
But Leiber's and Chanel's exorbitantly priced gem-encrusted (and purely special occasions-appropriate) minaudieres are one thing. The recent rise in fully functional handbags covered in rhinestones is quite another. And it is for this reason, crystals have found a new footing in the market today, with a beginning just as fascinating. Starting off with a limited edition run made exclusively for the pop-up store in Dubai, the first crystal purse to catapult the trend back to popularity was a bejeweled take on the iconic Prada Re-edition 2000. Three colors were issued – black, white, and pink – with the crystals set on a lux satin backdrop instead of nylon, but the hype surrounding it was so intense (because after the dreariness of the pandemic, who wouldn't like something fancy) that it was quickly sold out. Soon, Prada created more of these gem-like fashion pieces while also developing another color (Wisteria) and introducing the rhinestone style in other popular silhouettes, such as the Mini Cleo and the Mini Shopper (which is made of mesh), all under the $2,000 price tag!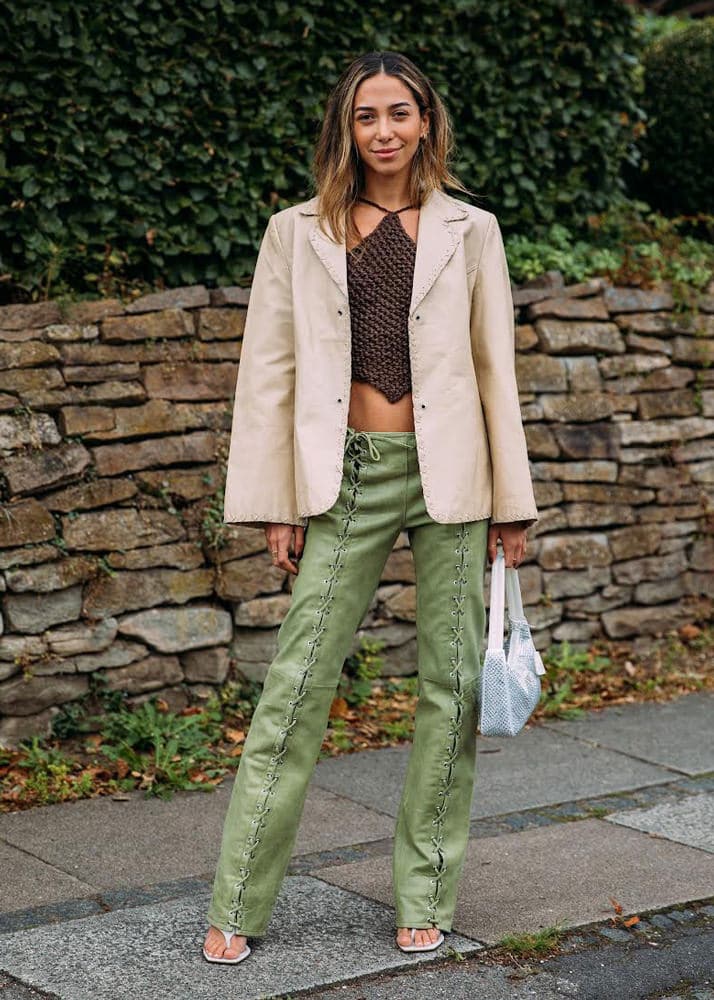 And soon, it started to seem like the crystal style had become a uniform of sorts for post-COVID fashionistas, with Gucci's The Hacker Project featuring a full crystal outfit complete with a heart-shaped minaudiere that Beyoncé was seen in. Alexander Wang's crystal makeover of the Heiress purse had street-style lovers in awe too. While Balenciaga's Demna Gvaslia was also inspired enough to release a special crystal edition of the cult-favorite Hourglass bag that was spotted on Kim Kardashian, naturally.
Are They Really Wearable?
Unless you're a big (and I mean really big) fan of bling, rhinestone purses aren't quite made for everyday wear. But most are surprisingly versatile nevertheless, as apparent from the fashion week outfits we've been witnessing. Most of us tend to wear solid and often dark-colored outfits for the everyday (New Yorkers are even known for wearing all-black all the time), which, if you come to think about it, provides the perfect contrasting canvas to showcase a crystal purse. The Re-edition has been undoubtedly the star of this rhinestone movement. Still, the Cleo isn't far behind, and both of them are a great way to elevate your daily attire, regardless of whether it's casual jeans or a more dressy blazer and pants combo. If you're opting for the mini shopper, you'll have even more capacity to accommodate your necessities! A personal favorite crystal-embellished purse of mine has been this mini Gucci Jackie. Made of black lizard skin featuring the iconic GG motif in crystals, it seems easily workable into outfits while still having a bit of sparkle on you.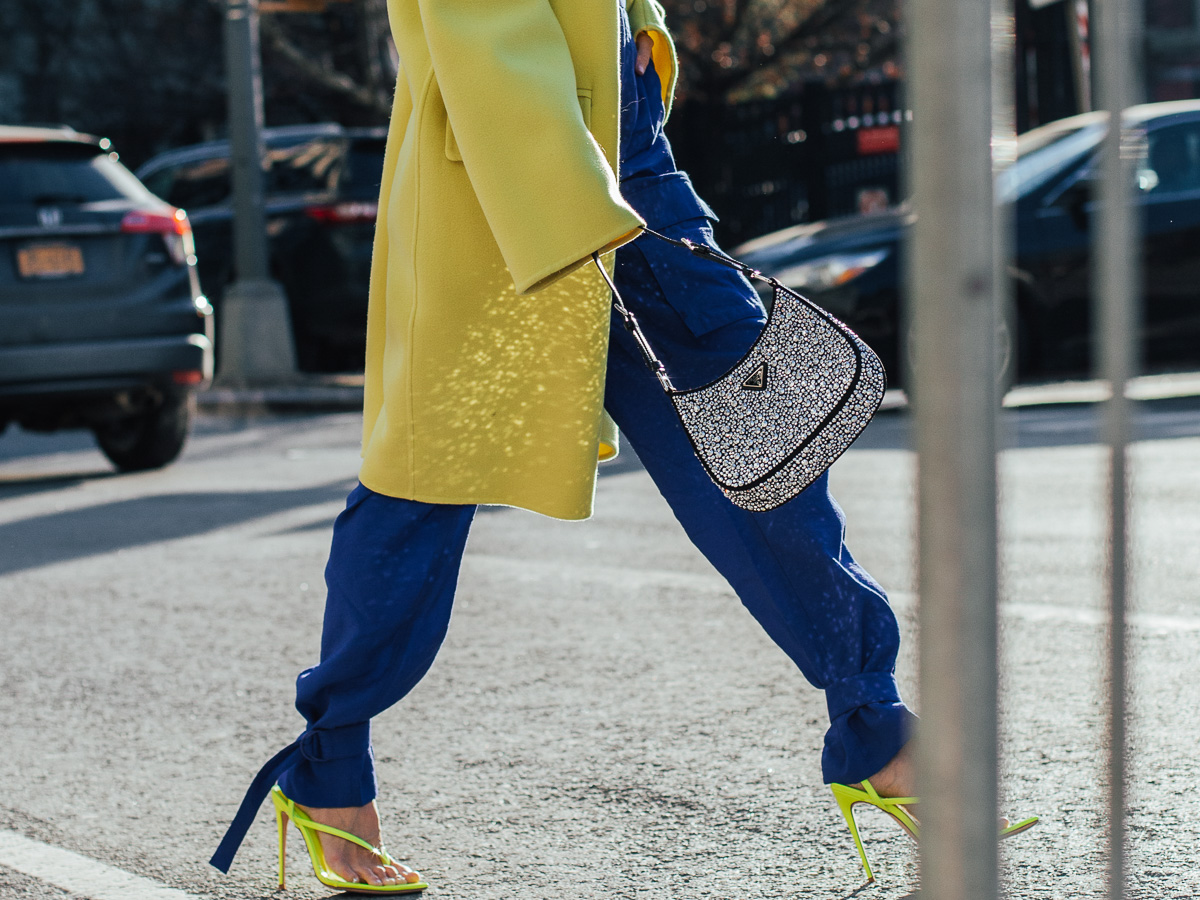 Value Added?
With Prada and Gucci leading the way, the Re-Edition 2000 and the Jackie, some of the most popular archival revivals to date, feel like rare collector's pieces that are likely to be treasured for some time now. This also makes it likely that they'll circle back to popularity with each resurgence of the trend, so if you've managed to get your hands on one, it might be a good idea to hold onto them. In fact, the styles continue to be sold out on the brands' websites as well as at most retailers, which generally also is a pretty good indication of their enduring popularity more than a year after their initial release. And if you like to rewind and rewatch shows solely for the arm candy, you might have noticed that the pink version of the crystal Re-Edition made a cameo on Lily Collins' arm during season 2 of Emily in Paris (yes, at *that* drag show), so it has received Patricia Field's stamp of approval too. Perhaps that is why they continue to sell on the resale market at more than retail!
Now, will this trajectory of the rise of rhinestone-embellished purses continue? That's still difficult to assess. When Prada first launched its design, it was the only one on the market. Even in the face of a sudden and significant demand, the brand chose to keep the numbers limited to preserve its exclusivity. This might, in many ways, account for the bag's current desirability. But although covetable, I'd expect the trend to grow further since not many brands have yet jumped onto the bandwagon to cash in on it. Even high-street dupes, too, are few and far between. Perhaps we might be seeing a greater resurgence around the party season. Only time will tell. But does it have the potential to become a classic? The design is very much trendy, so whether or not it develops into a true investment remains yet to be seen.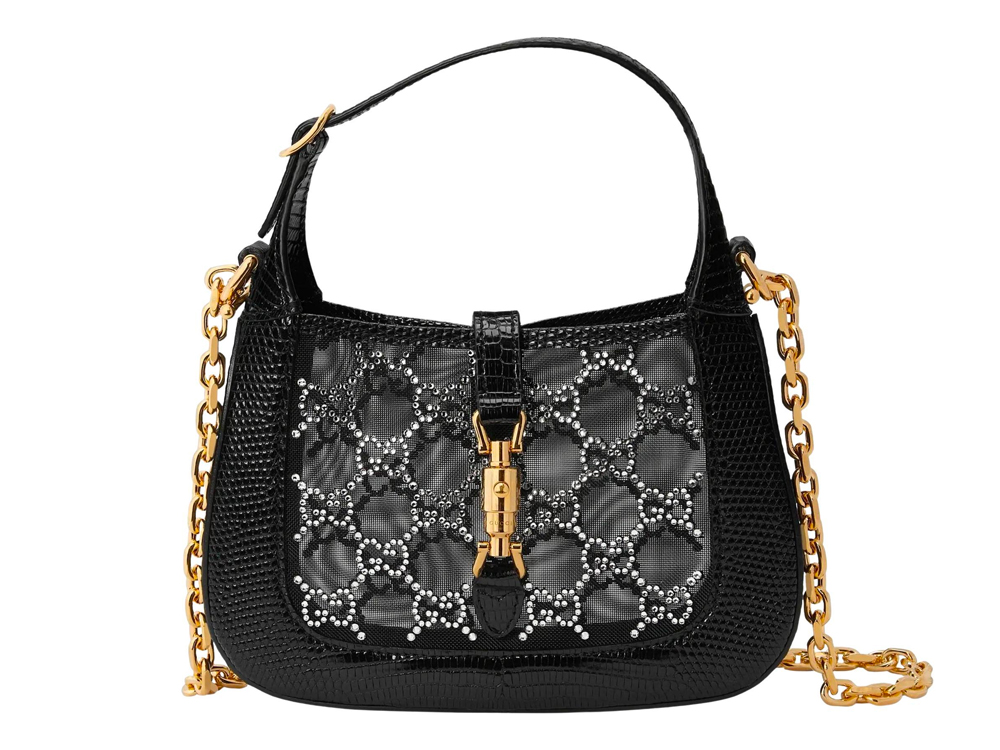 And lucky owners of the purses, please report on their durability. We've seen that sequins may be prone to lifting or getting snagged and falling off, what about rhinestones? Such usability concerns are likely going to account for a large proportion of their future value as well.
But regardless of our speculations, for now, it's crystal-clear that crystal handbags are here to stay, and nothing shouts "PARTY" quite as much as they do!