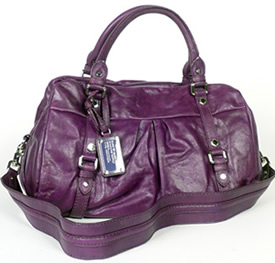 I have to admit, I'm biased. I love the Marc by Marc Jacobs bag line. I'm not saying they don't make some really weird looking stuff, because they do. They really do. But at least a few of their bags per season are really chic and wearable, and they invariably use super soft, thick leathers, which always feel much nicer to me than their sub-$500 price tags would suggest. I'm currently carrying an MbMJ Faridah hobo in ivory that I got last summer, and it's still going strong even though it's a very light color and I'm not very careful with my bags (read: I'm not careful at all with my bags).
I was infatuated with the Dr. Q satchel that they made last season (particularly its price tag – $498 for a bag Miu Miu would charge you $1200 for), but sadly, the only colors they made (black, grey, and ivory) were already represented in my wardrobe in some of my favorite bags (well, they also made a brown, but Amanda hates brown bags, which is a subject for another post).
I have been hoping against hope that the popularity of that bag would convince them to continue to make it for at least one more season, and last weekend, I walked in to Bloomingdale's and saw that my dream had, in fact, come true. Not only had the remade the black and grey versions in a lighter weight, softer leather, but they had made a purple Marc by Marc Jacobs Dr. Q Groovee Handbag. PURPLE, people! Are you listening to me? Purple!
So when I got online to stalk it and write about it for you guys after I saw it, I couldn't find it anywhere. Not a single website had it. Had I dreamt it? Was it a hallucination, like an oasis in a handbag desert? Are there really things out there to buy that can't be found on the internet? I refused to believe it.
Early yesterday morning, though, the forum came through for me. Someone in the Marc Jacobs section had posted a link to a site that had them in stock online! So now, I feel required to share my find – the purple is beautiful, the leather is soft, and the bag is finally available to purchase. So go. Now. Because this color WILL sell out. $498 through Madison Los Angeles.
P.S. Please consider supporting our small, bag-loving team by clicking our links before shopping or checking out at your favorite online retailers like Amazon, Neiman Marcus, Nordstrom, or any of the listed partners on our shop page. We truly appreciate your support!