Gucci's leather bags are. I spoke last week about how much I normally love their python creations (except for one recent exception), but it took seeing one of their bags on a fellow shopper's arm while buying a Halloween costume yesterday to remind me that they usually do an obnoxiously good job with leather as well.
Sometimes I forget how beautiful
The Gucci Pelham Medium Hobo is an excellent example of Gucci's signature style – textured, supple, and with a bit of color variation that makes all the difference.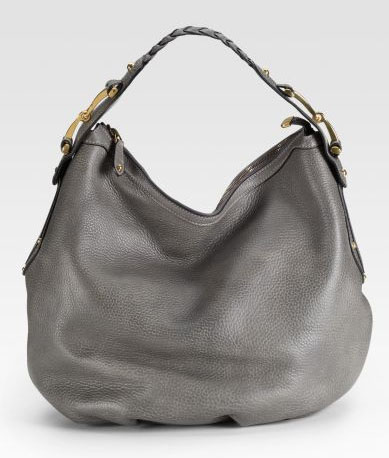 The color variation and distressing on this bag are absolutely perfect. It doesn't look worn or previously used, it simply looks like the leather is lush and high-quality, and that the people who designed it took care to treat it in such a way to bring out its inherent beauty.
And that's just what they achieved. I doubt that this leather is super soft in person, but it does look like it would be incredibly durable. Combine that with a functional shape and a beautiful medium grey neutral color, this is the sort of bag that so many women would do well to add to their wardrobe. The signature braided handle is a telltale Gucci detail that doesn't overpower the beautiful finish of the leather. Buy through Saks for $1550.