Hobos
accessorize appropriately.
Salar Juni Woven Leather Shoulder Bag, $810 via Luisa Via Roma
By the very nature of this job, I end up writing about a lot of bags that couldn't be further from my personal style. And that's ok, because it's part of being successful in the fashion industry: The ability to see the value in things beyond your own narrow point of view. But sometimes, a bag like the Salar Juni Woven Shoulder Bag pops up and presents itself as exactly the type of bag that I'd love to carry, and those are always exciting days for me. You have to take pleasure in the little things, people. (more…)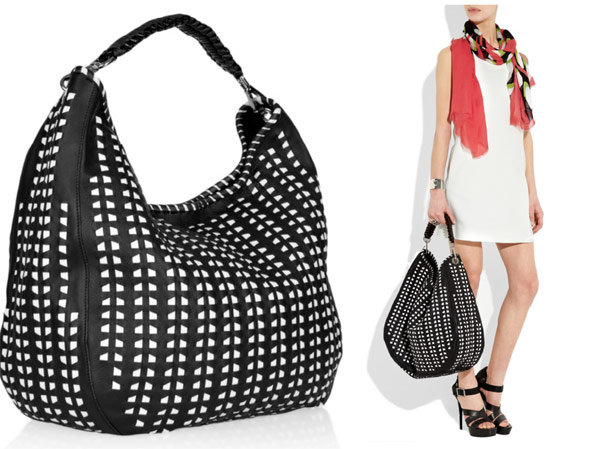 Marni Woven Leather Hobo, $2330 via Net-a-Porter.
I can't believe I haven't posted about the Marni Woven Leather Hobo Bag already, but somehow it seems to have gotten passed over in the spring shuffle. What I can't figure out, though, is how that managed to happen – I absolutely love it. I loved it as soon as I saw it on the runway back in September, and my love for the slouchy-yet-stark design has only grown since seeing how soft and wearable the bag would be in real life. This design is proof positive that neutrals don't have to be boring background pieces. (more…)
I could truly use more yoga in my life. As much as working from home is absolutely amazing, sometimes, believe it or not, fashion blogging is stressful ya'll! Many of you will know the word namaste, as it 'is a common spoken greeting or salutation originating from India. It is a customary greeting when individuals meet, and a salutation upon their parting.' The times I have been to Yoga class ending with namaste always brings a sort of calm feeling to me.
I assume Valextra wanted to give us a beautiful, subtle, and respectful design with the Valextra Namaste Big Hobo. And the design does just that. (more…)
Akris's first attempts at handbag success were almost universally well-received; despite being illogically pricey, the Akris Horsehair Ai Bag sold briskly and dotted magazine pages and the arms of celebrities as visible as Angela Jolie. Now that the brand has its footing, it's time to branch out.
The Akris Allega Braided Leather Hobo is indeed a worthy next step for a brand that prides itself on precision and technique. Although this bag doesn't appear to be "braided" in the traditional sense of the word, the thin leather strips are woven together to give a ton of texture to what otherwise might be an unspectacular hobo. (more…)
There are several brand sections that I never miss when I go to a department store – we all have our favorites, and I can't leave without checking up on Balenciaga and Valentino because they make my favorite bags, but I also don't miss an opportunity for Bottega Veneta leather-fondling. One touch is all you need to know why the brand's bags are so pricey.
I usually prefer it when Bottega makes their bags out of solid pieces instead of their famed intrecciato because it makes the quality of the material that much easier to appreciate, and that's exactly what they've done with the Bottega Veneta Cervo Flap Shoulder Bag. It still has the woven touches that make it unmistakably Bottega, but the subtly grained flat leather is the real star of the show. (more…)
Running an online fashion magazine about handbags can be tricky at times, since handbags are only a sliver of the fashion world. Luckily, women (and men!) love handbags as much as we do and designers continue bringing us new purses to talk about. Even with the vast array of designs, there are slow slumps when we wait for more new bags to arrive and we must scour the internet looking for something different.
That is why I am happy to stumble upon the De Couture Chain Strap Hobo. The brand has only been covered three times on our site, the last post being from a year ago. There may not be many bags from the brand, but this is one that I want to cover. (more…)
Ladies and gentlemen, I've done it! I've found a Versace bag that doesn't make my eyes roll or my stomach turn or my brain hurt just from looking at it. It's simple! And functional! And kind of attractive! I could wear this bag and not be embarrassed about what it says about my taste level and also, my level of common sense.
But none of those things are what's best about the Versace Giselle Lock Hobo. No, in fact, the best thing is the price. Shocking, right? Versace will normally charge at least two grand for any old thing, so color me shocked that the price tag for this attractive, reasonably functional bag falls so far below that number. Could it be that their accessories designers are finally realizing just how lucrative the handbag market can be if they give us products that are beautiful and fairly priced? (more…)
Soft, slouchy, quilted lambskin in a creamy shade of ivory? Where do I sign up for the Burberry Quilted Leather Tote? Do I need to get on a list or contact the proper authorities? Is there a special code I have to say?
I've got to admit that, between Marc Jacobs and Chanel, it might be kind of easy to think that we've seen all the quilting that we need to see. Usually, though, those quilts are a bit more on the rigid side, whereas the ones on this bag look soft and lovely (and this bag is lambskin, so I bet it doesn't disappoint in real life.) (more…)