There are several brand sections that I never miss when I go to a department store – we all have our favorites, and I can't leave without checking up on Balenciaga and Valentino because they make my favorite bags, but I also don't miss an opportunity for Bottega Veneta leather-fondling. One touch is all you need to know why the brand's bags are so pricey.
I usually prefer it when Bottega makes their bags out of solid pieces instead of their famed intrecciato because it makes the quality of the material that much easier to appreciate, and that's exactly what they've done with the Bottega Veneta Cervo Flap Shoulder Bag. It still has the woven touches that make it unmistakably Bottega, but the subtly grained flat leather is the real star of the show.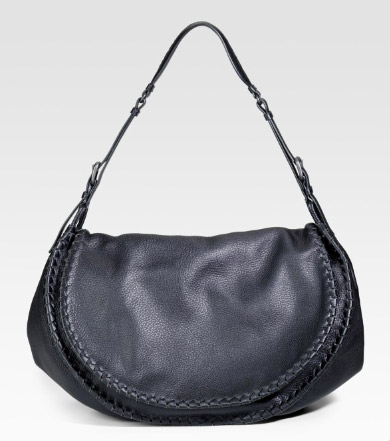 This isn't the super-buttery leather that most Bottega bags feature, but it looks pretty scrumptious in its own right. It's made of deerskin, which isn't super common but feels amazing, and there's plenty of it. I like the woven details around the edges of the flap and the bag itself, but I particularly like the way that the combination of flat and woven leather shows of the subtle variations in the color – it's not usually possible to say that about black bags. Buy through Saks for $1780.