Soft, slouchy, quilted lambskin in a creamy shade of ivory? Where do I sign up for the Burberry Quilted Leather Tote? Do I need to get on a list or contact the proper authorities? Is there a special code I have to say?
I've got to admit that, between Marc Jacobs and Chanel, it might be kind of easy to think that we've seen all the quilting that we need to see. Usually, though, those quilts are a bit more on the rigid side, whereas the ones on this bag look soft and lovely (and this bag is lambskin, so I bet it doesn't disappoint in real life.)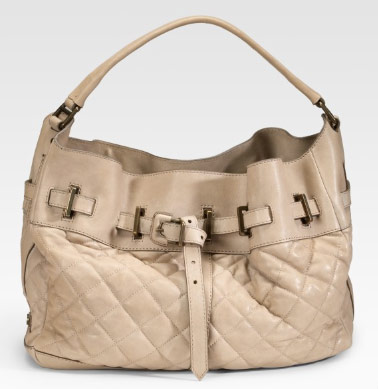 This design isn't groundbreaking, but it is pretty neutral and attractive. The quilting provides texture, and I particularly like the tied belt, which mirrors the closure method that a lot of women use on the company's iconic trench coats. I wish that the leather trim around the top looked less stiff, but I'm willing to entertain the idea that it gives the bag's opening a structure that a lot of hobos lack. I wish the handle was flat instead of rolled, but overall, this bag is a nice, neutral option for a lot of different women. Buy through Saks for $1095.