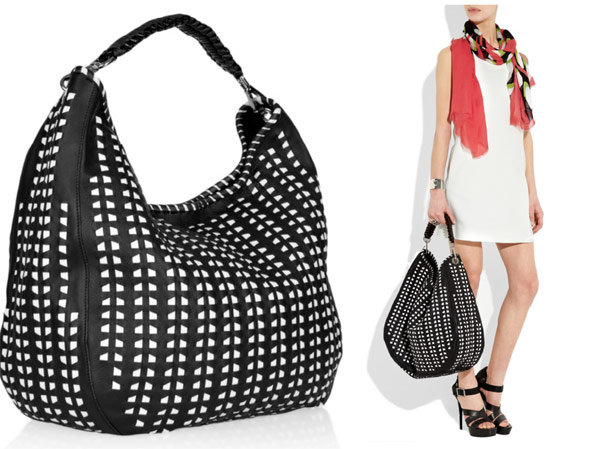 Marni Woven Leather Hobo, $2330 via Net-a-Porter.
I can't believe I haven't posted about the Marni Woven Leather Hobo Bag already, but somehow it seems to have gotten passed over in the spring shuffle. What I can't figure out, though, is how that managed to happen – I absolutely love it. I loved it as soon as I saw it on the runway back in September, and my love for the slouchy-yet-stark design has only grown since seeing how soft and wearable the bag would be in real life. This design is proof positive that neutrals don't have to be boring background pieces.
There's something about black and white patterns that I just can't resist no matter what I do, and Marni managed to take the colors and put its signature retro-modern twist on them. I usually find woven bags too be either too hippy-dippy or too derivative of Bottega Veneta for my taste, but this design implements a large-scale weave without being sloppy or a knockoff of a different design. When so many bag customers in this price range automatically associate weaving with Bottega, that's no small feat.
And not only is the design unique, but the bag is still functional. Although I suspect that the dark interior lining will make it a bit of a black hole, there's no denying that you could fit everything you need for a day into this bag with room to spare. Finding it again later might be a tad difficult, but after years of carrying a veritable black hole as my primary bag, I can tell you that you do get used to it after a while. For this bag, I'd be happy to adjust. Buy through Marni for $2330.