When I first saw the Gucci G Coin Medium Hobo, I couldn't help but think that the whole thing seemed kind of sedate for the Gucci aesthetic. I know that the brand has plenty of simple, clean-lined bags at a variety of price points, but whenever I see one of them, it just seems like they're missing the point of being Gucci, for cryin' out loud.
I'm one of the horde of Tom Ford fangirl holdouts, although I enjoy what Frida Giannini is doing with the brand more and more as the seasons go on. In fact, when I disregard the brand, I like what this bag has going on quite a bit.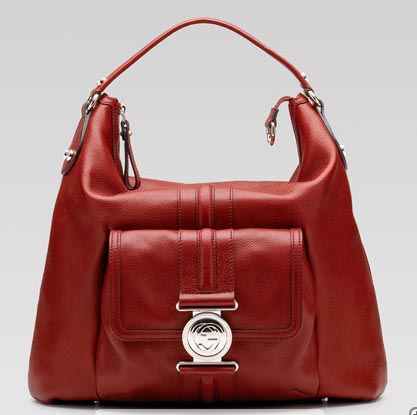 The look this bag pushes is very tame, I'll admit, but it's also mature and not too showy. The namesake coin is the only branding that I can see from where I'm sitting, and the choice of shiny hardware instead of matte gives it a small pop of Gucci glam. As always, I also can't say no to a good red bag. Good red is, after all, so hard to find. Buy through Bergdorf Goodman for $1590.