Any young fame-seeker worth his Twitter followers knows that if something works once, it'll probably work again. With that in mind, erstwhile Birkin ("Birkin") destroyer and photographer Tyler Shields is back and making more waves with his lofty, arty thoughts on consumerism via more photos of an Hermes (maybe) handbag in a compromising position.
These photos from Shields' "Induldgence" series, currently featured on his website, started spreading around the Internet late on Friday, attached to headlines about how the wild-child photog is at it again with another "$100,000" handbag, photographed with a live alligator and actress Ana Mulvoy-Ten. There are two problems with that idea.
First, it is highly unlikely that the bag is real. The last time Shields got up to these shenanigans, he eventually admitted (after we outed him) to buying the bag out of the trunk of someone's car and that he was unable to prove he had actually paid the staggering amount of the bag that he originally claimed. Past behavior is the best predictor of future behavior, as they say, and I'm not sure this bag passes the sniff test.
The bag, both in these photos and the YouTube video that goes behind the scenes of the shoot, looks incredibly flimsy. Glossy crocodile Birkins are incredibly structured bags, lined in leather, that are unlikely to flop over flat as easily as this one does. It's not impossible, but it's also not likely.
Also, when I went over to our Forum to see if these photos had been discussed, a thread on them had been deleted by a section moderator with this explanation: "Bag is fake." Take that as you will!
Second, even if we suspend disbelief and allow the premise that this is a real crocodile Birkin, it would certainly not have the sensationalist six-figure price tag that other sites so breathlessly assign it. Crocodile Birkins in excellent condition go for mid-five figures on the resale market, and that's higher than their retail price by a not-insignificant margin. In the video, which has not been color-corrected like these photos have, the bag appears to be Blue Roi, which is not a rare Hermes color and would not drive the price up further. Also, the hardware is standard-issue Palladium, which would not increase the price.
The bag's fake, in all likelihood, but even if it weren't, it wouldn't cost $100,000. Nowhere near it. Tyler Shields is a charlatan, but we all already knew that. If you're interested, the rest of the Birkin photos are below, and you can see the full shoot, which includes "Prada" popcorn, via his website.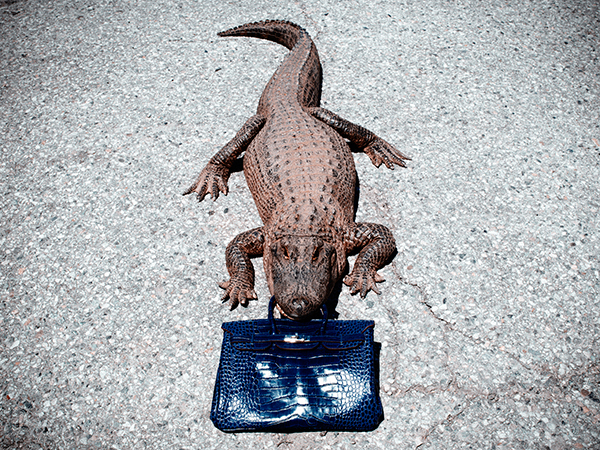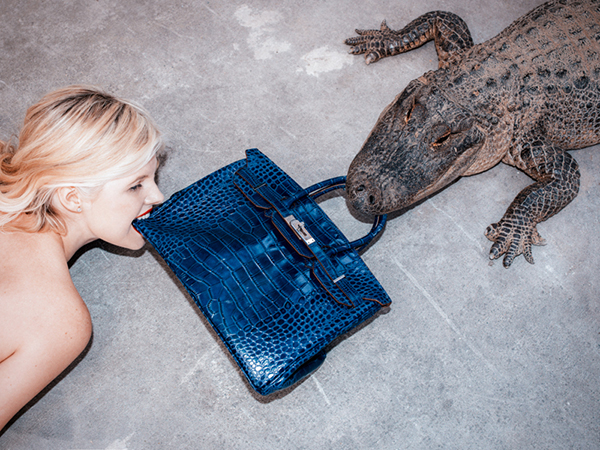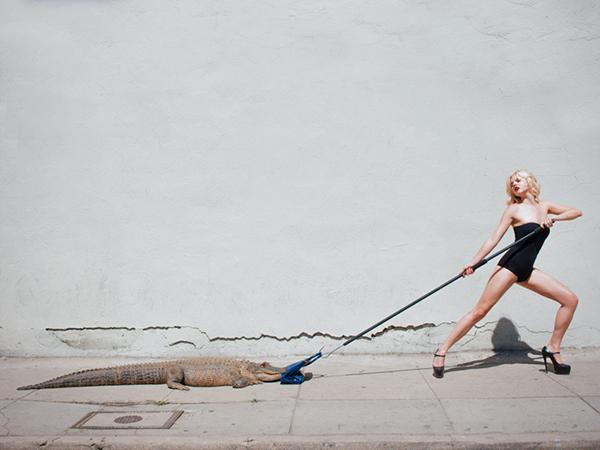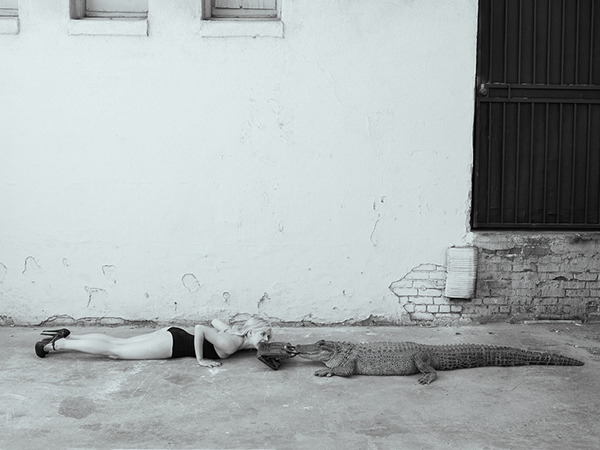 P.S. Please consider supporting our small, bag-loving team by clicking our links before shopping or checking out at your favorite online retailers like Amazon, Neiman Marcus, Nordstrom, or any of the listed partners on our shop page. We truly appreciate your support!