Alexander McQueen Croc-Print Skull Clutch.
This morning, I said to myself, "Self, you haven't had an opportunity to slobber all over Alexander McQueen in a while. Make that happen." It didn't take much looking to find something to talk about. Behold: the
I've never quite understood why these clutches aren't more popular with starlets on the red carpet. They're tiny, glam, come in so many finishes, and have a ton of personality. What gives?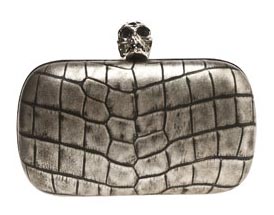 I, for one, thing that this little darling would make a perfect clutch for awards season. I'm not usually a fan of stamped croc, but on a bag this small and rigid, it manages to not look cheap or plastic. In fact, the finish is pleasantly distressed without looking sloppy, similar to if the entire bag had been made out of slightly worn silver.
Come to think of it, wouldn't that be a great bag? An Alexander McQueen skull clutch made entirely or metal, but fashioned to look like it might be leather. I don't doubt that he may try it in the future at some point. Buy through Browns UK for £695.