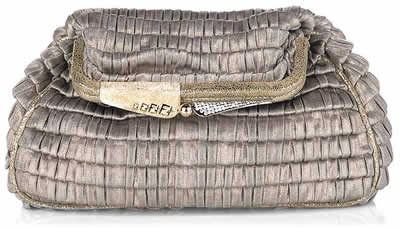 I am sure you all know the song "Reunited and it feels so good". That is my theme song right now :-D I was a bit weary that the man would not make it here, but he was waiting for me after work at one of about 40 Starbucks in Times Square. We had a great dinner at a cozy Cuban joint in midtown, then I delighted myself in some Tasty-Delight (one of many reasons that I love NYC) and then I couldn't go home without another Starbucks run. Turns out that I ate more than the man in this relationship last night- YIKES! Vlad is still on European time so we were in bed by 9 and awake at 7. Boo! But that makes today nice and long and gives us some time in the morning to post.
I surprised Vlad with 2 pair of tickets to Broadway shows while he is here. Tonight is the first one. For any show the best bag to take with you is a clutch. This is the one major department that my bag collection is lacking. Time to find the perfect clutch. The Fendi Metallic Pleated Folded Clutch
integrates the beauty of gold metallic with the texture of pleated fabric. The shape is a bit different and I love the purse clasp fastening along with the fold down component. While reading about the additions seems overwhelming, actually viewing them makes it all come together. There is gold leaf suede trim, silver rhinestones on one side, a gold logo on the other side, and orange satin lining on the inside. Although black resonates in my mind as the perfect clutch color, I find it perfectly fitting to need a metallic evening bag like this one. I may drag Vlad to go check it out with me today; after all, I am treating him to the Broadway shows right?! Buy this clutch via Net-A-Porter for $660.