When trying to design a high-end bag, mixing materials can turn into a risky proposition. If too many are used, or the use of the materials has a lack of sophistication, the final product can look patchworked and cheap very, very quickly. Luckily, the Chloé Billie New Small Messenger Bag manages to stay on the right side of the line.
By constructing the main body of the bag out of leather and canvas in shades of tan, Chloé gave this design texture without adding fussiness or confusion. Keeping the shiny black patent for use as trim only gives the bag a pleasantly vintage feel and even more wardrobe versatility.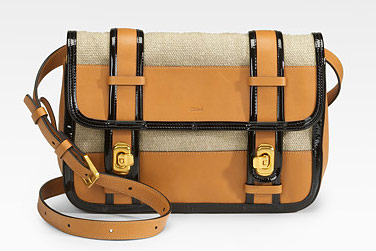 It may seem a little noncommittal, but when faced with modern dressing, having a black-and-tan bag actually isn't a bad idea. The combination somehow manages to make the bag even more neutral than it would have been in a single color while simultaneously upping its visual interest, a combination of feats rarely achieved by even the best designers. My only moment of hesitation about this bag is the interplay between the shades of tan, but the addition of the black trim makes that less of a concern than it would have been otherwise. Buy through Saks for $1560.