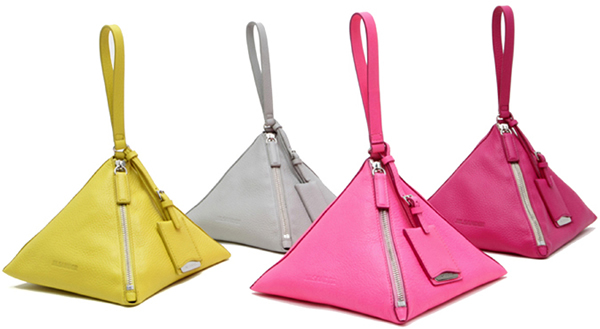 Did you all hear that 49 of the states in the USA have snow right now? All but Florida. Unfortunately and fortunately, Vlad and I are leaving Florida to head back to NYC and I am beginning to remember why I am a Florida girl. Snow looks great in pictures and is great in theory – but I freeze easily. I prefer sun, sand, and palm trees. While I will be trudging through the snow and bundling up in the cold, I will remember that Spring is around the corner. Bright colors and beach days.
Spring handbags are taking over my inbox and mind. Spring will bring hues of color we all crave in compact bags. It will be about getting the most out of your small handbag that still packs a stylish punch. I appreciate innovative designs and that is what the Jil Sander Pyramid Wristlets showcase. Innovation.
I have always shared my love of a good wristlet, and this one really has me intrigued. I love the idea of this accessory. Thank you Jil Sander for giving us something interesting to look at and think about. I'm guessing that the true pyramid shape will make this a bit roomier than other wristlets, having the base of the wristlet be wider. I would love to see this bag in person and see how much will comfortably fit inside. And Spring, if you are listening, don't be afraid to make an early appearance this year.
Image via Style.com