Wristlets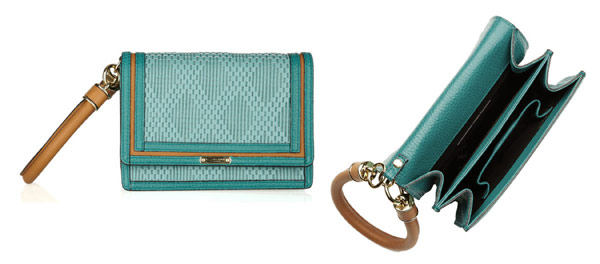 Burberry Leather Wristlet, $1195 via Net-a-Porter
In my mind, calling a bag a "wristlet" is a precarious thing to do for a manufacturer or retailer. The word "wristlet" brings about a very specific type of simple, relatively inexpensive small accessory; personally, I use a wristlet to hold the small pharmacy that I carry around inside of my real bag. I wouldn't ever pay a thousand dollars for something like that.
While the Burberry Leather Wristlet is, in fact, a wristlet like its name would suggest, it's also one of the nicer wristlets I've ever seen in my life, and a full-fledged leather clutch with multiple structured compartments. Don't let the w-word fool you, this bag is a lot more than just an accessory to your accessories. (more…)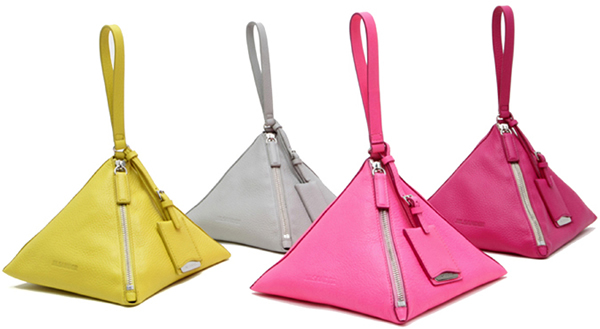 Did you all hear that 49 of the states in the USA have snow right now? All but Florida. Unfortunately and fortunately, Vlad and I are leaving Florida to head back to NYC and I am beginning to remember why I am a Florida girl. Snow looks great in pictures and is great in theory – but I freeze easily. I prefer sun, sand, and palm trees. While I will be trudging through the snow and bundling up in the cold, I will remember that Spring is around the corner. Bright colors and beach days. (more…)
accessorize appropriately.
I am having one of those moments. I keep staring at the Donna Karan Goatskin Loop Pouch knowing that I have seen something familiar from another designer, knowing that I featured it on Purse Blog previously. For the life of me I can not remember and can not find it when searching. So on a random note, whoever finds what I am talking about gets a virtual cookie!
Back to this Donna Karan pouch. Can I just say that I adore it? Hands free is so integral and having a loop pouch does the trick magnificently. I love the rocker edge given to this bag with the metal zipper. I don't doubt that the goatskin is amazingly supple as well. Once you slide this on your wrist, you are good to go. Dimensions are 7″W X 8″H X 3″D. I love this design! Come on designers, hop onto the wristlet wagon, it is a fun ride. Buy through Saks for $695.
The years post college seemed to fly by. Gone were the 5-nights-out weeks and in were the days of working during the day and going to bed at a reasonable hour. Gone were naps (sad). And for me, gone was the need of a sturdy clutch/wristlet to take to all the bars and football games. My original wristlet love was the Louis Vuitton Wapity, which I am still loving and could gush about in its size and practicality. Now I have found a clutch that I am trying to get on board with, as it does bring back my love of night-out wristlets. (more…)
Lindsay Lohan was seen doing what she is known for over the weekend, getting in and out of her car while the paparazzi snaps her picture. LiLo is back from her make-out sessions in Italy and has been laying low. Recently, Lindsay Lohan's bag of choice has been the Rebecca Minkoff Morning After Bag. And now she has opted for a smaller handbag, just to carry the essentials. Lindsay Lohan has been sporting the YSL Belle de Jour Wristlet in white patent leather with brass hardware. The wristlet measures 4 3/4" H x 4 1/2" W x 1" D and features a zip-around closure. This is the perfect accessory to carry a few essentials around in when on errands. Lindsay is always carrying bags that are huge hits! The wristlet is available in green and anthracite on YSL's online boutique for $335.
(more…)
It is graduation season in many parts of the world. Granted many and most graduated a few weeks ago, whether it be from high school or college, but the parties are still continuing. I recently went to my cousins High School graduation and had to think of the perfect gift. What does every college kid need I pondered? Lo and behold, I came up with a wristlet, for the nights on the town when you need cash and a credit card and that is about it! I find the Coach Hamptons Wristlet to be the perfect gift for any girl out there; the pebbled leather is divine, the functionality of the wrist strap is perfect, and the size is just right. The tassel detail is not over the top, and coming from me who is not much of a tassel lover, that says something. Measurements are 6 (L) x 4 (H). Still looking for the perfect affordable gift, opt for this wristlet in either black, blue, or sand. What girl would not love this? Via Coach for a mere $68.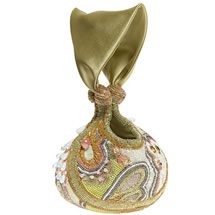 Craftsmanship is always something to take into account when buying a designer handbag. Simple is fine, but you should attempt to own at least one handbag that is a true piece of art. Marked down now at Barneys, the Beavaldes Chinese Blossom Wristlet manifests its beauty in intricate and detailed beading with an array of beads and crystals. The wristlet is finished off with a green satin handle. This may not be the art handbag for you, but it is possible contender and is also on sale at the moment. Dimensions are 9″x5.5″x3.5″.
Via Barneys for $1299.
View more of the details below!
(more…)
If you have ever been to Columbus, Ohio you will know that great weather is somewhat hard to come by. I landed here late last night and woke up to gorgeous weather! I am still in shock that the sun is out and it really looks like spring. The mission right now is to find a great bright handbag. Hot colors for spring and summer and yellow and green. Right now I have an order on a green Prada Bag, and would love to add a little bit of yellow to my wardrobe. Incredibly cheap, mighty chic, and adding just the perfect amount of sunshine to your day, Marc Jacobs has brought us the Marc by Marc Jacobs Leather Wristlet. Oddly enough, this little wristlet has me totally in love. There is not a ton of fuss, merely gold hardware, a decorative turn clasp on the front, a wrist strap, and bright yellow leather. You can not even tell me that this is not a perfect yellow addition for your spring and summer wardrobe. Throw it on for a night out and brighten up your outfit, mood, and style. Via Net A Porter for $168.
It's all about hand-held bags. They may life easy, keep those arms and shoulders from hurting, and can be flung on the wrist like an over-sized dangling bracelet. I often travel with my Louis Vuitton Wapity which is a godsend. For a funky over sized clutch, the Jimmy Choo Foldover Calfskin Clutch is the perfect mix of shiny leather goodness and stylish gold tone hardware bling. The bigger the clutch the more that can be held, which is always a plus (dimensions are 9½"H X 13″L X 2″W). There is ample store room, including an outside zip pocket, interior zip pocket, and interior card pockets along with a wrist strap and suede lining. I've got an itch for this bag; playful, young, rocker, practical, and or sale through Saks for $1250.
I recently read that the handbag industry is booming. Well duh, I could have told you that. But along with a booming industry comes skyrocketing prices. Sometimes it becomes overwhelming. Personally, I can't afford this industry all the time. I'd love to buy every bag that I love, but I unfortunately did not win the lotto last night, so this option is not feasible. What is feasible is a practical wristlet that is in a totally affordable range. The Marc by Marc Jacobs Eyelet Leather Wristlet is small, cute, and affordable. Designed from dusty red soft washed leather and accented with brass eyelets, this wristlet is perfect for small accessory wear. Honestly who does not need a wristlet or two or 15? We all need at least one because it makes life on the go or a night out so much easier. The leather wrist strap only adds more fun with brass links and eyelets. There is a small patch pocket under the flap and the wristlet shows off a coin-purse frame. Upon opening it, you will find floral print cotton lining. Measuring a mere 5″ x 4″ x 1″, this wristlet would be able to hold your keys, credit cards and ID, cash, and your cellie (that is of course if it is a Razr or something similar in size). Small but cute and feasible, buy this little accessory by Marc for $128 through eLuxury.
Over the weekend I went to a crafty store/restaurant with two of my mom's sisters. This place was a barn turned into a craft store, and every woman across the Midwest was there on Sunday. The ratio of women to men was about 1,345:1. And that 1 was definitely and infant boy. Either way, all those crafts are cute but I did realize I could probably make many of them. I asked myself why I don't, and realized the answer was simple; there are other people that will do it for me instead. Score. But as I ventured to the clothing and accessory side of this place, I did run into some cute and some not so cute handbags. I was surprised to see an actual brand of bags there. It is a brand I never heard of, but it is a brand after all- and it has very fun bags.
SHIH Handbags use texture and material to get their distinctive bags to be seen. The bag that I saw was the SHIH Handbags Medium Tote in turquoise. This tote is quite fun in my opinion- more of something to throw on with jeans and a little white tee on my way to the park or store. Soft gold metal mesh is what really gives this quilted satin tote its style (if you opt for the black bag, there is silver tone hardware). The single shoulder strap also shows off the metal mesh pattern which I find so fun. After you open the zip top, you will find satin lining and zip pocket. This fun bag measures 13″ wide x 5″ deep x 9 1/2″ high and the shoulder strap has a drop of 12″. Buy the turquoise for $179.95 via Zappos or the black also for $179.95 via Zappos.
If you want your bag to be nothing but bling, there is a bigger gold tote that may suit your liking. The SHIH Oversize Tote will have you shining like its still summer. I can't really put my finger on why I like these bags, but I just do. Something about the over-the-top glam and shine draws me in. Made of gold quilted satin and gold tone soft metal mesh, this bag is large enough for your pet dog and then some (16″ wide x 6″ deep x 14 1/2″ high). That's a big bag. The inside is lined in satin and there is a zip pocket and key fob. This big glitz n' glam gold bag is available throughZappos for $199.95.
And to finish these SHIH bags off, there is a perfect size wristlet. Many of you may think these bags are a bit too much; if you are one of those people, the wristlet may be just right for you. When you are looking to add lots of flavor for a night on the town, a glamorous piece of hand candy will not hurt. Made of gold quilted satin and gold tone soft mesh with a convertible strap, this little handbag is my pick for a night out with the ladies. The final dimensions are 9″ wide x 1/2″ deep x 5″ high. If the totes were a bit too much to handle for you, try the wristlet for $63.95 via Zappos.