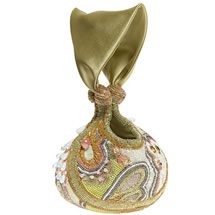 Craftsmanship is always something to take into account when buying a designer handbag. Simple is fine, but you should attempt to own at least one handbag that is a true piece of art. Marked down now at Barneys, the Beavaldes Chinese Blossom Wristlet manifests its beauty in intricate and detailed beading with an array of beads and crystals. The wristlet is finished off with a green satin handle. This may not be the art handbag for you, but it is possible contender and is also on sale at the moment. Dimensions are 9″x5.5″x3.5″.
Via Barneys for $1299.
View more of the details below!