Not too long ago, I wrote about a neoprene Marc by Marc Jacobs handbag on PurseBlog Savvy that I absolutely love, and I explained exactly why I think that neoprene is a cool material bags. I still think that's absolutely true, and I still love the bag, but I just don't know if I can justify to myself spending $350 for a bag that's not leather.
The Gucci Techno Horsebit Large Tote, also made mostly out of neoprene, has put the price of the Marc by Marc Jacobs bag in stark perspective. And, in it's own way, it's made me more likely to spend money it.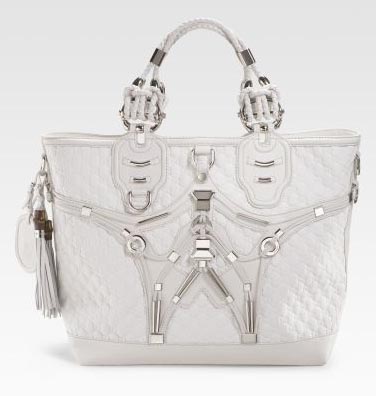 This bag is cool and a bit futuristic while still being obviously Gucci, and I still love the collection from which it came – it was the brand's best since the exodus of Tom Ford. The design is successful, if a bit busy. But there's something we need to talk about.
It's the price. The price. This bag has a bit of leather, but it's made largely out of the relatively inexpensive neoprene. It's a runway look, so one can assume that they bumped it up a bit in price as a result, but $2,790 for a bag that's not all leather (not even close) is something that I cannot abide. Surely someone will, but all it does is make me appreciate the eminently reasonable MbMJ price point all the more. Buy through Saks for $2790.