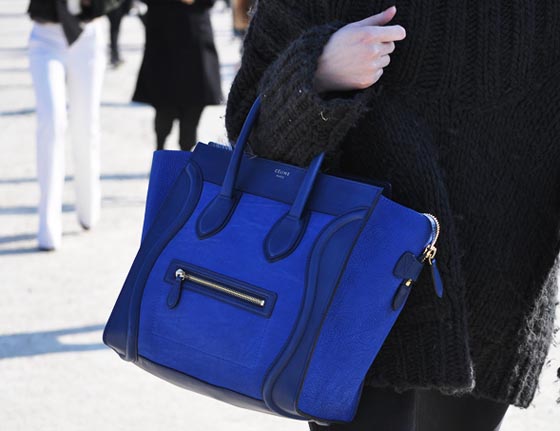 Have you ever seen a bag in person, talked yourself out of buying it and then obsessed over it for months on end afterward, at which point it has become sold out and you can no longer get it? That's the tragic story of me and the Celine Boston Tote.
I thought I had successfully put the bag out of my mind, but after seeing Leighton Meester carry hers two weeks ago and Tommy Ton's great photos of Celine bags on Jak & Jil Blog (from whence the above picture came), my obsession is back to full power and it shows no signs of abating.
The bag is just…perfect. Oversized and attention-getting without being overworked or over-designed, classic but modern, graphic in its details but simple in shape. I've yet to see a color combination that I wouldn't be proud to add to my closet, but the bicolor blue version in this photo has my heart the most. I don't even like blue bags. How did Phoebe Philo manage to make me like blue?
My love for this bag defies both logic and budget, but the more I look at women carrying the Celine Boston Tote, the more I want to join their ranks. Depending on color combinations, the bag ranges from around $1800-$2500, and it's sold out virtually everywhere. For more lovely pictures of women who are lucky enough to already have one, visit Jak & Jill Blog.