Despite my overwhelming love for black, I always seem to bypass black handbags. My theory is that since I wear so much black clothing, when it comes to accessories, I should experiment with color in at least my handbag and shoes. I'm a big fan of a black-on-black look, but if you're pale like I am and wear too much black all at one time, well, people start to stare. The fact that I dye my hair black probably doesn't help my cause.
Sometimes, though, there's a black bag that's just too fabulous for me to resist. This time, it's the Christian Louboutin Tinzita Shoulder Bag that has me in its grasp. I'm sure that there are other colors out there for this particular bag, but there's something about the super-soft black leather that's got my attention.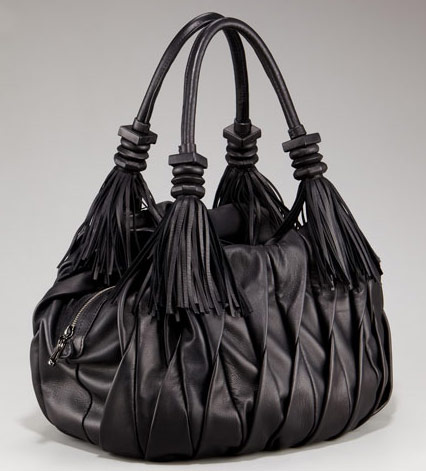 Louboutin has done such a great job loading this bag with texture and visual interest that the neutral color doesn't bother me one bit. In fact, if this bag had been done in bright leather, it might be just a tad too much. As it is, not only are the material's softness and pliability clear through the prominent pleats, but the tassels provide movement without being too sloppy. This bag makes me want to pick it up and examine how it's put together, which is exactly what good design should make a person want to do. Plus, all Louboutin bags are lined in red suede – details like that make me so happy. Buy through Saks for $2595.