It's a new year and this time I wanted to do things a little differently, so let's start with a quote by none other than Abraham Lincoln: "Nearly all men can stand adversity, but if you want to test a man's character, give him a pair of Louboutins." Wait, I feel like there is something wrong there. I might have been paraphrasing just a little bit, but I'm sure you all agree that putting on a pair of Louboutins gives you a sense of invincibility like no other. Especially given how unanimously painful Louboutin shoes can be, I would certainly say they are a true test of a (wo)man's resilience.
But Louboutin's shoes have been spoken about so often that you might consider exclaiming "Not again!" and clicking away. Well, don't do that just yet because for all of you powerful women out there who like to keep the men at the workplace on the tip of their toes, here's a bold bag for you: the Christian Louboutin Paloma.
As Mr. Louboutin has said, "I consider the bags the twin of the shoes, it is two people of the same family", and the Paloma is indeed just as authoritative as Louboutin heels themselves, but with a personality of its own. In fact, it's literally standing on four heels! I'm surprised that Hollywood hasn't yet made a film where the Boss Lady (read: Sylvie from Emily in Paris) stomps into the office click-clacking a pair of New Very Prives and puts the Paloma down with a bang before unleashing her wrath on some poor soul.
Speaking of offices, now that the vaccine has begun to roll out (yay!) and workplaces have begun to open up (not so yay!), the Paloma is indeed the perfect bag to take you through the day. Introduced in 2015, the Paloma has already been on the market for over 5 years, with a starry fan-base boasting the likes of Olivia Munn and Danai Gurira. In fact, our very own Jennifer Lopez shown her love for the Paloma as well, and has been spotted toting her arm-candy everywhere from shopping trips and the movies to Miami beach.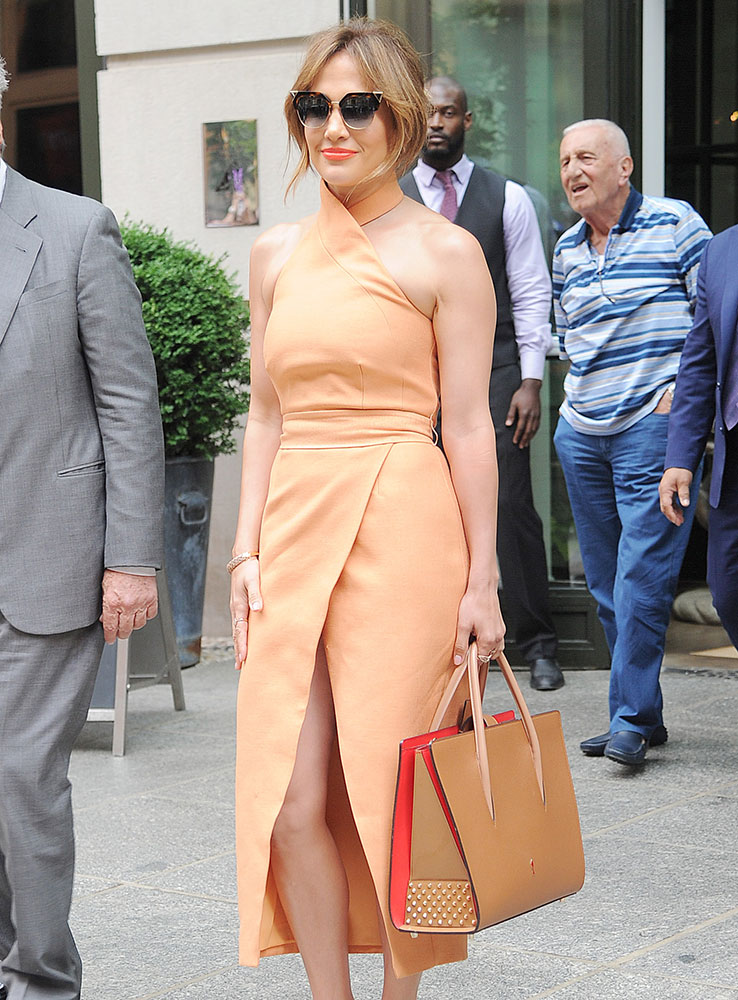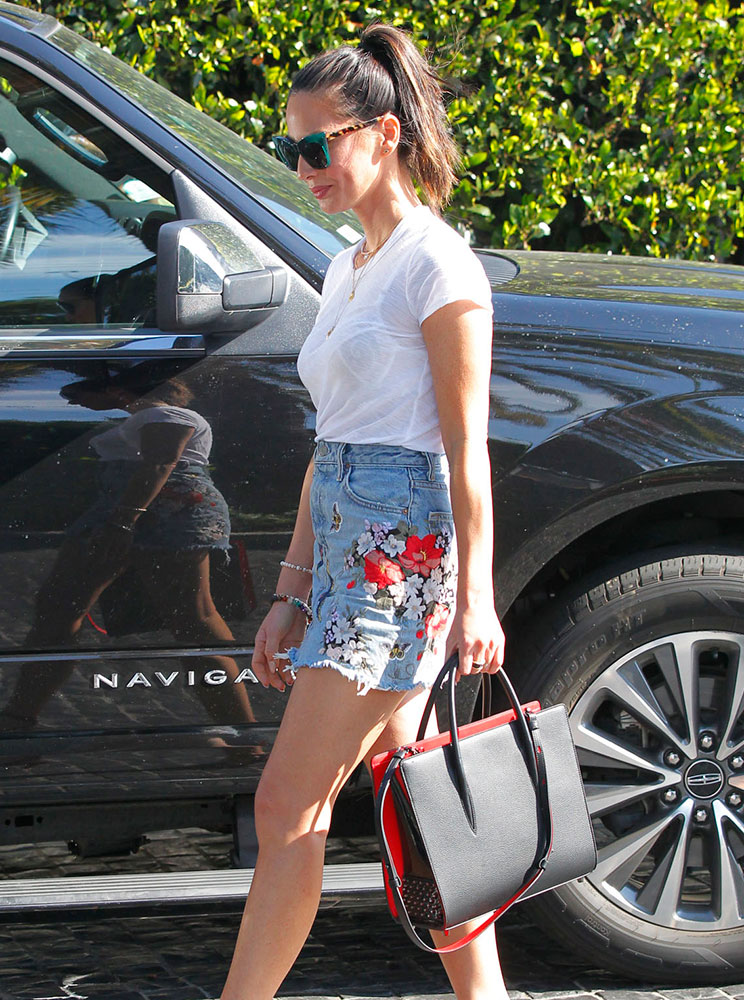 So if you want to be like the ultra-glamorous J.Lo and exude the same aura of business, boldness and pizzazz, take a look at the Paloma and fall in love! With no recognizable monogram on the exterior, with the exception of a little red-sole emblem, the tote feels very formal at first glance making it perfect for work. But when you turn it sideways, the alluring look of spikes on patent leather (or in the contrast-handle version, leopard print) dazzles onlookers. And of course there is a pop of Louboutin's signature red everywhere, from the handles and the sides of the bag to the peeping interior.
In fact, it's the inside that impresses me the most. I'm a sucker for organized bags and the Paloma has five compartments! Three of them are open and two zipped, which in the large size will hold your 13" laptop as well as your other daily essentials securely. I can picture myself reaching in the bag for my items and the red suede of the interior emboldening me every time! If the open top doesn't interest you (I personally do like open totes a lot), there is a concealed, pull-out snap tab to keep things together.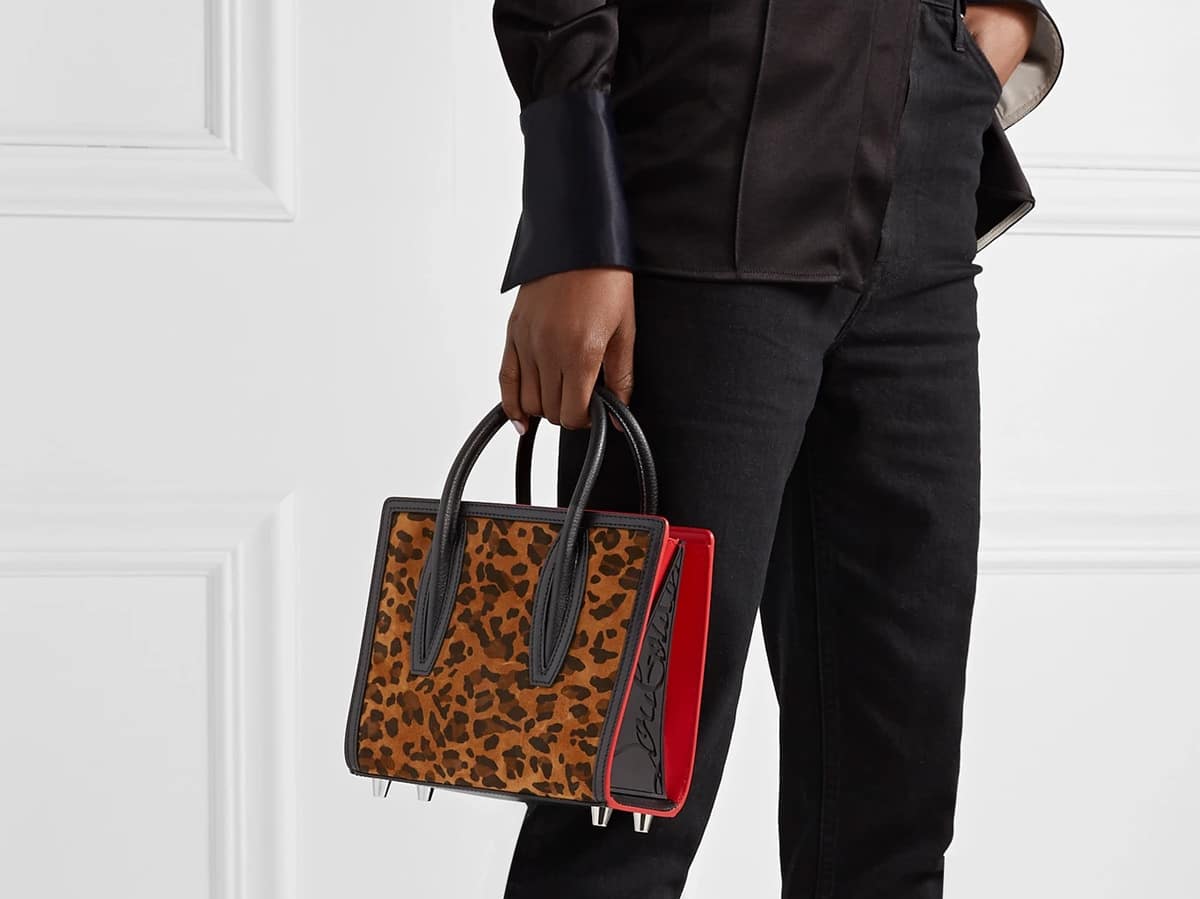 For added versatility you can attach the adjustable leather shoulder strap too, which effortlessly transitions the tote from handheld to shoulder or crossbody wear. This is especially significant given that the Paloma has a reputation of getting rather heavy when full, which like the house's shoes, mirrors Mr. Louboutin's famous motto: "Il faut souffrir pour être belle", which means you should suffer to look beautiful.
On a less painful note, the Paloma comes in such a wide variety of colors, sizes and textures from the contrast-handle black version to suede, snake-effect, croc-embossed, leopard print, PVC and more. In fact, some of the smaller iterations of the Paloma (the sizes range from Nano to large) actually come with a flap or as a zip-top too, while the newest variation of this iconic tote is even more glitzy with the house's metallic Loubinthesky embellishments.
Furthermore, the Paloma continues to perform well on the resale market, with the Medium size ($2,390 in classic leather) retaining more than 50% of its value, if not more.
So there you have it everyone. The Paloma is the perfect show-girl: glamorous, refined and sophisticated yet powerful at the same time, appealing to the maximalist in me and I'm sure in some of you as well. As a matter of fact, I have noticed that bags from some popular designer shoe houses (like Ferragamo's the Studio bag), always seem to garner a dedicated celeb fan-base and the Paloma is no exception. Additionally, its design has made me more drawn towards Louboutin's other offerings too, but those are stories for another day.
Until then, keep feeling powerful and ultra-glamorous because you totally deserve it!