One thing that I've always appreciated about Marc Jacobs is the sheer breadth of aesthetic choices that can be contained within his eponymous line at any given time. His clothes and accessories range from the somewhat classic and conservative to the utterly wild, often in the span of a single season, and I suppose that this is the point where I should say "variety is the spice of life" and all that.
Fresh off the metallic parachute bags and foot-long fringe from last season, Jacobs has decided to make a 180-degree turn and go for something entirely different: retro, ladylike handbags. The Marc Jacobs Gene Satchel in particular is strongly reminiscent of the accessories from the Louis Vuitton fall line, which is also under Jacobs's stewardship. Is that a good thing? In this case, absolutely.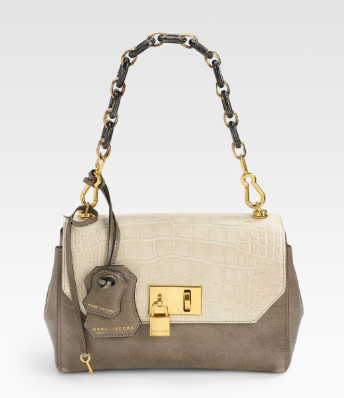 At one point in the not-so-distant past, I wasn't a big believer in bicolor bags, but this one in particular is a great example of why my feelings have changed. The cream and greige colors compliment each other beautifully and the juxtaposition of the two shades helps bring out the richness in both, as do the differences in texture. Because of the relative neutrality of both shades, there are few outfits that would clash with the bag purely as a result of the use of more than one color, which is usually a concern that I have with bicolored bags. As it is, I have no concerns at all, only lust. Buy through Saks for $1195.