Why must Miu Miu torture me so? Their Fall/Winter 2010 collection is one of the best that I've seen in quite a while, and that's in no small part because of the line's beautifully textured and detailed handbags. I've always loved the aesthetic of Prada's little sister brand, and a handbag like the Miu Miu Quilted Front Lock Satchel only makes me love it more.
This picture absolutely doesn't do any justice to the intricate chevron quilting that covers the majority of the satchel. It's rich, touchable and utterly unique in a world where almost every quilted handbag uses simple diamonds instead of something more daring.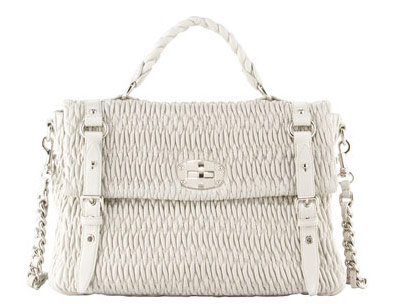 In its infinite charity, Miu Miu didn't just limit this beautiful quilting to this particular bag – as more fall bags come out, it will be seen in clutches, totes and shoulder bags as well (and it has been used from time to time by the brand in the past), but this bag is my absolute favorite example. Over time it will slouch perfectly, accenting the quality of the quilted leather even more. Pre-order via Bergdorf Goodman for $1990.