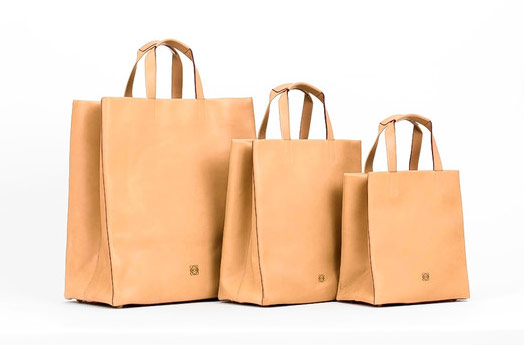 When a reader pointed us in the direction of the Wall Street Journal's profile of Spanish accessories brand Loewe and its creative director Steven Vevers, it seemed like as good a time as any to discuss the relevancy of the so-called "anti" It Bags. Vevers, a veteran of brands like Louis Vuitton, Givenchy and most recently Mulberry, has decided to take Loewe in a very different direction than many of his past designs would indicate by introducing bags like the Loewe Papelle Bag, above.
Vevers was the creative mind who changed Mulberry's image from a staid British leather goods company to the favorite of London It Girls that we know it as today. He did that by updating the brand to a youthful, playful look, but apparently he feels that the time is right for consumers to want something different by every measure. So…do you?
We've mentioned previously that some designers are starting to dial back the volume of their bags, most notably Chloé, who recently made a 180-degree turn away from the over-the-top detailing that made its bags fashion essentials during the mid-2000s. Despite the fact that many fashion critics have heralded those bags and the statement that comes with them, they don't seem to be flying off shelves or dotting the arms of the style-conscious starlets whose choices can seriously impact sales.
And then there's Loewe, a brand without much of a following outside of its native Spain. Vevers is trying to make a worldwide name for the company on this trend, and according to the WSJ, he's betting that it's more than a passing fad. Vevers has managed to get stars like Angelina Jolie and Jessica Alba to carry the Loewe Amazona bag, but at prices nearing two thousand dollars for a bag that's mostly non-leather, it seems like a tough sell for those who aren't receiving it for free.
At the very least, the grocery bag-aping Papelle Tote is all leather and retails for a bit less than the Amazona, around $1045. Unfortunately, what it's not is original – Proenza Schouler also released a "paper" bag this season, and we wrote about Chanel's leather shopping bag way back in March 2009. Still, those bags both have a lot of what Vevers seems to want to avoid: personality and style.
The Loewe Papelle Bag is perhaps an interesting art object and a statement about consumerism that surely a few people will want to make, but I'm not sure if enough bag lovers are willing to eschew personality entirely and carry an expensive bag painstaking fashioned to look like a nameless brown grocery sack. It seems like Loewe is willing to take that chance and stake the brand on this sort of minimalism. What say you, bag lovers: is this the kind of bag that you want?