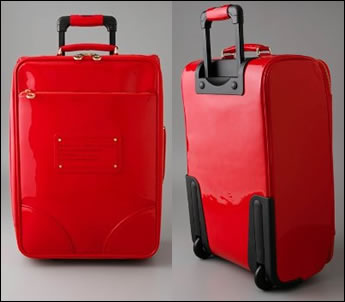 It's rare that I take a vacation. Unfortunately, I wasn't raised a traveler, and although I enjoy it, it's rare that I actually DO it without a specific reason – someone to go see, something to attend, general fabulousness to spread. As it turns out, I have someone to go see in November, and I find myself fresh out of suitcases.
I feel like such an underachiever – suitcases are something that normal people have, right? I've blown through untold thousands of dollars of handbags in my time, but sadly, my only travel bag is a Vera Bradley duffel so worn out that it looks suspiciously like it was made out of old potholders (incidentally, the boy I am going to see is the one that pointed out that my bag looks like a potholder, and as much as I hate to admit that he's ever right about anything, uh, it totally does).
I've got another complication to my situation – when I travel, I fly through Atlanta's Hartsfield-Jackson Airport, which is the busiest terminal in the known universe and a veritable sink hole for black Samsonite luggage. When we went on school trips, we were always provided with craft products – pipe cleaners, feathers, brightly colored tape – to label our bags and distinguish them from the dark, hulking masses of luggage that would be loaded on to our plane.
As a result, buying black luggage has always seemed like a terrible idea to me. Besides, utilitarian black bags are not really my style, and if I'm going to spend money on something, I'm going to get something HOT.
So, after a bit of a search, I've found a suitcase that I would be proud to call my own (and I would surely be able to spot on the luggage trolley): the Marc by Marc Jacobs Patent Wheely. Red is my absolute favorite color, and patent leather always seems like it resists stains and wear and tear better than the regular alternative. The design of the suitcase itself is simple enough, and it has the adorable printed lining that Marc by Marc Jacobs is known for. It also seems perfectly functional, with several large pockets and an automatic handle for wheeling. These may not be revolutionary features, but it's always nice when a designer remembers the practical purpose of their product.
At $698, the price seems a bit steep to me, but if I was a more regular traveler and in the market for a new suitcase (that is also the correct dimensions for a carry-on!), this would, without a doubt, be at the top of my wish list.