It's funny how six months to get used to the idea of a handbag changes things. When I first saw the fringed bags in the Marc Jacobs Spring 2010 runway show, I was a little unsure. Given more time acquaint myself with the design, however, I sort of love the bags. I'm not sure if it's because I've merely become resigned to their existence or because I have actual affection for them, but I'm going to go with the latter.
The most prototypical example of this collection is the Marc Jacobs Boho Woven Hobo, and I think it's also the strongest. I think I may have been correct when I predicted in my initial review of the bags that the fringe would be somewhat shortened for retail, and that allows the bag's illusion of basketry to take center stage without the hanging leather creating too much of a distraction.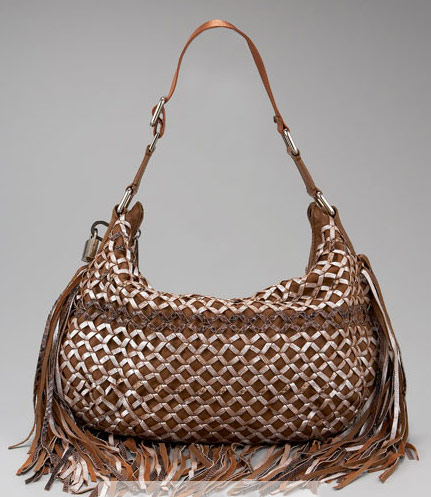 For me, this bag's ability to create a luxurious leather version of a straw tote holds almost all of its draw. Straw bags from major designers can get obnoxiously expensive, and I'd rather pay a little more for a woven leather version any day of the week. The color variation in the two layers of leather is perfect – subtle enough to keep a somewhat natural color profile, but still different enough to make you want to figure out how the bag was constructed.
Then there's the subject of the fringe. It's the one aspect of the bag that many people complained about, but viewed in the context of impending warm weather, it looks appropriate and fun instead of somewhat silly, as it did during the September runway show (maybe, just a little bit). I'd prefer it if the bag's strap was leather instead of nylon webbing, but it will undoubtedly feel pretty comfortable on the shoulder. So, who's going to be the first to pick up one of these? Buy through Bergdorf Goodman for $1795.