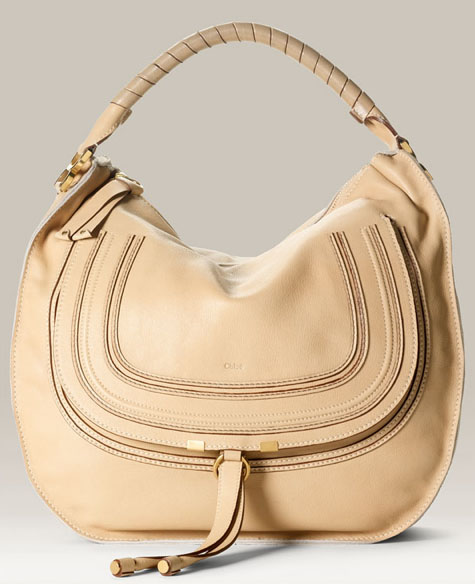 Is it just me, or is Chloe not a brand that makes a whole lot of hobos? Well, that's not entirely true – they usually manage to turn their popular bags into hobos at some point in order to capitalize on their popularity – but it seems like most of their bags don't start life as hobos, right? But today is a new day, because the Chloe Marcie Hobo is a hobo from birth and it's, eh, medium amounts of successful.
The stitched texturing on the front flap looked good upon initial examination, but now I'm not so sure. It gives the impression that the leather is layered, but in reality, it's just a clever sewing trick. Which is cool, I admit, but it just kind of…stops. There's not a seam there to mark a natural ending point, which means it rather looks like someone got tired of sewing. Which, I mean, I can understand that. Sewing looks hard.
Other than that point, and it's a small one, the bag is quite pretty. Chloe uses some of the best leather of any designer, and the creamy beige color shows it off well. The wrapped handle is a nice touch to keep things from looking to under-designed, and I like the thickness of the dangling drawstrings. Chloe should really consider making hobos a larger part of their original repertoire. Buy through Nordstrom for $1595.