Fall is finally here, and with it comes the new colors for the Fall/Winter 2022 season. This follows my Spring-Summer 2022 colors article, and you will note that once again we have holdovers from previous seasons, a few new colors, and the return of some long-retired shades.
A review of how it works: I spend all year keeping an eye out for what's coming next; of course, PurseBlog is absolutely the best resource, but it's a lot of information to keep track of, so I've got it all for you here in one place for easy reference. Other color notes I obtain from my own personal interactions with the brand, close friends, and social media. Throughout the year, I build and maintain my lists of new and returning colors for leather. It's intended to be as comprehensive as possible, although there are always some surprises.
Then, because I'm a huge fan of the scarves and many PurseBlog readers enjoy them, I take a look at the color schemes in the silks and cashmeres and then give you some ideas for the season. Please note that while Hermès is still doing color families, it seems more than ever like just a guideline, so I loosely group the scarves by similar colors and then coordinate some examples with the leathers.
I saw some very complex color schemes this season and some "crowd pleasers." I also saw a renewed emphasis on more monochromatic or just simpler colorways, which may be less visually exciting but are also ultimately very useful.
Also, while I am pleased to say there is a really nice range among all shades – really something pretty and useful in every category – I was genuinely surprised that I have not seen any orange-hued leather being offered in a bag lately, and this is following Spring/Summer where I only saw Feu being offered (and a few rare remainders of Orange Poppy); this is quite a surprise considering that orange is synonymous with Hermès (readers, please let me know if you see any orange leathers on offer in the comments below and I will update this article).
Of course, the color list here is just based on what Hermès is actually offering to its customers, and returning colors do occasionally pop up during the season, so there may be additional colors that will be available this season that we just have not seen yet. Therefore, it's a good idea to also take a look at my color article from last season, as there are often many holdovers which are either being phased out or seem to be available intermittently through the season.
And with that, let's go!
What Is New and What Is Returning
The new leather colors for the season are two light, pale colors, Vert Fizz and Mauve Pale, along with Mushroom. Returning colors include Rouge Venitien, Caban, and Cassis, and both Cassis and Mimosa in Exotic Leathers. There have also been numerous offerings in a Swift-and Quadrille combo.
PLEASE NOTE: The leather type referenced in each swatch refers to the leather photographed and does not reflect the type of leather the color will be available in this season.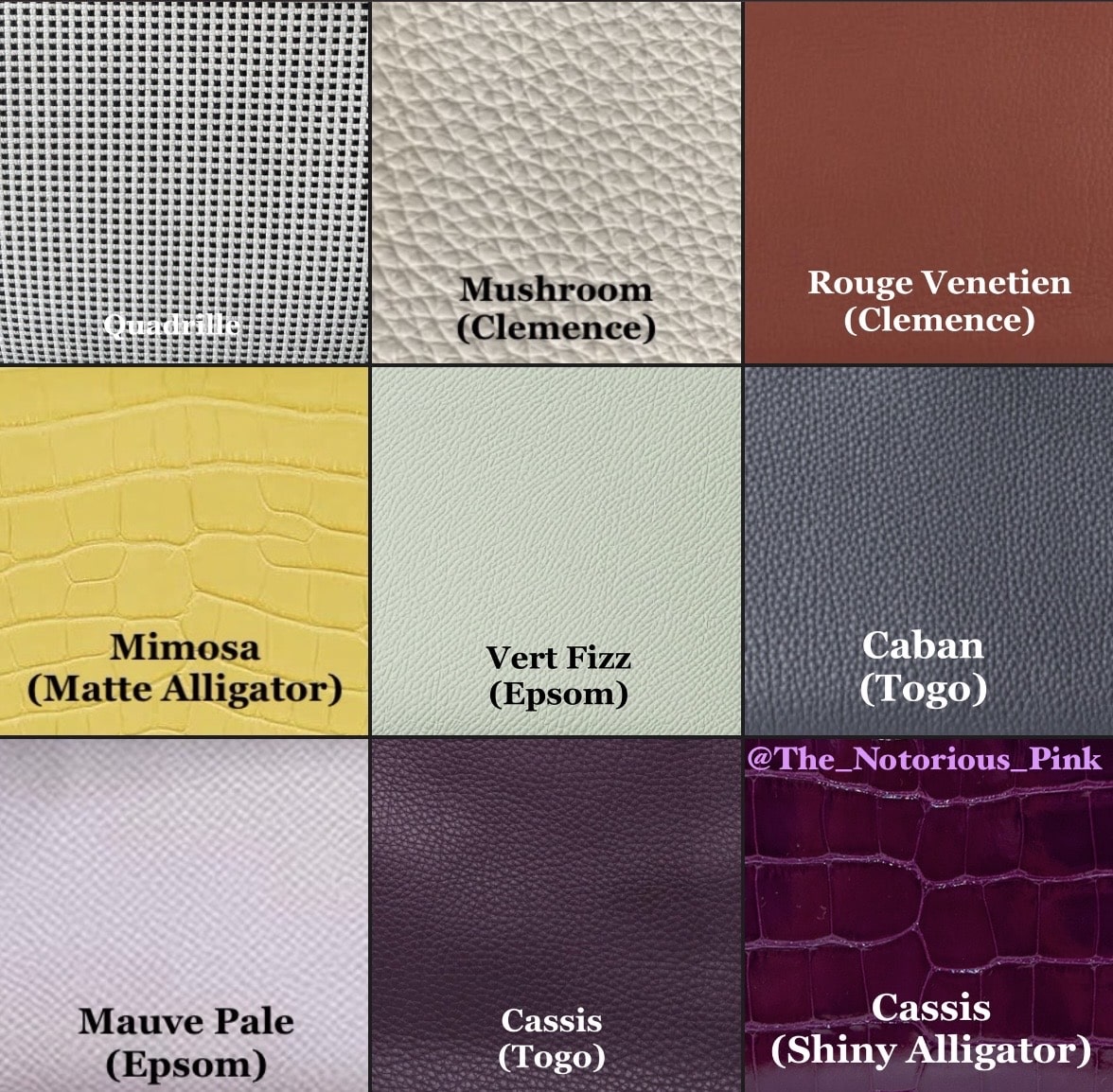 The range of colors I have seen offered recently, and for the current season, including the above, in non-exotic leathers: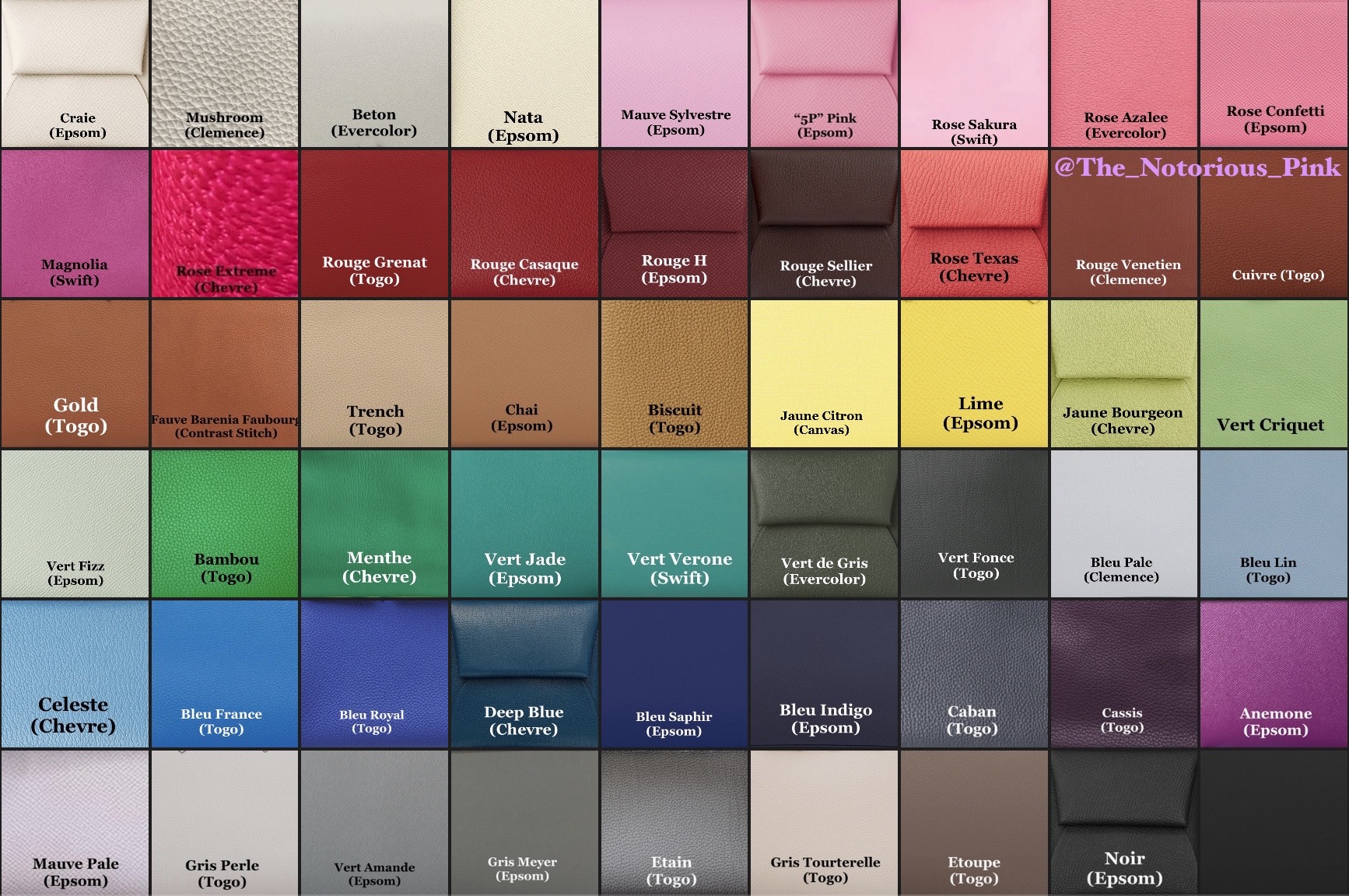 These are the exotics I have seen being offered recently:

Here is a closer examination of what is being offered (and remember, unless it is an exotic leather, the leather type referenced in the swatch refers solely to the leather photographed in the swatch, not the leather the color will be available in this season):
The Purples-Pinks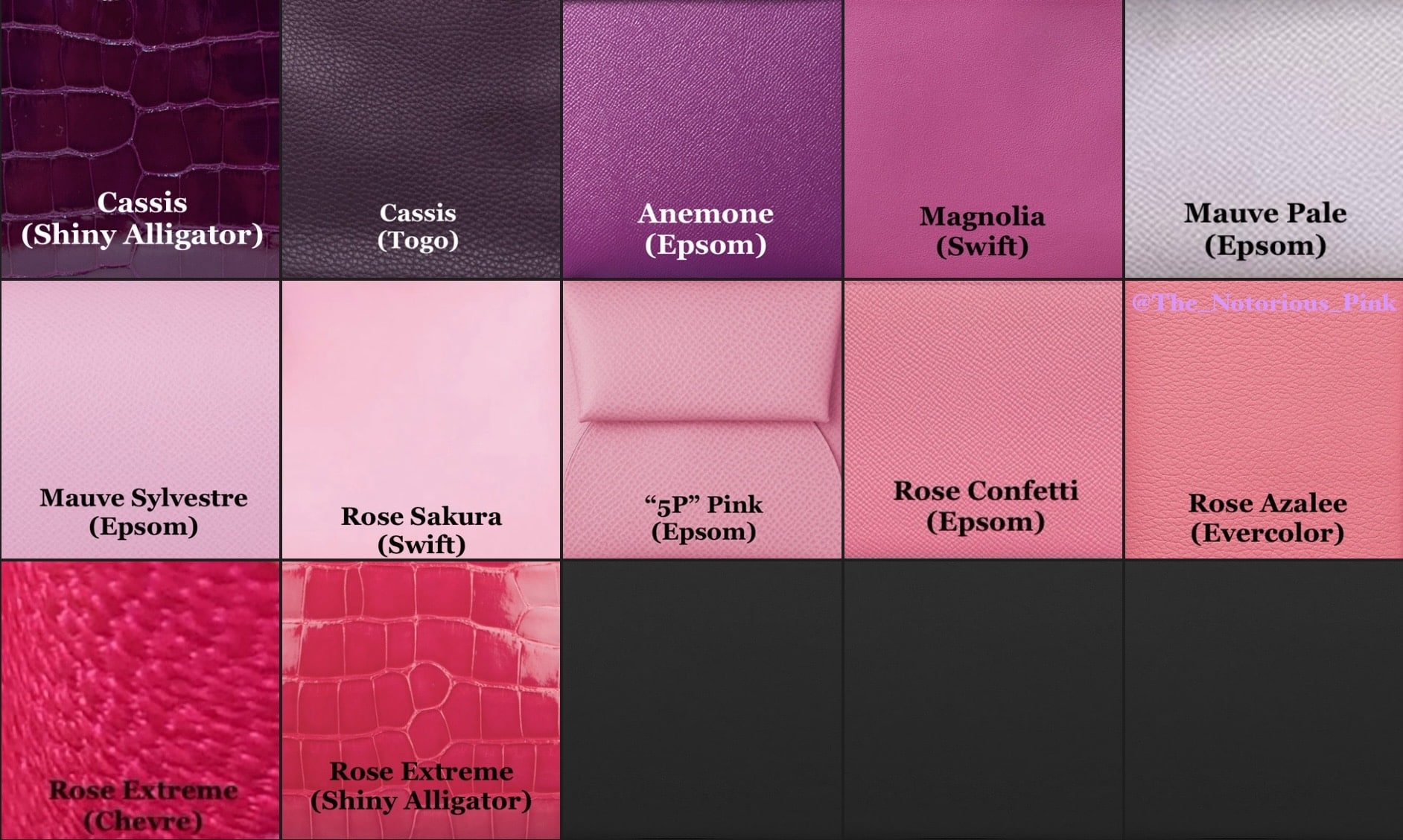 The Reds

The Yellows-Greens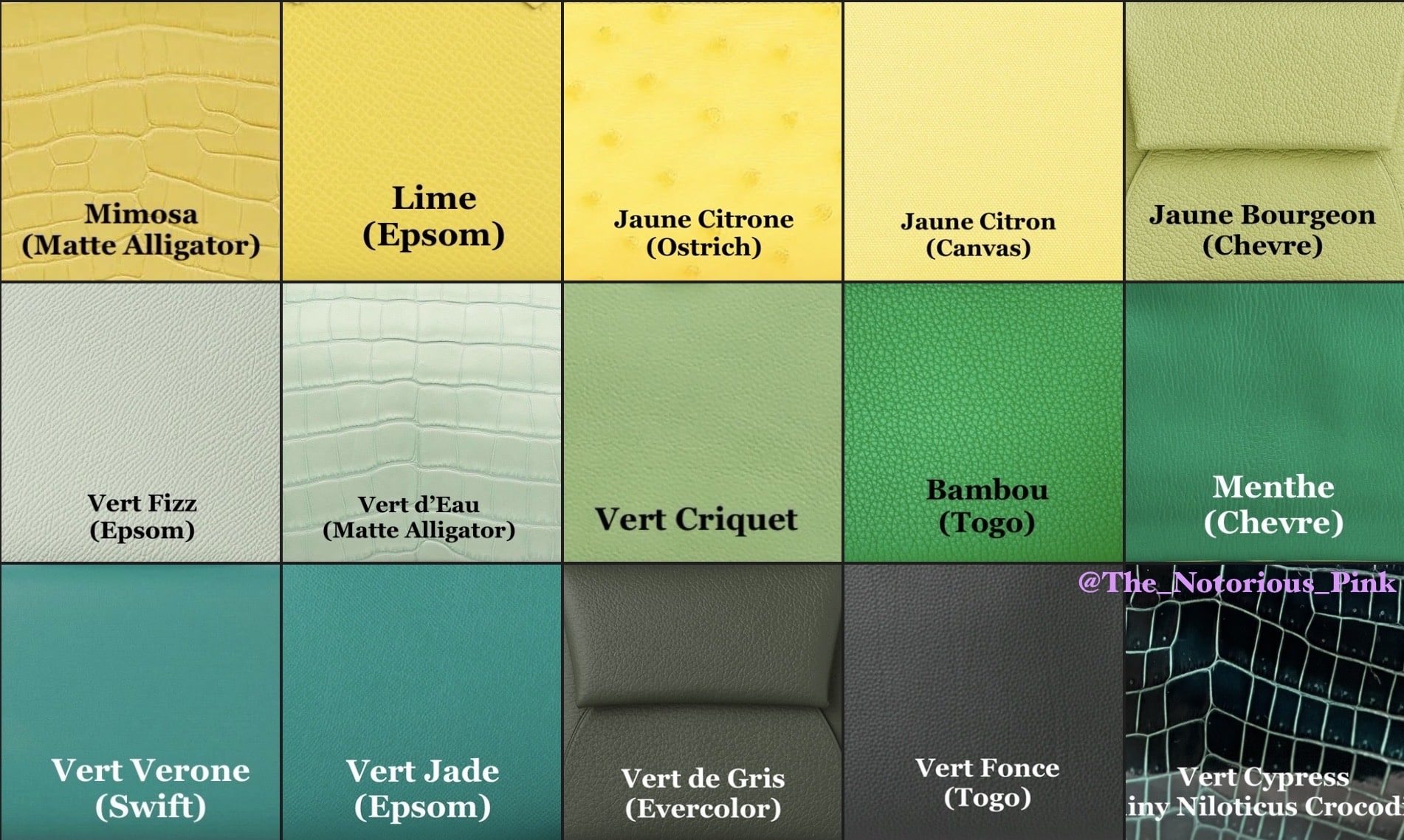 The Blues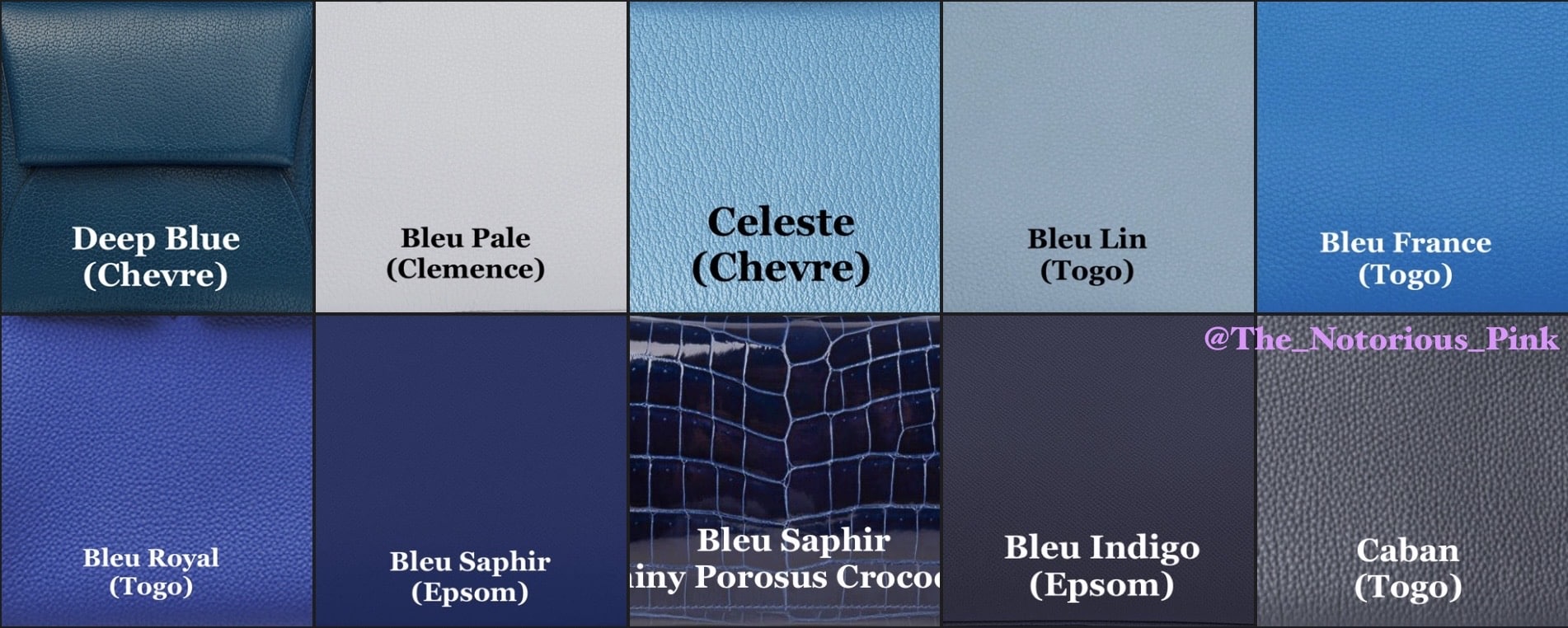 …And finally, the Neutrals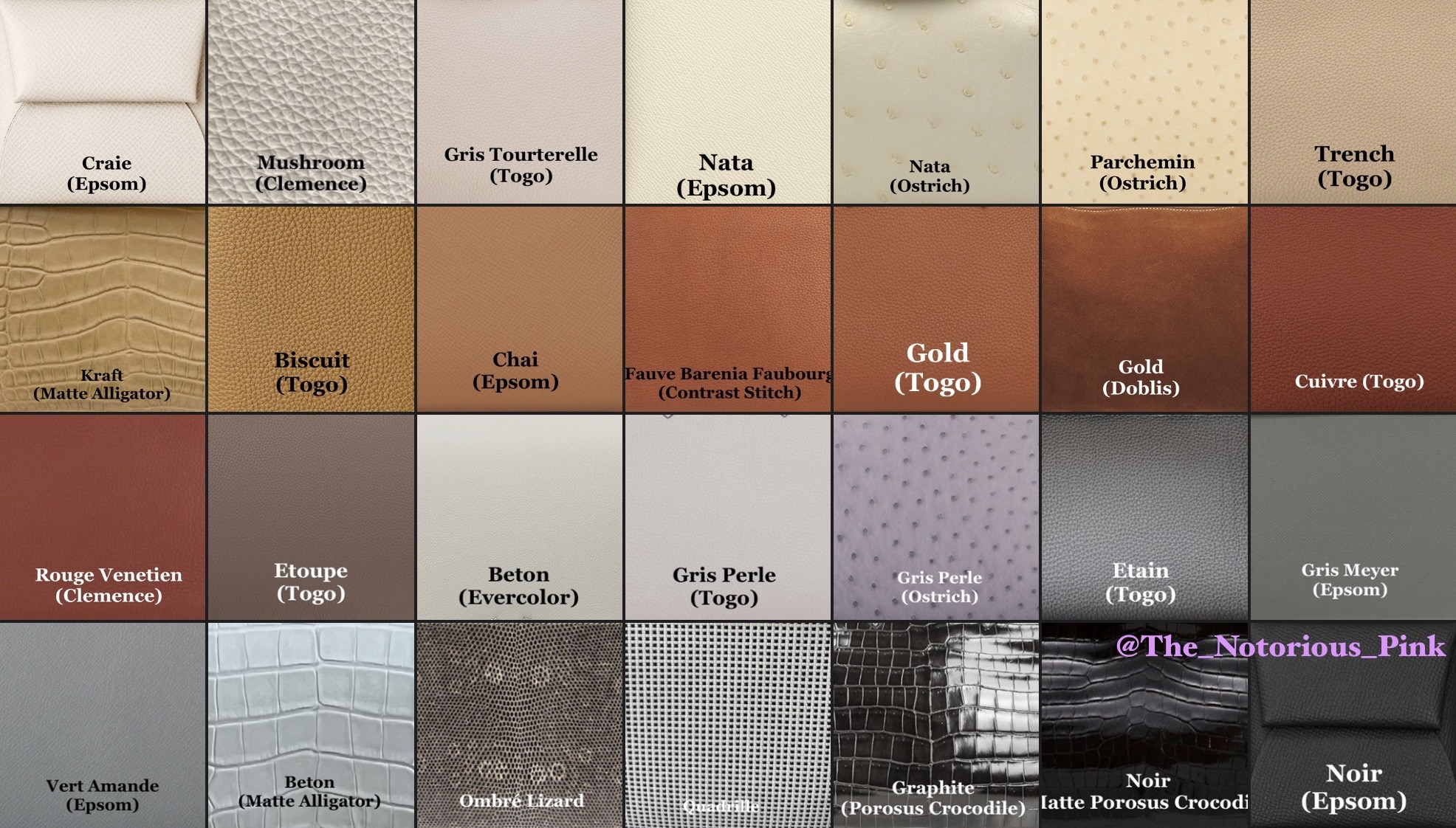 Part II of this article is coming soon, coordinating leather colors with the silks and cashmeres of the season!
featured image via @lu1zamoda