No one knows exactly how long the mini crossbody trend will last, but put me on the record as hoping that this shape stays around as a wardrobe staple for years to come. Not only are minibags delightfully functional, but they're easily modified to embody nearly any style from hippie to industrial. In this case, the mood of the Gucci 1973 Small Shoulder Bag is clear – it's all about the retro throwback.
This bag comes as no surprise to anyone that saw the looks from Gucci's Fall 2010 runway show – I would have pegged the look as more late 60s than early 70s, but the retro shapes and color palette were omnipresent throughout the bags featured in the show. The altered Gucci logo is the touch that really completes the look.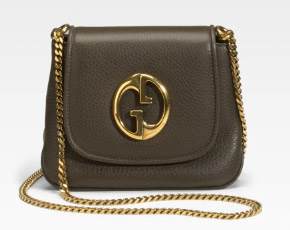 My only real criticism of the design is that I wish perhaps more had been done with the chain – a piece of leather where the bag will sit on the shoulder is always an appreciated nod toward utilitarian comfort, but I imagine that this bag was meant to be worn atop a layer or two of cold-weather clothing anyway, making that detail less important. The olive color works beautifully with the gold hardware, and sub-$1000 leather Gucci bags aren't easy to find as of late. This one might be small, but don't underestimate its style. Buy through Saks for $760.