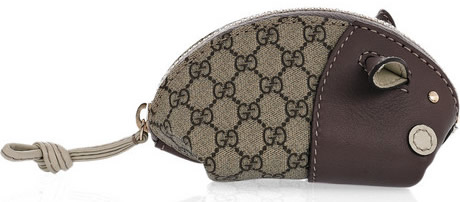 My family is very health-conscious. When I was growing up, not one kid in the lunch room ever wanted to trade lunch items with me. Why? Because they had a Twinkie and I had cut up green pepper sticks. I was that kid, but I didn't care. Except on Christmas morning, when I would run to find my stocking and open it, I'm not going to lie I was a bit disappointed. The bottom of my stocking would be an orange, I would have some organic dark chocolate, and that was it food wise. I wanted all that bad stuff. Give me Hersey's Kisses, Butterfinger Bells, REESE'S Peanut Butter Cup Trees.
What I would take at the bottom of my stocking this year in place of an organic orange is this Gucci Mouse Purse because it is all kinds of awesome. No need to take life too seriously, and this coin purse showcases exactly that: HAVE FUN.
Hermes is known to have some animal coin pouches, but they cost a fortune and I never seem to find one I adore. But this mouse purse is perfectly cute and would be such a lighthearted companion for the inside of your bag. So Santa, if you are reading (which you should be), can you please give me a little Gucci mouse at the bottom of my stocking this year? I promise I have been really nice! Buy through Net-A-Porter for $240.