My oh my, it has been a few months now since we've covered a Chloé bag. My infatuation with Chloé bags started when Megs purchased her gorgeous Chloé Paddington a few years back. When she came home with it, I absolutely loved it and was hoping that one day I too would have a Paddington of my own. As I started to take note of the brand a bit more, I decided I didn't have to set my sights on a Paddington because there were several others out there I could love just as much. However, all this got shoved to the back on my mind as I my love for Marc Jacobs, Jimmy Choo and Christian Louboutin continued to grow.
But today, I found myself getting back to the basics. Well, at least back to Chloé basics.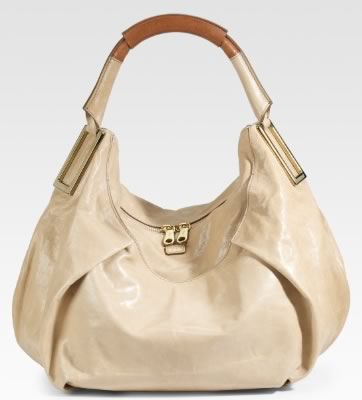 Ok, first things first. I don't think the Chloé Ethel Large Leather Hobo is going to have the same kind of influence that the Paddington did/does. But, this bag has reminded me of how good Chloé bags can be when it comes to a simple design executed wonderfully. The glazed leather is soft, shiny and supple. The goldtone hardware helps bring out the color of the leather without overpowering it. (However, I do have to say I wish the zipper pulls were a little different, they seem a little odd on this bag.) The structured shoulder strap is a nice addition to the overall slouchy look of this hobo. This is a great bag to tote around all day as well as one which could compliment many night worthy outfits. Buy through Saks for $1395.