Jimmy Choo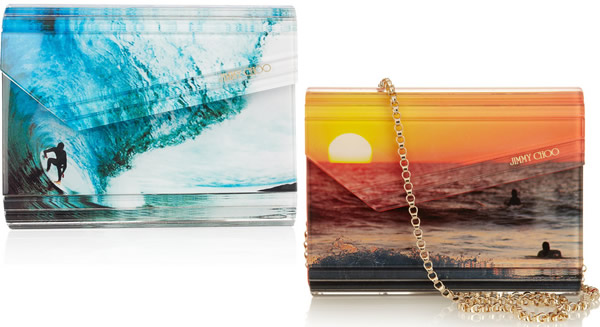 Growing up in South Florida, my friends and I were beach babies. We went from swimming pools to oceans and spent our weekends trying to surf. I say "trying" to surf because there was a long amount of time that I mostly just paddled around on my surf board before I ever even attempted to stand up. After a while, we all got better at surfing and at school we were part of the surfer crowd.
When I saw these two Jimmy Choo clutches pop up on Net-A-Porter this morning, I was immediately taken back to my high school surfer days. The Jimmy Choo Candy printed Acrylic Clutches may be super novelty items, but I HAVE TO have one of them. (more…)
Jimmy Choo Solar Studded Hobo, $1795 via Neiman Marcus
I warned y'all this was going to happen, so don't say that I didn't.
In fact, I warned you back in May that Jimmy Choo seemed intent on foisting the Jimmy Choo Solar Studded Hobo on the fashion world, and it took a little longer than we (or the company, probably) anticipated to get here, but did you use that time to prepare yourself? To prepare your eyes to view…this? I bet you didn't. (more…)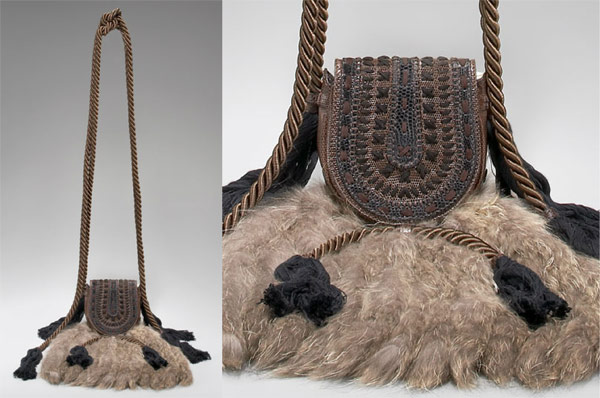 Jimmy Choo Whipstitched Fur Crossbody, $1336 via Neiman Marcus
When I discovered the Jimmy Choo Whipstitched Fur Crossbody on Neiman Marcus's sale page (naturally) last night, my brain flooded with innumerable questions. Why had I never seen this bag before? Surely it had been around for a while if it's now on the sale page? I trawl Neiman Marcus for things to write about nearly every day, how did I miss it? Did it go directly to the sale page, do not pass go, do not collect $200? Might this be the most heinously awful crime against humanity that I've ever seen from a major handbag brand, or is it too hilarious to really be bad? (more…)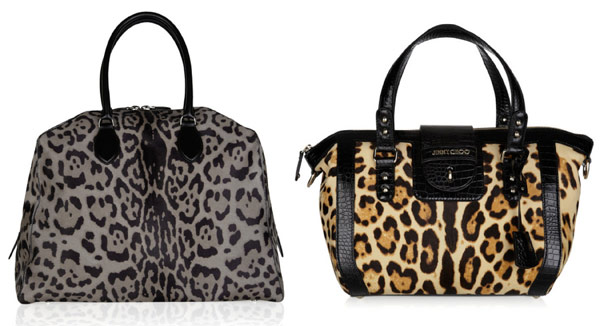 Alaia Leopard Tote, $4770. Jimmy Choo Gaia Leopard Tote, $2295. Both via Net-a-Porter.
Much to my eternal delight, leopard print is going absolutely nowhere. It came on strong as an accessories trend last fall, but the pattern has been falling in and out of favor for decades and it's here to stay as long as fashion's love for maximalism remains strong. In fact, the amount of leopard that's surfacing for Fall 2011 might be an all-time high for the modern fashion industry.
Assuming that you're still in to leopard, that means you've got some accessories decisions to make. Natural or grey? Satchel or tote? Partially leather or all haircalf? Alaia Leopard Satchel or Jimmy Choo Gaia Leopard and Leather Tote? Personally, I'll pick Alaia every day, all day, but take a look at the larger pictures and pricing information after the jump before you let us know which design wins this Bag Battle. (more…)
Structure can be a great design element when implemented properly. In fact, some of the most timeless bags feature a bit of structure to their design, like the Hermes Birkin and Chanel Classic Flap. Yet there are times when a structured bag simply does not work, and this may be one of those times.
The Jimmy Choo Catherine Leopard-Print Satchel uses soft yet structured leather which is offset by leopard-print calf hair. There are double shoulder straps which appear long enough to fling over your shoulder, but because of the bags structure it may sit awkwardly against your body if carried that way. Many pockets make this bag functional, but all the functionality in the world does not help a design that is missing the mark. Oh Jimmy Choo, your shoes have fallen down the rabbit hole as of late, and your bag designs are so hit-or-miss. Buy via Neiman Marcus for $1,795.
Fill in the blank: The Jimmy Choo Catherine Leopard-Print Satchel is ______________.