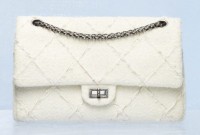 Remember that time when Karl Lagerfeld imported a chunk of glacier for the Chanel show in Paris and then showed a collection full of faux fur and what can only be described as yeti costumes? That seems like a long time ago, doesn't it? Well, it was just six months ago, and now the bags from that collection are available for perusal on Chanel.com.
Some of the collection already popped up in the form of Pre-Fall 2010, but now the entirety of the line has landed and we've collected the pictures on your behalf. The designs range from useable, reasonable caramel-colored leather bags to wacky faux-fur-tufted creations that are only for fashion's, uh, boldest individuals. My personal favorite is the ice cube clutch – let us know which ones you like in the comments. As always, photos are after the jump.
Pictures via Chanel. For price and purchase information, please contact the company at (800)550-0005.