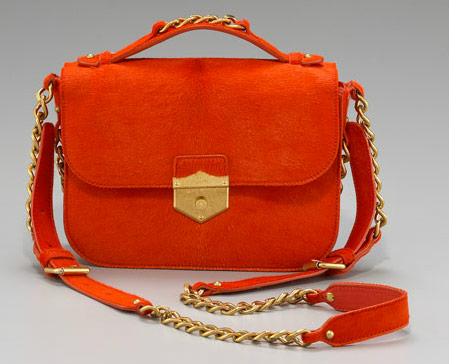 Alexander McQueen Calf Hair Crossbody, $2345 via Neiman Marcus.
That would be the summer-to-fall transition, not the spring-to-summer transition that we're all experiencing right now. Is all this talk about heading into fall driving anyone else crazy? Even though I'm the one doing most of it in these parts, it's about to shove me right off the deep end, so I know that some of you have probably noticed. Fall seems like a distant dream with temperatures rising and the unofficial start of summer just passing mere days ago, but fashion waits for no woman, and Pre-Fall and Fall 2011 are everywhere.
The Alexander McQueen Calf Hair Crossbody might not ship until early September, but at the very least, it's the sort of piece that you can wear immediately upon arrival instead of waiting for the weather to turn genuinely cold. That might be of little comfort, but summer in the fashion industry is deathly slow, and we have to talk about something. So fall it is!
Obviously, the best part of this bag is the fiery orange-red color. The color is seasonless and bold, and the gold hardware brings out some of the dept that would otherwise be lost. The haircalf texture also adds depth, and the result is a color so rich and attention-getting that I absolutely must have something in this shade in my wardrobe. I also wouldn't be opposed to finding a nail polish in this color, and if my bank account is looking healthy when this little bag comes out, I might just add it to my closet as well. Buy through Neiman Marcus for $2345.