My stud love is still going strong and this time it's in the form of the cutest little backpack
Way back when Valentino first debuted the Rockstuds, I had my doubts at their staying power. Sure, I thought they were cool, edgy, and fun, but I also thought they were far too trendy to last more than a season or two. I lusted for—and seriously considered getting—a rockstud bag back then, but I couldn't bring myself to splurge on what I thought was sure to be a passing trend. Well, here we are 8 years and multiple seasons later and Valentino continues to find ways to reinvent Rockstuds. From the Rockstud Spike Chain Bag to Valentino's most recent iteration—the Candystud with each new release, the Rockstuds find their way into my heart once again. Currently, I'm all eyes for The Valentino Rockstud Mini Backpack.
While backpacks give off an effortlessly cool vibe, I never really considered myself much of a backpack girl, until recently when I got one, and after some use, realized how much I loved it. It's so easy to grab and go, and just like my love for crossbody bags, I like that backpacks allow you to be hands-free. I'm always on the go, and typically I'm juggling two phones and a coffee—I just never have enough hands, so though backpacks are trendy, I've fallen for the functionality of them the most. If you're in it just for the fashion, though, you won't be disappointed with Valentino's cutest addition to the Rockstud line.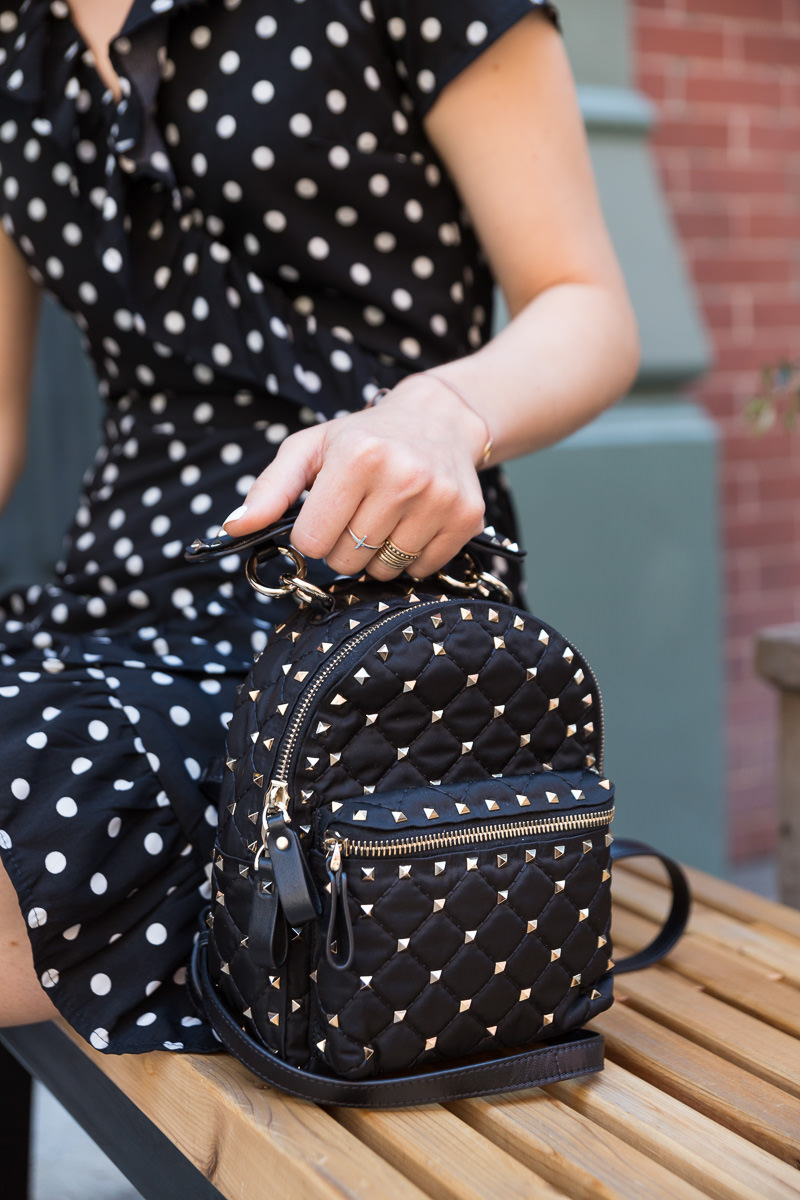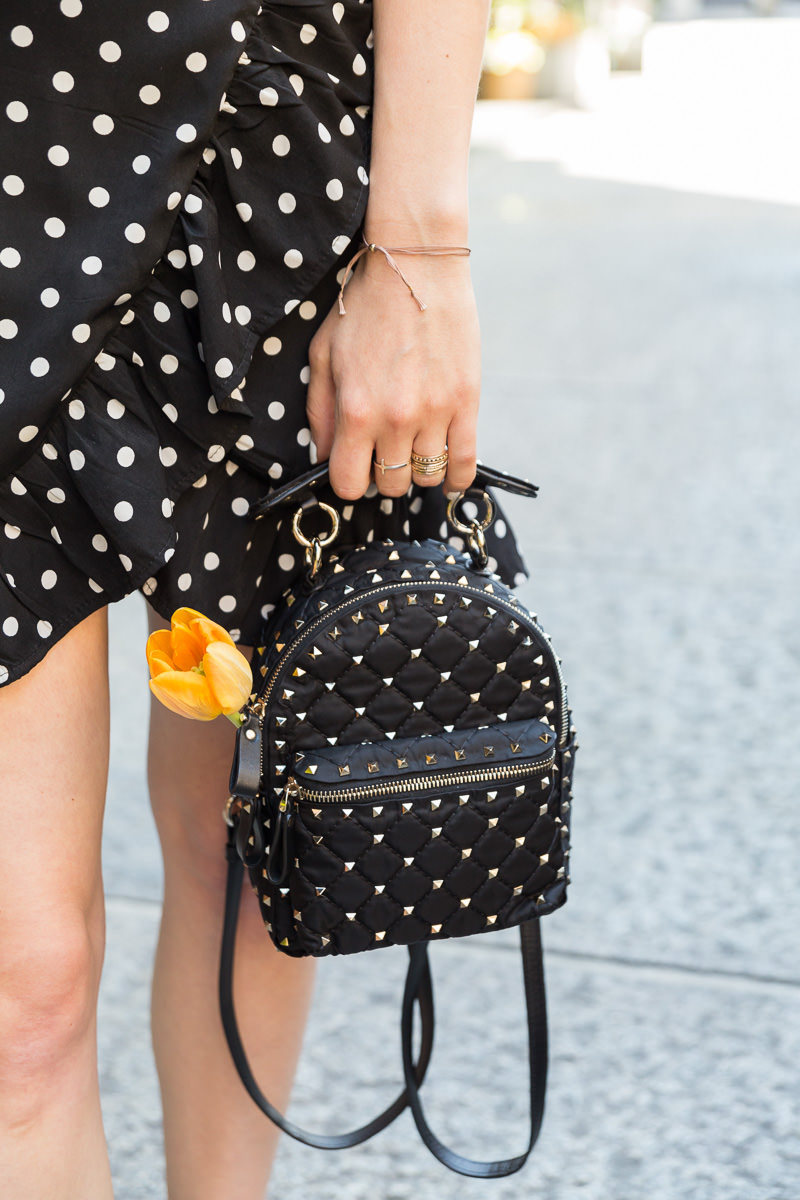 While most of Valentino's signature Rockstud bags are made of leather and accented with the brand's now-classic studs, this mini backpack is made from nylon. Though I'm not sure how I would feel about nylon Rockstuds in other shapes, since a backpack is a more casual, laid-back style, I actually really like the way the nylon looks when accented with the metal studding. I adore that the bag can be hand-carried with the top handle, in addition to wearing it as a true backpack.
Inside the bag, I was able to fit my wallet, iPhone, sunglasses with their case, mini notebook + pen, a small zip cosmetic case, and a snack (of course!). See below for how I organized everything just right so that it all fit. The bag is not super structured, though it does hold its shape even if it's not totally stuffed. Lined in red nappa leather, the bag has one interior slit pocket, as well as an exterior zip pocket. Overall dimensions of The Valentino Rockstud Mini Backpack are 8.1" H x 6.7" W x 2.8" D. Now on sale via SSENSE, you can snag this adorable little backpack for $1,536.
1 / 3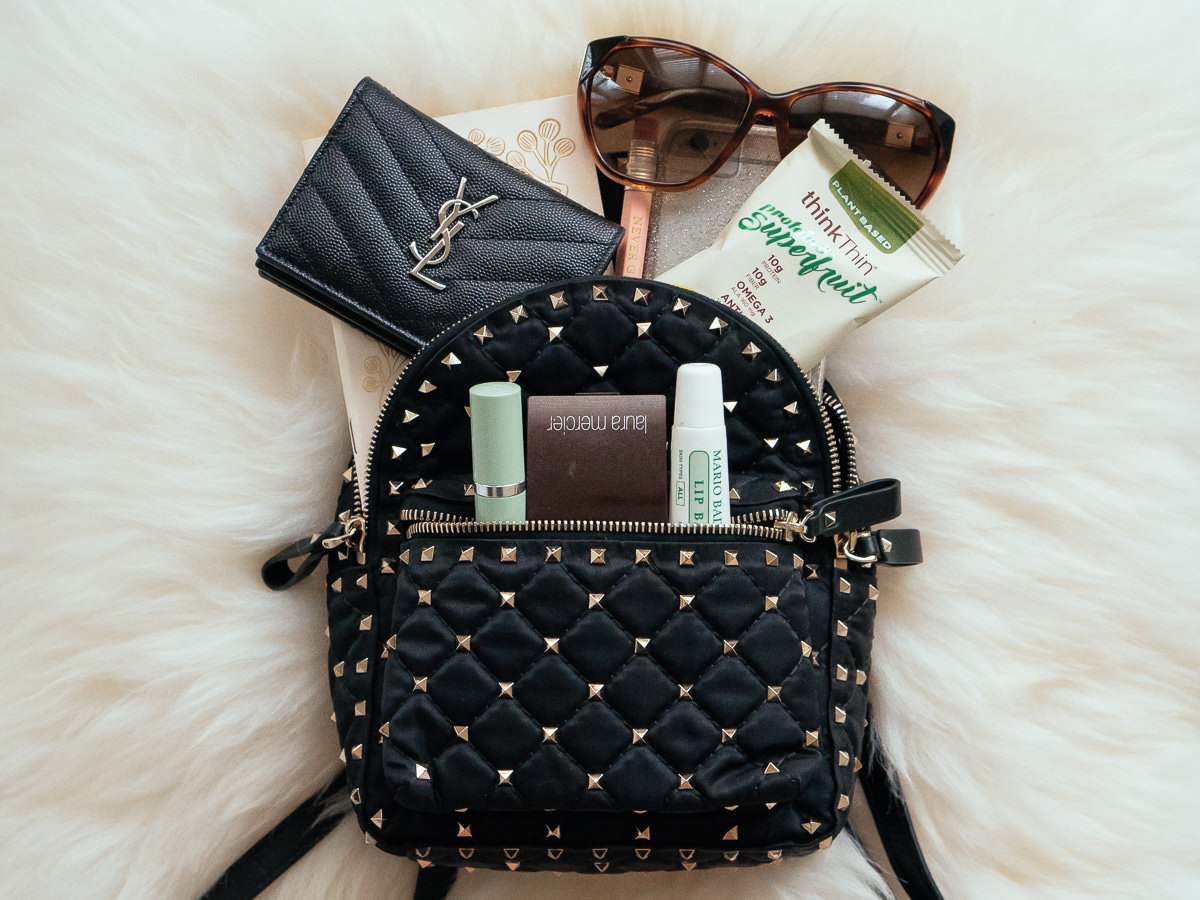 2 / 3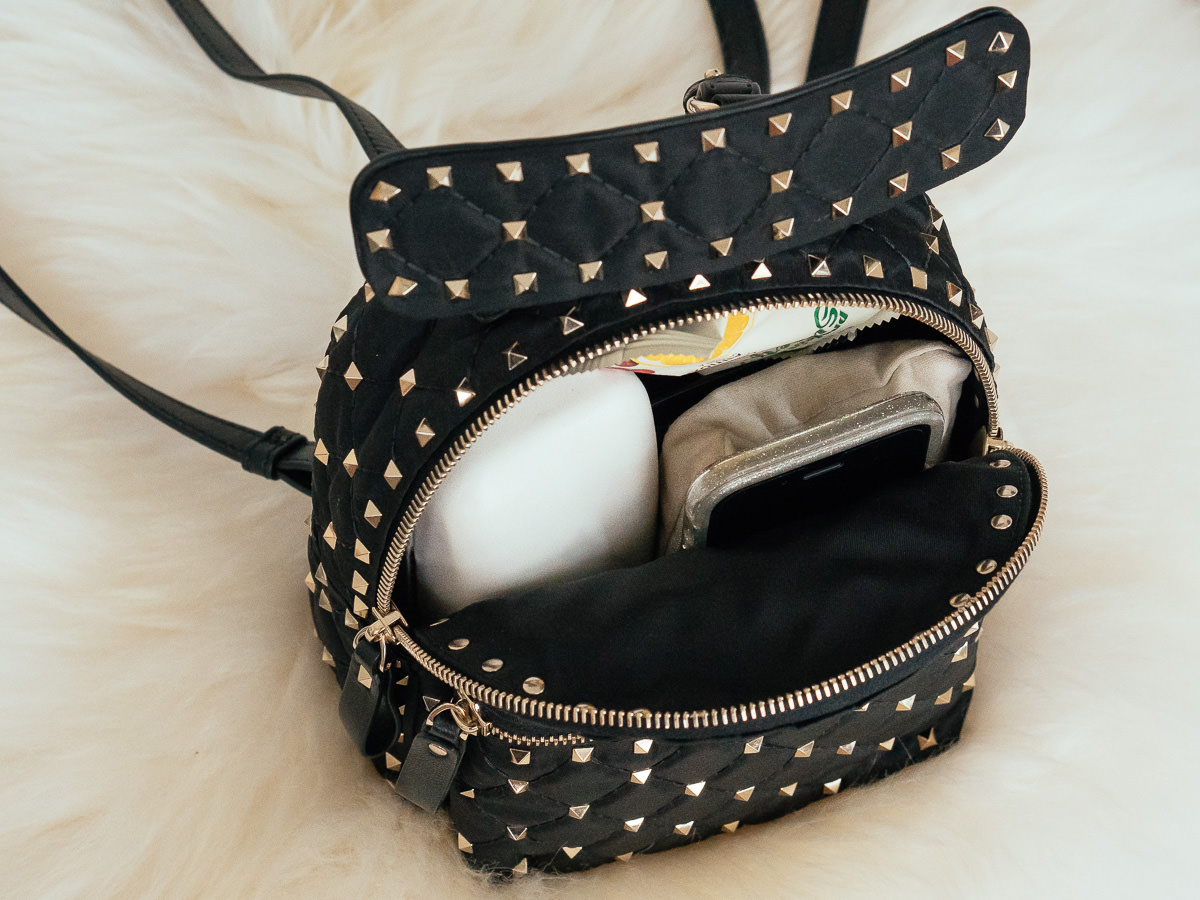 3 / 3