It has barely started to cool off around here (in fact, yesterday was the first day since April where I went outside and didn't immediately want to stab Mother Nature right in the face), but fashion works on a six-months-early schedule and pre-orders for Resort and Spring 2011 accessories have begun to pop up as the last wave of fall's new garments heads toward retail.
One of the first trends to become apparent is the importance of color in spring's dressing, and chartreuse sits firmly among the most notable of those colors to show itself in the season's handbags. Designers as varied and powerful as Burberry, Bottega Veneta and Prada saw fit so include chartreuse in some of their first 2011 offerings, so rest assured that this is no flash in the pan. Once is a fluke, twice is a coincidence, but three times is a trend.
I've had something of a love affair with chartreuse for about a year now, and my current bed linens are chartreuse and graphic white over black sheets. Having lived with the combination for quite a while, the upbeat nature of the color has only grown on me and I'd highly recommend finding a piece or two in one of the color's widely varying shades to add to your wardrobe.
A handbag is a great way to work with colors that have strong yellow undertones because a bag won't be near your face like a dress or sweater would, which means that the exact hue doesn't need to compliment your skin tone. Also, the smaller scale and traditional shapes of these bags help town down the overall effect, which makes them perfect for color novices.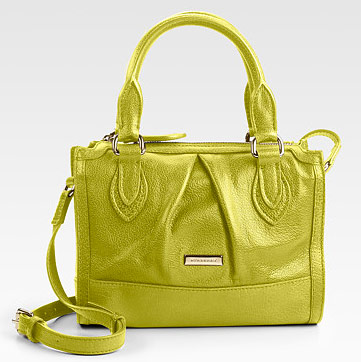 Burberry Pilgrim Leather Mini Bag, $995 via Saks.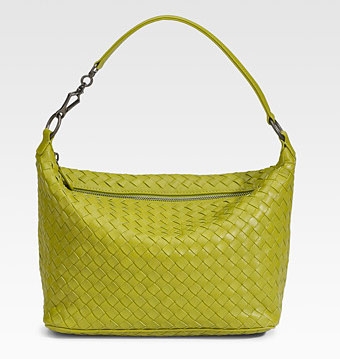 Bottega Veneta Small Nappa Leather Shoulder Bag, $980 via Saks.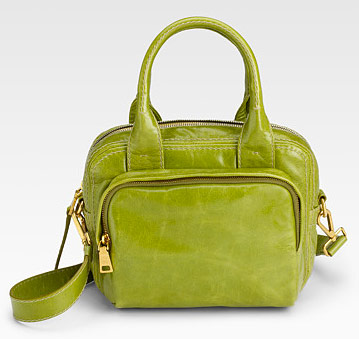 Prada Vitello Shine Satchel, $1395 via Saks.