Ferragamo Spring/Summer 2010 offerings so far. The brand has never been at the top of my list in the past, but the bags from their line that I've seen lately have just been so summery that it's hard to ignore what they've got cookin' in their Italian factories.
I don't know about the rest of you guys, but I'm really, really digging the
Among my favorite of the brand's new looks is the Salvatore Ferragamo Python Fiammetta Shoulder Bag. If ever there was a color that's more warm-weather friendly than yellow, I can't think of what it is, and the python texture and wooden handle give the bag just a hint of safari flavor that plays so well when temperatures rise.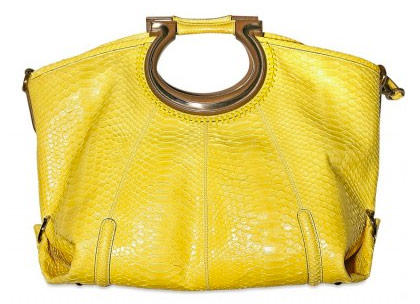 I'm a little undecided about this particular shade of yellow and how well it may or may not go with the wood handles, but that's a somewhat limited critique for a bag that does a lot of things right. Indeed, the handles are one of my favorite things about the design – it may come with a long leather shoulder strap, but the inverted Ferragamo symbol, rendered in wood, is just too pretty not to use as the primary means of conveyance.
As far as bright yellow python goes, what is there to say about it that's not obvious? We already know that it's beautiful and luxurious. For those out there that might doubt the utility of a bag this color, I have a bright yellow Botkier bag that I use all the time – the shade is surprisingly versatile, and it always makes people want to see my bag up closer. When you add python and a wood handle to the mix, you've got a stunner that will have heads turning for sure. Buy through Luisa Via Roma for $4579.