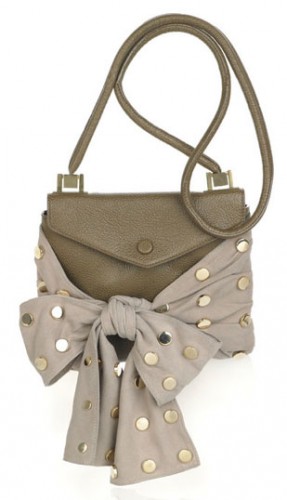 Call me crazy, but I can kind of see what Chloe was going for here. Don't get me wrong, I don't think they accomplished it, but I think I know where they were headed.
See, there's these people called "hipsters." They're the ones that have been wearing skinny jeans since 2003, and Wayfarers as well. They shop for lamé leggings at American Apparel and live in Brooklyn (or Silverlake or East Atlanta or any other number of enclaves) and are responsible for a lot of music, most of it terrible but some of it reasonably good. They also wear some ridiculous accessories and handbags, most of them vintage, and most of them looking strangely like the Chloe Polka Dots Leather bag.
And since these hipster people can be thanked as either the starters or early adopters of a lot of what we see going on in fashion today, I can't blame Chloe for giving them a nod. The thing about borrowing from hipsters, though, is that you have to be very careful about what you take and how you interpret it, and this particular bag is probably a bit too far over the line to be successful. It's kind of cute as a novelty piece, but as a bag for a serious purse lover, I don't think it measures up. Buy through Net-a-Porter for $1450.