No, they didn't, but they somehow managed to make it look like that's exactly what happened.
Haircalf and animal print are big this season, but I don't find myself as skeeved out by the average leopard print bag as I am by the Hinge Animal Print Calf Hair Hobo. At first I wasn't sure why, but then it occurred to me – animals like the one from whence this pattern (which seems to fall somewhere in the realm of "generalized livestock") came are exactly the animals used to manufacture bags. Just like most of us have probably never plucked a chicken before, it's a bit unsettling to be confronted by what appears to be an untreated, untouched hide. No one's making bags out of actual leopard, so those bags don't give me the same feeling of unease.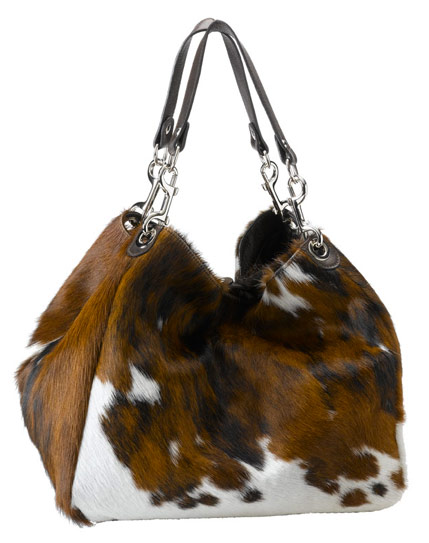 For all of you out there wondering if that isn't a tad hypocritical, I'll admit that it absolutely is. Bags are made out of the sorts of animals that have this particular pattern, and it doesn't stop me from buying them or loving them. I even love exotic bags, which often look almost exactly the same on a bag as they do on their animal of origin. Something about the fur combined with the pattern still manages to throw me off where few other bags do. Animal issues aside, this bag is still a bit "cowgirl" for my tastes and personal aesthetic, so I don't have to worry about debating whether or not my initial reaction will keep it from my closet – it won't be up for consideration to begin with. Buy through Nordstrom for $358.