We always try to be fair and impartial about every bag that crosses our metaphorical desks, but all of the writers here at PurseBlog are still human. That means that every season, we each have collections to which we look forward with more anticipation than others, and one of mine is Botkier.
Monica & Co. make great bags (not to mention that they've been game enough to collaborate with our readers on a custom design), so when the company announced via Twitter yesterday that its fall collection had made it's online debut, I couldn't wait to see what the new season held. I wasn't disappointed – I need a Botkier Ava Crossbody Bag immediately, if not sooner.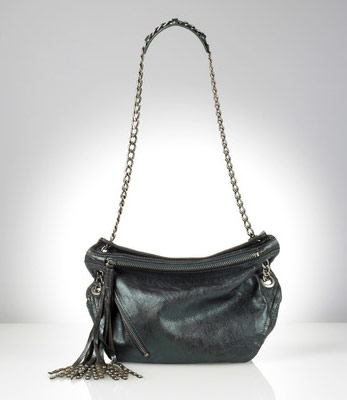 This black color is probably the best by which to judge the bag's overall design, but the Ava (and its larger sister, the Ava Hobo) comes in a silver metallic faux python that I adore. And really, what's not to like? The bag fulfills several trends without becoming a slave to any of them, and it will likely still look fresh for several seasons. Buy through Botkier for $395.