It takes a lot for me to like a suede bag, but Gucci has gone and done just that. I'm already on the record as being a fan of their "1973" line for fall, but I was a little bit dubious of the Gucci 1973 Medium Satchel until I saw the red suede version.
Because of the tactile nature of suede, colors usually end up looking muted when the finished product arrives. I like my colors vibrant, which contributes to my usual distaste for the material. In this case, though, the orange-y hue comes through loud and clear, taking advantage of suede's texture without sacrificing vibrancy.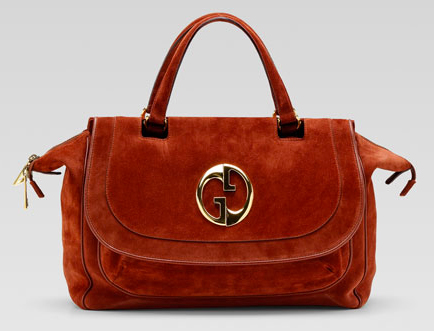 The shape of the bag is simple and not over-complicated, but the throwback logo and use of suede give it a distinctly vintage feel, as does the satchel shape. What has impressed me most about Gucci's fall offerings is that they're so restrained – this is a bag made for sophisticated grown women, which is exactly what it should be for the price. Buy through Bergdorf Goodman for $1750.