Who knew that "summer fur" would ever be a Thing? Is fashion running out of trends and the only thing that's left to do is wear things that are wildly inappropriate for the weather? Possibly. And, well I'm sort of ok with that. As Paris Vogue editrix Carine Roitfeld recently said on Twitter, fashion isn't to make you look attractive, it's to make you look different.
And, rest assured, wearing something like the Marc Jacobs Gilda Fur & Sequins Flap Bag will definitely accomplish the goal of making a woman look different than most people in society. Then again, if it's made by one of the biggest designers on the planet and sold by a huge, multinational retailer, is it really that different? Should we all be moving on to the next "different" thing already? Lofty questions, these, but most importantly – is it a bag worth buying?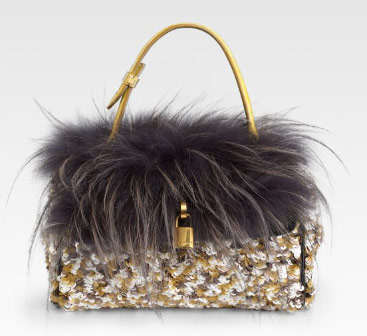 As always with fur bags, that questions probably depends primarily on whether or not you buy fur. I don't and I generally don't like fur as a handbag material on an aesthetic level, but for some reason I think that I sort of like this bag in particular. I'm not 100% sure why that is, but I think it largely depends on the fact that mixing two materials as lush and glamorous as fur and sequins is a sure way to tug on any vintage lover's heartstrings.
I happen to be one of those vintage lovers, and the combination of textures on this bag makes me think of something that an old movie star, unbeset by ethical or moral concerns over the animals from whence the bag came. It was a simpler time back then, when all rich people wore fur and everyone thought that smoking was great for your health. It's possible that my fondness for this bag is misplaced nostalgia, but I think it's just an appreciation for Jacobs's demonstrated ability to evoke the past. Buy through Saks for $1995.