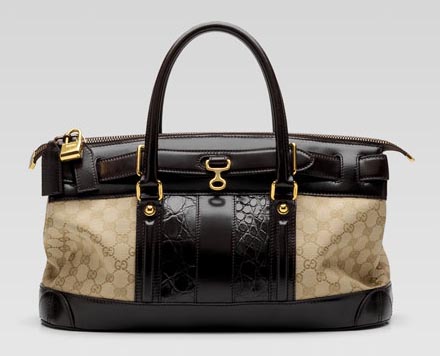 If I had to pick one phrase to describe the Gucci Secret GG Satchel, it would be "exceedingly grown-up." Make no mistake about it – this bag is for a grown woman and it means business.
It doesn't appear to be exactly the right size or shape to carry actual paperwork, but it does give the distinct impression of being an all work/no play sort of handbag. Perhaps its the sharp right angles or the rectangular, stiff shape. Perhaps it's both, plus the dark-chocolate brown leather and crocodile trim that reminds me of the materials that are often used to make fine briefcases.
Whether or not those are negative things probably depend on your own personal style. Even though this bag isn't exactly in line with mine, I can't help but admire its elegant lines and the rich-looking materials that comprise it. I'd rather have avoided the logo fabric at the sides, but you can't win 'em all. Buy through Bergdorf Goodman for $1950.