Recently I took issue with some of Chloe's Fall 2010 runway bags, but the brand has somehow managed to redeem itself in my eyes in one fell swoop. Get on the bandwagon now, because the Chloe Cary Satchel has a ton of it-bag potential.
Because of the distinctive detailing around the bottom zippers, I could see this satchel being turned into lots of other bag shapes – hobos, totes, maybe even a mini crossbody. Since that appears to be a prerequisite for Chloé to continue making a bag in multiple season, I think we may be seeing the Cary bags for quite some time. I, for one, wouldn't mind that at all.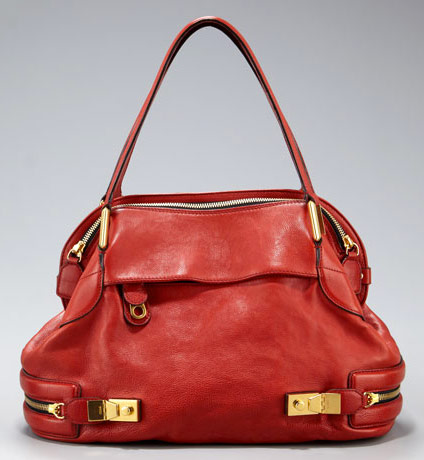 It's been a little while since I found a Chloé bag that struck me as both aesthetically pleasing and supremely functional. Usually the brand's bags embody one virtue or the other, and finding them in the same bag makes me want to whip out my American Express and head directly to Neiman Marcus. For the sake of my job, I'll try to finish my post before that happens.
Obviously the bag's color and leather look divine (and the grey version is no different), but functionality concerns me most when I'm thinking about spending money. Luckily, this design doesn't disappoint in the pragmatic arena either. Nothing in the bag's structure would get in the way of using it for practical, everyday tasks, no matter whether you prefer to carry your purse on your shoulder or in the crook of your arm. It would look equally lovely in both locations and hold everything that a casual luxury bag needs to hold for a jaunt to the mall or even everyday office duty. And for Chloé, the price isn't exactly terrible. Buy through Neiman Marcus for $1565.