Mary Kate & Ashley or You're Invited to Mary Kate & Ashley's; (my favorite was the Mall Party). Now, I respect them more for their uniquely personal style and impact on the fashion world. Combine that with the fact that my favorite handbag and luggage design house is Goyard, and I literally jumped for joy. Well, not really, but I was exceedingly pleased.
I've always been a fan of Mary Kate and Ashley. As a child, when I wasn't reading you could find me plopped in front of The Adventures of
Here, Ashley Olsen is carrying the Goyard Boeing Travel Satchel. I'm sure many of you readers have been curious about the world of Goyard, as the brand doesn't advertise and is sold in few places around the globe. To those people and those to whom I'm introducing this brand: Goyard is very special. I'm conjecturing that Ashley, with her strong involvement in fashion, knows why these bags are such a hidden secret.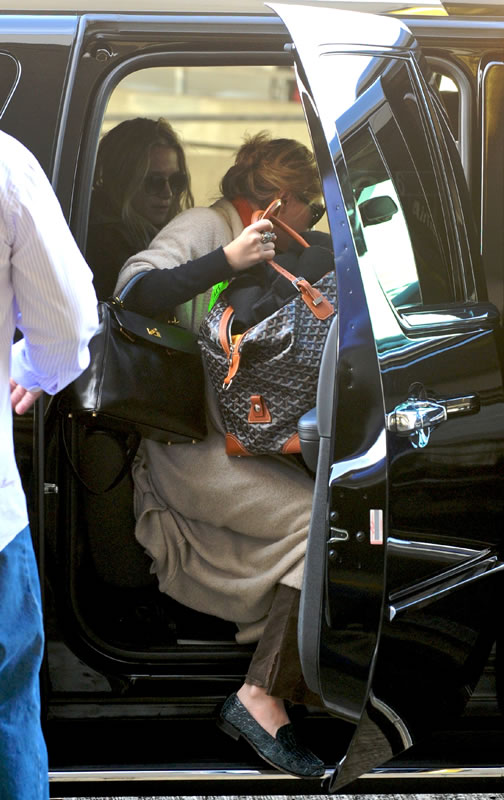 Goyard started as a trunk and traveling case maker in 1853- and since then, they've retained many of the same manufacturing techniques. For example, the tiny tricolor dot pattern that makes up the iconic chevron design is painted entirely by hand. Sometimes small stencils are used, but it is by hand nevertheless. This is only a minuscule detail of the exceptional house- to learn more, make sure to visit the brand-new Goyard Forum on The Purse Forum.
For the fashion-forward duo, who were honored with membership to the Council of Fashion Designers of America in 2009, carrying Goyard symbolizes a step to the past and a commitment to excellent quality in accessories. Ok, well maybe Ashley wasn't thinking about that when she purchased her Boeing, but I'd like to think that she was.