When the Chloé Aby Day bag was introduced back in August, it was love at first sight for me. The Aby Day bag checked all of my purse boxes and possessed many critical design details I look for when I'm shopping for a new bag. I received this beautiful handbag for Christmas from my husband and have been using it nonstop ever since. I have a lot of thoughts on the Aby Day bag, so let's dive right in, shall we?
Aesthetics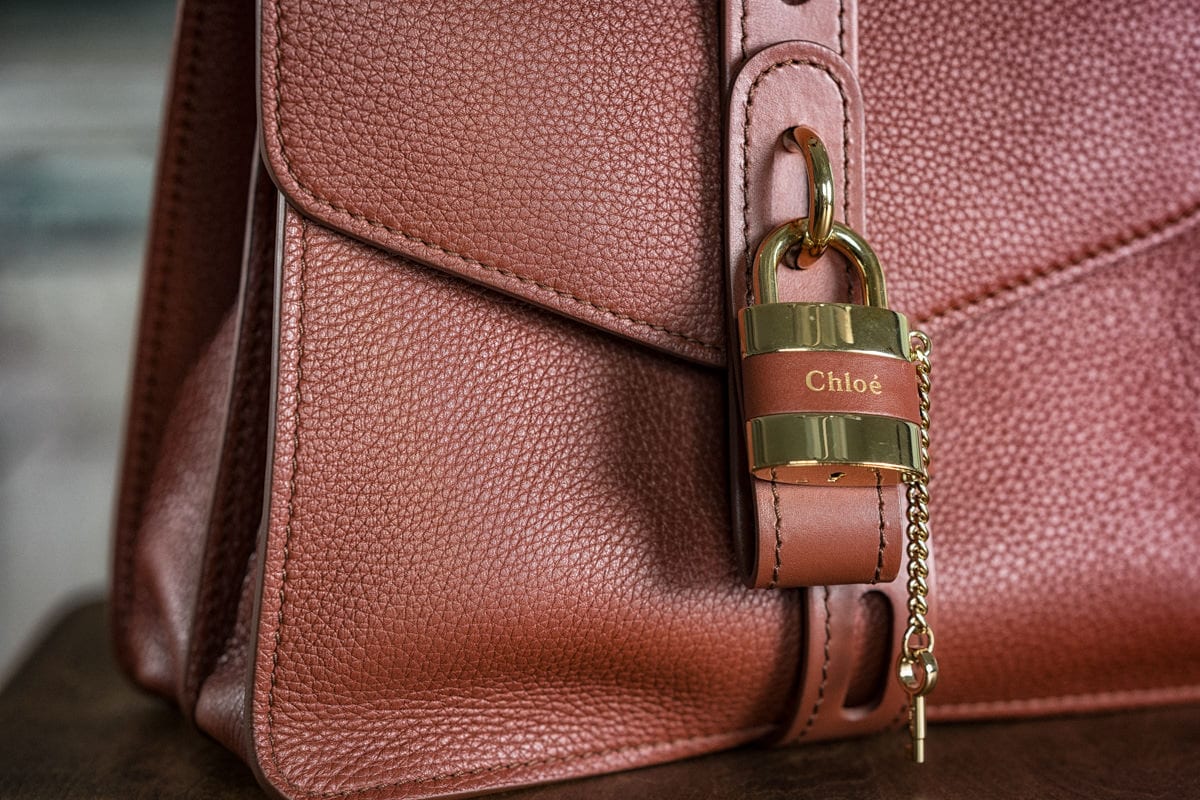 I love everything about the aesthetics of this design. The rich colored leather, the juxtaposition of the pebbly grain leather against the smooth leather straps, the mixed metal hardware, and the star of the show, the signature Chloé lock. The lock on the Aby is, of course, a nod to Chloé's iconic Paddington bag. One of the biggest it-bags of all time, the Paddington is one of my personal favorite designs ever, so the lock on the Aby was a very appealing design detail for me (I adore it!). The overall look of the bag achieves the bohemian luxury vibe that is quintessential Chloé.
There is a removable shoulder strap which I opt to keep removed for a cleaner look. I recently moved to the suburbs and drive nearly everywhere, so the handheld handle works well for me in my day-to-day wear but the shoulder strap would be a good option if you are a city dweller or prefer a hands-free bag.
I own this bag in the gorgeous sepia shade, which is a beautiful brown color with reddish orange undertones. Chloé's sepia color is easily one of the most stunning shades of brown I've ever seen on a handbag, it truly is beautiful. It matches just about every color of the rainbow, so it integrated into my wardrobe quite easily. I've been pairing with a lot of black and navy clothing this winter, I love the look of the sepia against a dark backdrop.
Usability + Functionality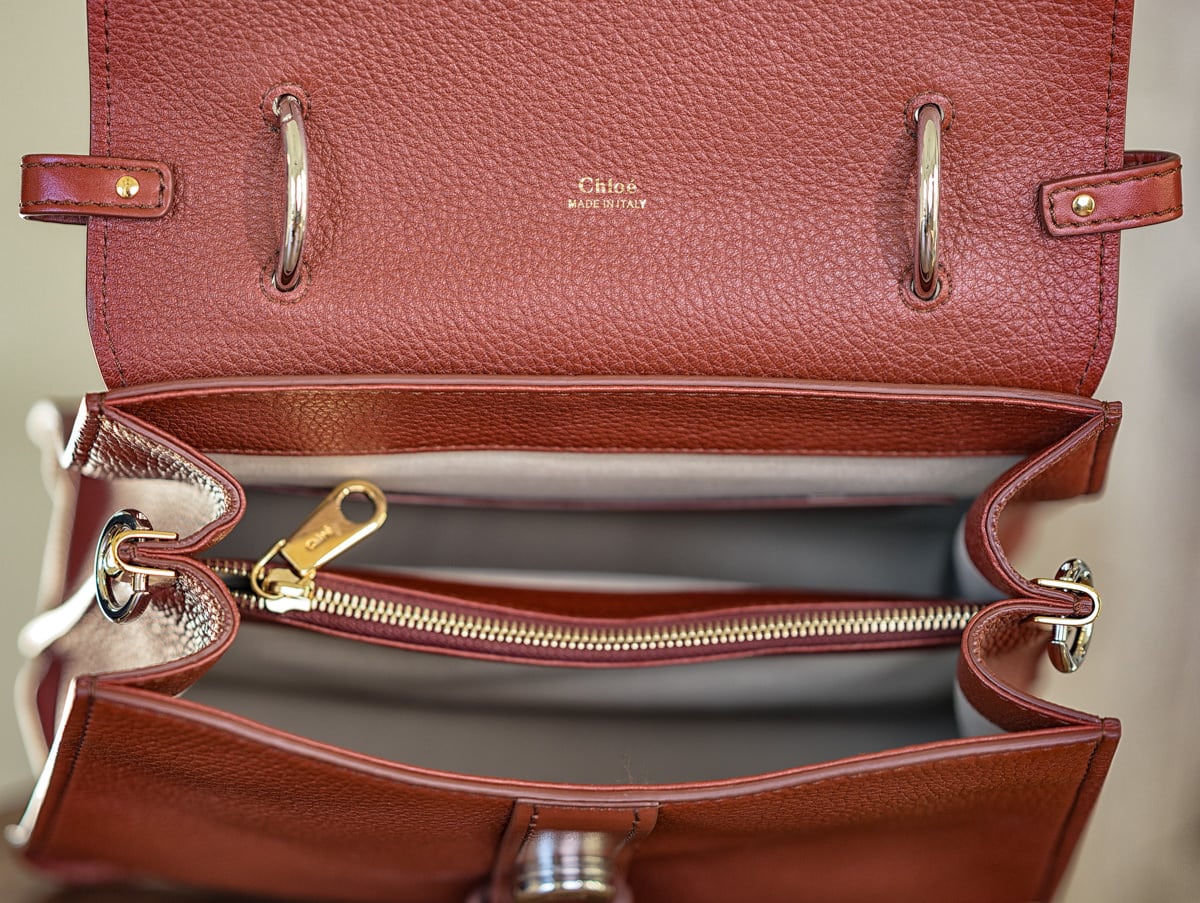 It pains me to give a bag as beautiful as the Aby a score as low as a 2.5, but this bag falls majorly short for usability and functionality (at least for me). I know what you're thinking…it's probably too heavy with that giant lock on it, right? Surprisingly, no. This bag is lightweight even when filled to capacity with stuff (and I certainly carry a lot of stuff) despite the large lock. While the lock isn't a problem, the front clasp of this bag is the real issue for me and my main gripe. The clasp is unlike any I've had on a bag before, and not in a good way. The clasp clicks in upwards, so when you want to unclasp it you have to hold the body of the bag down and pull the clasp upwards. Clasping the bag closed isn't an issue, as it clicks in seamlessly, but unclasping it is where the trouble begins. I have to use one hand to pull up the clasp and my second hand to hold the body of the bag down while I lift. Opening the bag takes two hands, which is not convenient at all. I often have my hands full with my keys, my phone, and more often than not, an iced coffee, and I am constantly frustrated when getting in and out of the interior of this bag.
Unfortunately the clasp is not the end of my functionality woes. I also take umbrage with the shoulder strap. It is really tough to put it on and off, which is a deterrent for me and I opt not to use it at all as a result. This is partially an aesthetics preference too, although I wish the strap was easier to use when I want to wear it that way.
The clasp and the straps may be hard to use, but the interior of the bag is a dream for an organized wearer. The interior has two compartments, a middle zipped pocket, and a flat pocket as well. I have no trouble locating items inside my bag, which is a definite plus for the design.
Quality + Construction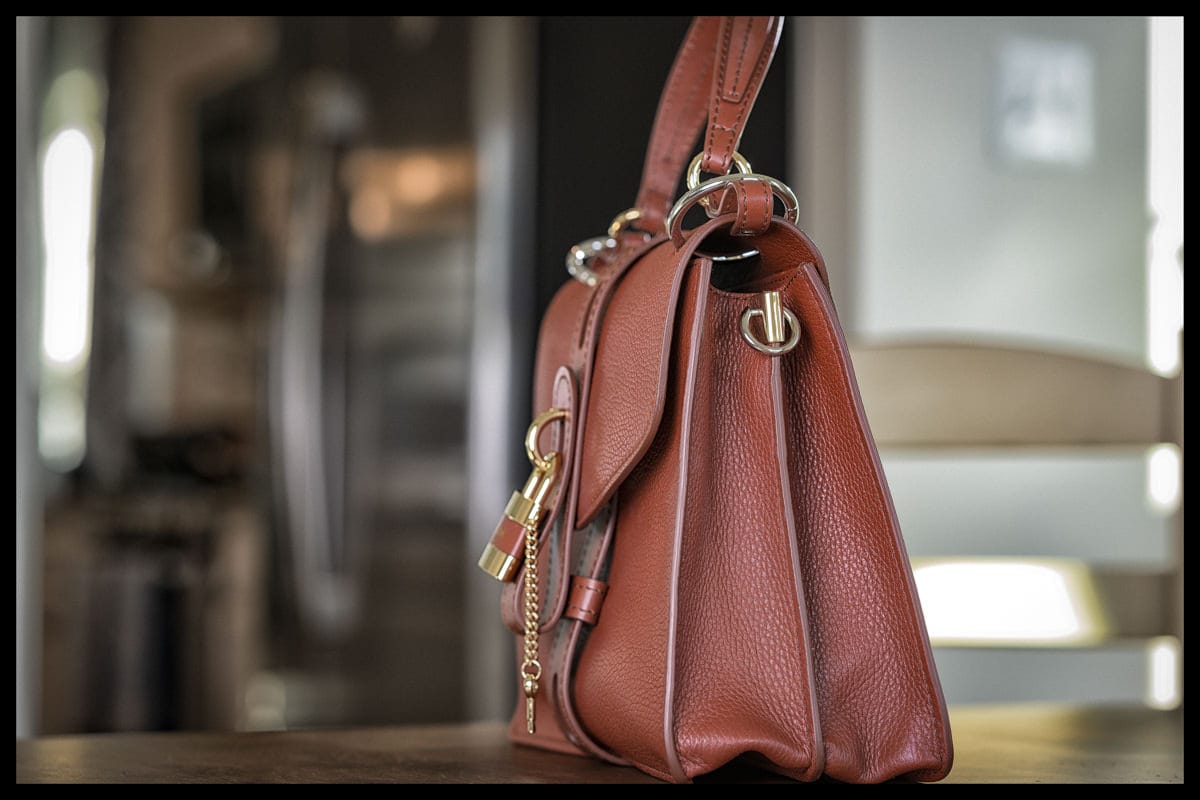 The Aby Day bag is very well made, it feels and looks very luxurious in person, much more so than it did online. The materials are top notch, the hardware is beautiful and shiny, the leather is soft. However, I am knocking off a star in this category for two reasons. The first is my bag came with some loose threads that I had to cut off, which when a bag costs four figures, it's unfortunate to have to take a pair of scissors to it. Secondly, I often find myself pulling on the clasp so hard that I am worried it's going to rip right off.
The materials of the bag are a mix of grained and shiny calfskin on the exterior and a cotton canvas lining on the interior, which helps keep the weight of the Aby Day bag manageable. The leather itself is very beautiful and I'm enamored with the grains of the pebble, it really is a stunner.
Price + Value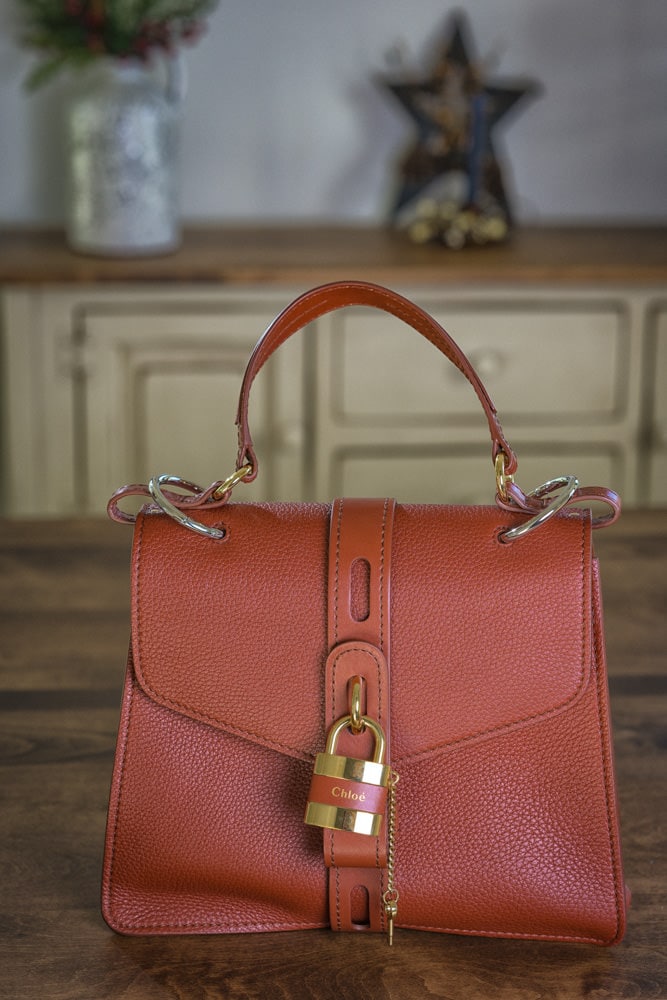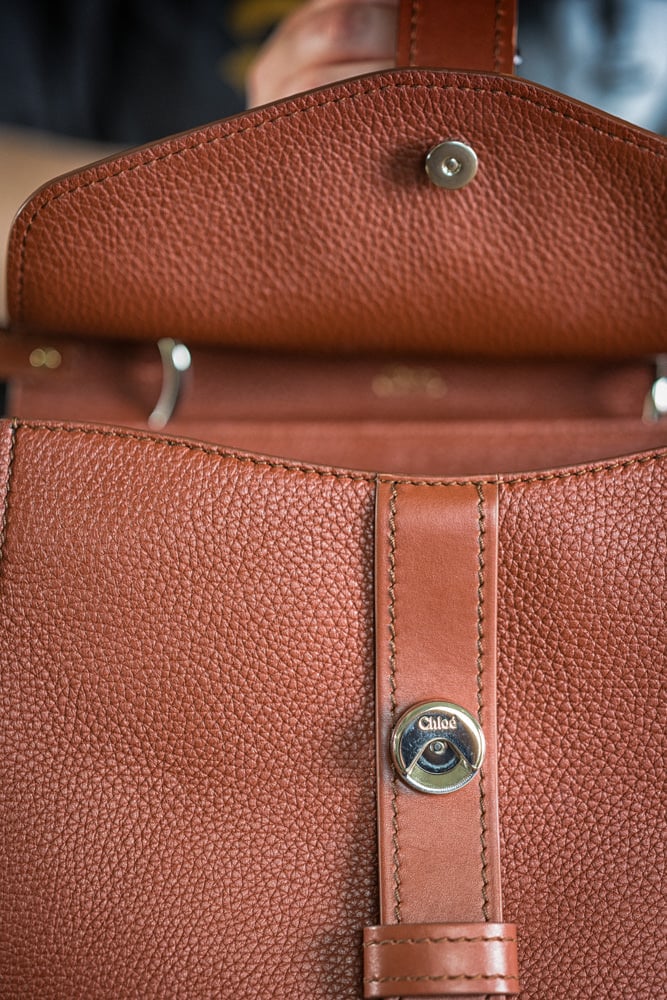 I find this bag to be of good value for a premier designer handbag. The medium size (which I own) retails for $2,390, but my husband was able to score it on FarFetch for $1,300. He was so proud of himself for finding it on sale, it was really cute! You can definitely find this bag on sale if you search hard enough, which is always a good thing if you're a bargain shopper. The aesthetics of this bag combined with the price point make it a very fair value in my mind and I have no hesitation in justifying the price of this bag.
The Aby Day bag comes in three sizes, small, medium, and large. As mentioned, I own the medium size, which is perfect for me. I love big bags and the medium size is definitely big enough by my large loving bag standards.
Per the Chloé website, the dimensions of each size are as follows:
Small: 22 W x 22 H x 11 D cm with a shoulder strap minimum length of 48 cm and a maximum of 55 cm.
Medium: 30 W x 27 H x 13 D cm with a shoulder strap minimum length of 46 cm and a maximum of 54 cm.
Large: 38.5 W x 31 D x 13 cm D with a shoulder strap minimum length of 45 cm and a maximum length of 53 cm.
Because of the larger nature of the Aby Day bag, it lives up to its name and works better for daytime use. I can't see myself taking this bag on a night out to a formal occasion, but it works perfectly for errands, work, or travel. I can even fit my MacBook Air into the medium size (it's a tight squeeze, but it works!).
Staying Power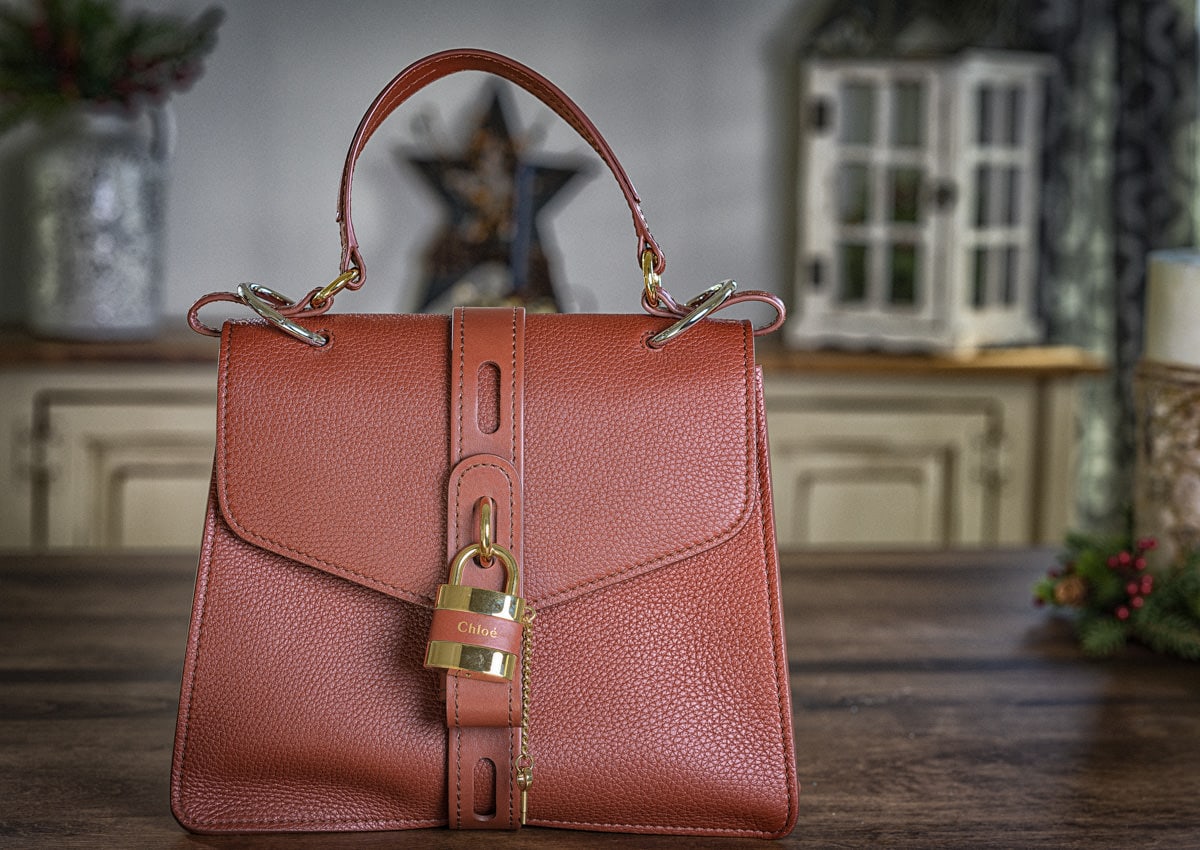 The Chloé Aby bag may strike you as a passing trend given the nostalgic nature of the giant Chloé Paddington lock, but I believe it has staying power. The silhouette of the Aby Day bag is classic, which I feel will make this bag stand the test of time. If you are concerned the lock will possibly date the bag in a few months or years, you can remove it for a sleeker look. The lock is my absolute favorite part of the bag, so I have no intention of removing it, but you can if you wanted to now or later.
Overall Rating
Despite my grievances with the clasp and shoulder strap on the Aby Day bag, I still think this bag deserves it's overall rating. I am obsessed with the design, the lock is eye catching, and the bag is well made. It really lives up to its name as a perfect day bag and I find myself reaching for it nearly every morning since I opened it on Christmas morning a few weeks ago. I feel confident with this bag on the crook of my arm and find myself actually smiling when I look down and see the bag, which is a sure sign of a good purchase (or gift in my case). If this bag is on your wish list, I highly recommend taking the plunge (especially if you can find a killer deal like my husband did).