The ideal everyday bag should tick the box on a few categories: classic, easy to wear, and beautiful. There's a time and place for every other kind of bag, the quirky novelty items or those meant for specific occasions, but majority of us are drawn toward more neutral bags with a timeless appeal. I say find that bag but don't be afraid to pick one that has an added twist.
Or in this case, a woven twist of intreccio leather. Welcome the new Prada Woven Motif Bags, a handful of designs (we focused on two shapes) that is meant to wow with its romantic and modern designs. Everything about this line of bags is precisely what Prada lovers adore from Miuccia Prada. There's the classic element focusing on impeccable craftsmanship and luxurious leather along with the refined woven motif which adds a modern spin. Sure, we see brands integrating woven leather in its designs, but this is different and eye-catching in a whole new way. These bags aren't easy to make either as each design takes 5-6 hours by hand for the artisan to create.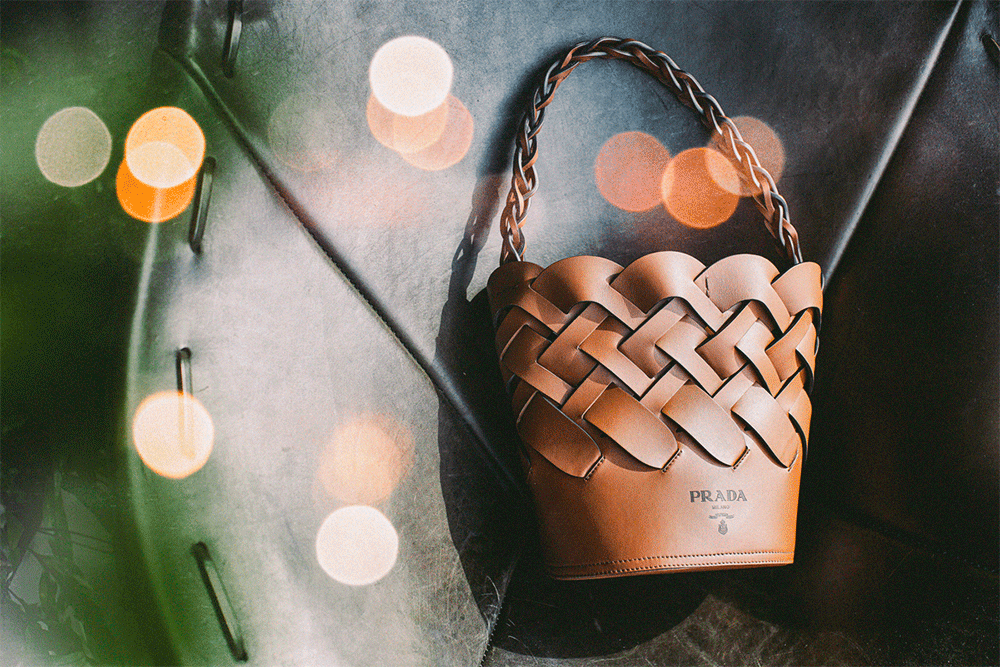 Prada Cognac Bucket with Woven Motif via Prada.com
The weave on the leather is contemporary, casual, yet very new-age. The smooth calfskin on the bottom of the bags integrates seamlessly with the woven motif above, adding dimensionality and volume. The woven panels are wide and offer an almost herringbone effect with a scalloped edge top on the bags. Mrs. Prada prides herself in working on what matters within the industry now and never afraid to make bold moves (as seen with her new co-creative director with Raf Simons announcement last week), and her Spring 2020 collection focuses on research in manufacturing accessories and materials. This line of bags breathes a newness into otherwise classic designs that makes them anything but ordinary.
The Prada Woven Motif Bucket Bag features smooth and durable calf leather with a woven leather handle that adds another special design element as well. The interior of the bucket bag features Nappa leather lining and a removable leather pouch on its interior (easy to then use and transfer to other bags which is a major perk). Bucket bags don't always hold their shape well, which can make finding items inside harder, but the calf leather is structured and allows just enough give to not be entirely stiff, which makes this bag easy to carry over the shoulder and keep near your body while also being equally as easy to find items inside. The bucket bag is available in black, white, and tan which are all versatile colorways. Dimensions are 9″ height x 5.5″ length x 7″ width. Purchase via Prada for $2,200.
[sc_image_carousel source="media: 231299,231301,231300,231302″ limit="5″ slides_style="minimal" controls_style="light" crop="none" spacing="no" align="center" captions="yes" dots="no" autoplay="0″ image_size="full" outline="no"]
This Prada Woven Motif Tote is the other version we spent time with, and this bag also features the large woven motif with the curved scalloped top with an interior removable nappa leather pouch. If you are keen on a logo being a bit more subdued: the Prada logo is hot-stamped on the front of the bag, which allows for a more subtle touch. The double handles offer enough room to place it over your shoulder. This version is both quintessentially Prada and a modern standout. Dimensions are 7.5″ height x 5″ length x 9″ width. Purchase via Prada for $2,250.
There are other options if you're so inclined, including a clutch (available in orange and pink, as well as the classic colors) and a bag very reminiscent of the Matinée Bag, which quickly became a fan (and personal) favorite. Shop the entire line of Prada's New Woven Motif Bags at Prada.com.
[sc_image_carousel source="media: 231648,231647,231646,231645,231644,231643″ limit="5″ slides_style="minimal" crop="none" columns="3″ spacing="no" align="center" captions="yes" dots="no" link="custom" autoplay="0″ image_size="full" outline="no"]